History of Chugai Pharmaceutical
Understanding Chugai's history that fostered the business philosophy "Innovation all for the patients"

The origin of today's Chugai lies in two companies. One is Chugai Shinyaku Shokai, founded by Juzo Ueno in 1925. After witnessing the devastation caused by the Great Kanto Earthquake, Ueno set up a pharmaceutical trading company with the mission of "creating medicines useful to the world."
The other company is Nippon Roche, established by the Swiss pharmaceutical company Roche in 1932. Roche began exporting products to Japan in 1904, just 10 years after its establishment, and from a very early stage in its history, Roche focused on building a base for the future of the Japanese market.
The two companies merged in 2002 to form the present-day Chugai. The spirit of Chugai's founding is reflected in our mission: add exceptional value through the creation of innovative medical products and services for the benefit of the medical community and human health around the world.
Point1:
Founding of Chugai Shinyaku Shokai. The aspiration to import and eventually export good medicines is reflected in the company name.
[March 1925]
In March 1925, two years after the Great Kanto Earthquake, Juzo Ueno established an import agent for products from the German pharmaceutical company Gehe. Mr. Ueno named the company Chugai Shinyaku Shokai, with the ambition not simply to distribute high-quality pharmaceuticals from overseas throughout Japan, but eventually to provide Japanese pharmaceuticals overseas as well. (Chu-gai means, "in" and "out.") At the time, Mr. Ueno was 32 years old and began operations with seven employees.
It was in 1943, at the height of World War II, that the company was reorganized as a joint stock company and changed its name to Chugai Pharmaceutical Co.
Point2:
Development of an analgesic, anti-inflammatory and antifebrile agent for tuberculosis, as well as the successful in-house production of its raw material calcium bromide.
[December 1937]
Since the Meiji Era, many people had suffered from tuberculosis in Japan. In 1930, at a time when Japan still lacked the technology to manufacture tuberculosis treatments, Chugai developed Salsobrocanon, an analgesic, antiphlogistic and antipyretic. When supply of its raw material calcium bromide, which depended on imports, became difficult following the Manchurian Incident in 1931, Mr. Ueno led efforts to develop the material, and succeeded in producing calcium bromide in-house in 1937.
Point3:
A pharmacist for Roche becomes the first forerunner of a Japanese MR
[December 1912]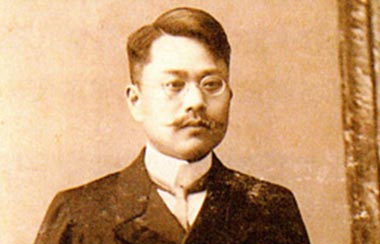 Products from Swiss-based pharmaceutical company Roche, first arrived in Japan in 1904. Faced with poor sales from consignments through trading companies, Roche decided to begin direct sales, and dispatched Rudolf Ebeling, a surgeon, to Japan. Dr. Ebeling employed Shohei Ninomiya, a pharmacist who was trained in medicine and fluent in German. Mr. Ninomiya thus became the first forerunner of what are now called medical representatives (MRs).

Chugai Pharmaceutical In Numbers [Workforce Size]
1. Founded because of medicine shortages after a large earthquake