Top Management Commitment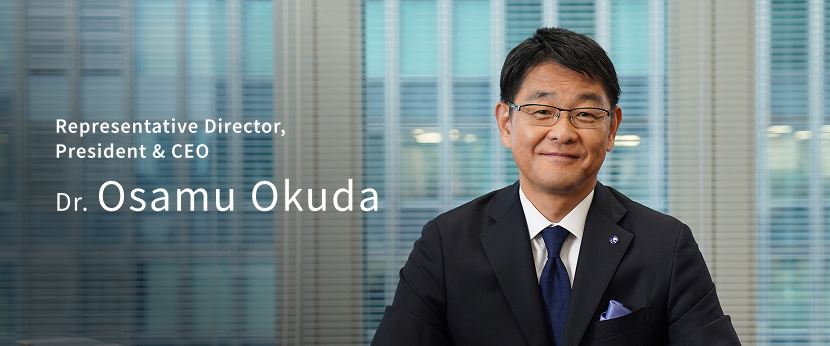 Living a healthy and wholesome life is common desire for all people in the world. Chugai has always operated its business with a strong commitment to value for patients and the sustainability of society in pursuit of the mission of benefiting the medical community and human health around the world ever since Chugai was founded in response to the serious shortage of medicine after the Great Kanto Earthquake of 1923. "Creating shared value for Chugai and society" is our fundamental management policy which aims to realize "advanced and sustainable patient-centric healthcare" through innovation that only Chugai is capable to offer. We would like to create new value by resolving social issues through our business activities and to develop with various stakeholders. In other words, for Chugai, all our business activities are the approach to the sustainable development of both Chugai and society which absolutely means our dedicated efforts to the sustainability.
In recent years, the crisis over the sustainability of social systems including global environmental issues and widening economic disparities has been growing. In addition, unpredictable and rapid changes such as the outbreak and spread of the new coronavirus infection are having a great impact on society. To resolve social issues and achieve sustainable growth in the current environment, Chugai will need to seriously confront these issues from a long-term perspective and further evolve our business activities.
Against the background of such changes in the business environment nowadays, we have defined the image to be a top innovator to reach by 2030 as well as its new growth strategy named "TOP I 2030" and have tried to transform ourselves since 2021. In accordance with the strategy, we thoroughly focus on creating an innovative pharmaceutical through innovation in collaboration with Roche which we believe will lead to the position of a top innovator in the global healthcare industry.
Under the "TOP I 2030," we will implement a series of reforms to accomplish our aspirations of top innovator image. Regarding the "Environment" which is one of the key focus areas of "Growth Foundation Reform," we plan to promote the climate change countermeasures, use of renewable/recycled resources and conservation of biodiversity more actively than ever before. We will also strengthen our efforts in respecting the human rights, compliance, and health and productivity management where the society and stakeholders highly expect and require. By putting these efforts together, ESG activities will be further focused and promoted. We also recognize that the driving force behind innovation for "creating shared value for Chugai and society" is our people, human capital. Accordingly, "Human capital and organization" is also one of the key areas to be focused. Based on the sophisticated human capital management from the mid and long-term perspective, we will continue to promote the strategic actions such as assigning the right personnel to the right position, improving the employee engagement, developing the diverse talented human capital to drive innovation, fostering the corporate culture which encourages the bold challenges, and promoting the diversity & inclusion initiatives.
To achieve the ambitious goal of realizing a sustainable society, it is essential to collaborate with external partners who can share the values and ideas with Chugai. Through the partnerships with not only pharmaceutical companies but also diverse players, we will accelerate the creation of innovation and meet the expectations and demands of patients and other stakeholders.
Our philosophy on creating new value for patients and society through innovation that only Chugai is capable to offer and contributing to the resolution of social issues as well as the development of society is aligned with "the Sustainable Development Goals (SDGs)" set by the United Nations. Among others, we are prioritizing the goal of "3. Good health and well-being," which is aligned with our mission. Our top management is also committed to other SDGs, including "8. Decent work and economic growth," "9. Industry, innovation, and infrastructure," "12. Responsible consumption and production," and "17. Partnerships for the goals," and will take active measures toward them.
With our persistent efforts to "creating shared value for Chugai and society" through these activities, we will continue to grow together with society and aim to become a global role model by 2030 as a company that leads the way in resolving social issues.
(As of March 2022)