History of Chugai Pharmaceutical
Understanding Chugai's history that fostered the business philosophy "Innovation all for the patients"
3. From non-prescription to prescription pharmaceuticals

The establishment of a universal health insurance coverage system in Japan in 1961 caused demand for prescription pharmaceuticals to rise rapidly. With the additional factor of increasing criticism of its non-prescription drugs, Chugai resolved to shift from non-prescription to prescription pharmaceuticals. As a result of efforts to strengthen our management structure and improve research and development capabilities, by 1974, 50% of the company's sales came from prescription drugs, 30% from non-prescription drugs, and 20% from other sources.
Point1:
The "Three Corporate Principles" are announced to mobilize the energy of employees
[January 1973]
In the mid-1960s, Chugai bore the brunt of criticism of its non-prescription drugs, which caused sales to plummet and its stock price to fall below par value. Kimio Uyeno took over as president in 1973. In his New Year's address the following year, he made an internal announcement of his management targets for rebuilding the company, and set forth three policies: pursuit of economic performance; pursuit of social awareness; and pursuit of human development. These soon became known as the "three corporate principles" and became established as the company's principles of conduct.
Point2:
Chugai makes a name for itself through pioneering efforts in the promising field of immunology
[1975]
In the latter half of the 1960s, Chugai made a major change in orientation from over-the-counter drugs to prescription drugs, focusing on immunology as a new research field. A full effort of joint research and development of Picibanil®, an anti-tumor agent, began in 1965, leading to a product launch in 1975. The successful development of Picibanil®, which activates the immune system, helped to make the Chugai name famous in immunology.
Point3:
Chugai changes its R&D policy with the aim of developing its own new drugs
[1970s]
For Chugai, the 1970s were a period of transformation of its research activities. The shift in policy from technology-oriented basic and applied research to in-house development of original new drugs required changes that were both tangible and intangible. Chugai's new drug launches in the 1980s included Alfarol®, an agent for improving calcium and bone metabolism, Cefotax®, a third-generation cephem antibiotic agent, and Sigmart®, a treatment for angina pectoris. The company first achieved ¥100 billion in net sales in 1984, but the seeds of this growth were sown in the 1970s.
Point4:
Roche establishes full-scale factory and research centers, and dramatically expands its activities
[May 1972]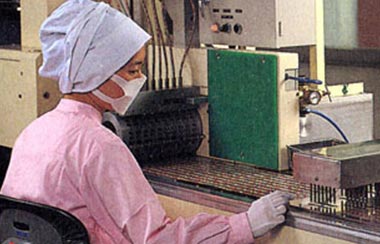 Nippon Roche was the first foreign pharmaceutical company to establish full-scale plants and laboratories in Japan. After building the Oi plant in 1954, the company made further proactive investments in facilities and staff. The company established plants in Kamakura (1967) and Fukuroi (1971) and a research center in Kamakura (1972). Nippon Roche also invested proactively in human resources, and began recruiting university graduates in Japan in 1966. Personnel grew from only 120 in 1965 to nearly 1,000 in 1972.
3. From non-prescription to prescription pharmaceuticals