Creation of a System for Comprehensive Assessment of Suppliers
Backdrop of changes in the assessment system
Cooperation with suppliers is becoming imperative for companies in their efforts to solve social issues such as increasing poverty and inequality, environmental problems, and deteriorating labor conditions.
In this context, Chugai reexamined how it should cooperate with suppliers to respond to the changes and needs of society, and is working to build a system for comprehensive assessment of suppliers.
We have added the categories of environment, health and safety (EHS) and compliance (including corporate ethics and human rights) to our assessment criteria for suppliers in addition to the five categories that we previously assessed – financial condition, supply, quality, contracts, and intellectual property and security – to establish a more comprehensive assessment system. These additions reflect the fact that Chugai, as a pharmaceutical company, engages in many scientific and specialized activities in which it deals with materials that require handling precautions because of their potential effects on the human body; that the scope of environmental protection and health and safety management extends across the value chain; and that human rights problems such as child labor and forced labor are becoming serious global issues.

Process of formulating the assessment system
In revising the assessment system, we began with anti-corruption due diligence in 2017. In September 2018, we participated in an international conference sponsored by Caux Round Table Japan, and conducted individual dialogues with international experts on human rights policy. We then formulated and announced our own human rights statement in January 2019.
We have established the Chugai Group Supplier Code of Conduct as a set of behavioral standards we expect of suppliers. Based on the Pharmaceutical Industry Principles for Responsible Supply Chain Management issued by the Pharmaceutical Supply Chain Initiative (PSCI), an organization made up of global pharmaceutical companies, the Chugai Group Supplier Code of Conduct delineates the items we want supplier to comply with in the areas of ethics, labor, health and safety, environment and related management systems.
Cooperation with PSCI
Chugai became a member of the PSCI in November 2018.
PSCI is building a platform for member companies to cooperate in conducting supplier assessments. For a pharmaceutical company, assessing the EHS and compliance risks of suppliers on its own is costly and time-consuming. Therefore, the PSCI is setting up a framework that will enable member companies to use each other's evaluation results. This framework will allow assessments to be conducted in a way that is efficient and effective for both pharmaceutical companies and suppliers.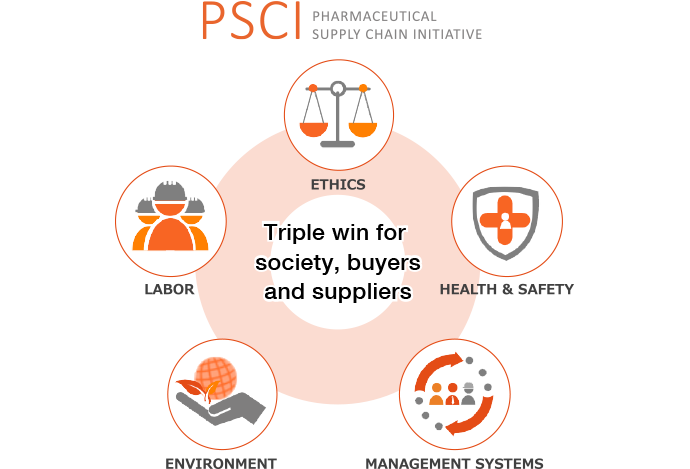 Future targets and milestones
With regard to the creation of a comprehensive assessment system for suppliers, we will set and work toward concrete medium- to long-term targets for achieving that goal.
In 2021, we plan to complete risk assessments of contract manufacturers that are considered major suppliers because of the impact and difficulty of selecting replacement suppliers should any EHS or compliance risks occur. In 2030, we plan to complete risk assessments that also include the secondary suppliers of our major suppliers.