The Group will further strengthen its efforts to obtain, nurture and assign sophisticated and diverse human resources with a view to the medium to long term. Specifically, the Group will strengthen its system to implement talent management/position management to assign the right leader to the right position; acquire specialized human resources who will play key roles in carrying out strategies; transform the personnel and compensation system so that it supports a corporate culture with a spirit for challenges; and further promote diversity and inclusion. Through these measures, the Group will strive to foster an organizational culture where innovation is created by the active participation of diverse human resources.
Talent Management According to Each Person's Capabilities and Aptitude
Chugai conducts talent management to quickly identify, develop and obtain leaders and highly competent specialists to accelerate strategy execution and innovation.
To promote talent management, since 2012, Chugai has been promoting a talent management system for developing individuals based on visualization of human resources and their capabilities.
Each department held discussions on medium-to-long-term human resource development policies and formulated individual development plans. At the same time, we have created a talent pool (A group of candidates for the next generation of leaders) future management candidates. In addition, based on the individual development plans, we conducted training aimed at strategic placement of human resources and strengthening leadership from a company-wide perspective.
As for the Succession Plan, candidates for key positions in the Chugai group –head of division in Japan, head of basic organization in Japan, and key positions in overseas affiliates, were selected and clarified.
Through a talent management system, we will review our training system to improve our ability to acquire, develop and deploy world-class human resources with the aim of identifying and training them more quickly.
Three Goals of the Talent Management System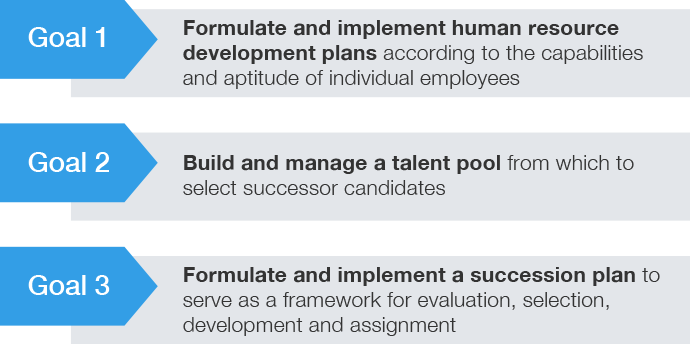 Career Development That Helps Our Diverse People to Succeed
Having already revised its personnel systems and introduced diversity management and talent management systems, Chugai revamped its career development framework in 2012.
Support for Self-Directed Careers
Our career policy is to "Support employee autonomy and mutual growth by placing importance on providing employees with opportunities to realize and nurture their own value." With the career declaration system as the basic cycle, we focus on workplace dialogue and management, centering on the awareness of the employee concerned and the support and advice of his or her superior to facilitate self-directed career development. We also supplement the basic cycle with various measures to promote further autonomy and mutual growth.
Overview of Career Development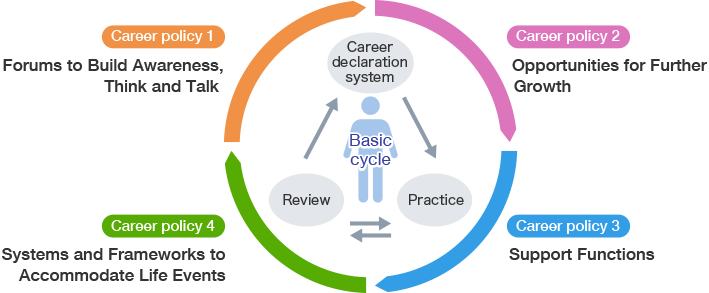 Basic Cycle of Career Development
Chugai's basic career development cycle is a repetitive cycle of self-recognition, practice and reflection through the career declaration system.
Career declaration system
A system by which Chugai employees can declare to the Company their desired jobs, future career plans and so on. These declarations are the basis for career dialogues between employees and their superiors.
Career policy 1: Create Forums to Build Awareness, Think and Talk
We provide various training programs and gatherings that help employees to recognize their own value and think about and discuss their careers.
Career Development Training
Career development training and level-specific training are designed to get employees to think about their careers and deepen their understanding of their career direction while confirming their expected roles.
Career Design Seminar
A career design seminar for 54-year-old employees helps them to think about their career and life plans going forward so that they can continue to work with enthusiasm. Support is provided to help them select their work style from age 55.
Career Policy 2: Opportunities for Further Growth
We promote further growth through various opportunities.
Self-Improvement support Program (SIP)
This program introduces correspondence courses to employees and supports attendance at outside programs to facilitate self-directed skill development.
Leave for education and qualification acquisition
This system provides permanent employees with the opportunity for personal career development by granting them up to three years of leave to obtain a degree or professional qualification.
Employment status change program
Contract employees meeting certain prerequisites who apply and pass an examination may change to permanent employee status.
Career Policy 3: Support Functions
We provide individual career support through career consultation, and post relevant information on our website.
Career Consultation Office
Established with the objective of helping employees build satisfying careers, the Career Consultation Office provides personalized information on career planning, tips on skill development, and support in using the various systems available within the company.
As of the end of 2017, a total of 790 people had come to the office for consultation since it opened in 2007.
Career Web
A website designed to support employees in building their careers by providing resources such as points to consider in career planning, and information on the skills and knowledge necessary for specific careers.
Career Policy 4: Systems and Frameworks to Accommodate Life Events
Chugai has a full lineup of systems and frameworks for life events that are significantly related to career development.
Career Change Support System
This system allows permanent employees of a specific age or with a specific number of years of employment to opt for voluntary retirement before the mandatory retirement age, and provides them with support for a smooth transition into a new career.
Senior Employee System
This system allows permanent employees aged 55 or older to voluntarily choose to continue working as senior employees up to age 65.
Creating Supportive Work Environments
Occupational Safety and Health, Health Maintenance and Mental Healthcare Initiatives
As the demands of society have grown more diverse and sophisticated, integrated management of the environment, health and safety (EHS) is now required because of the close connection between "environmental protection" and "health and safety." Accordingly, in January 2017, Chugai formulated its Regulations Regarding Environmental Protection, Safety and Health, which integrate our previous basic regulations covering these areas of activity. Based on our policy of placing priority on ensuring employee safety in all operations, and with these Regulations as a central guide, we are taking proactive measures to upgrade our safety and health systems, ensure safety and prevent occupational injuries, promote health maintenance and create comfortable work environments. As part of our focus on health and productivity management, we have established counseling services in all of our facilities where employees can feel comfortable asking for advice on physical and mental health issues. Working with specialists including industrial physicians, nurses and psychologists, as well as our own workplace supervisors and human resources staff, we have also created a system that allows for a highly individualized response to each employee's concerns.
Initiatives to Support Working with Cancer
Chugai has further enhanced supportive working conditions for employees undergoing cancer treatment, to ensure they can focus on their treatment while enjoying peace of mind as they continue to work. These initiatives include a consultative structure that enables support to be tailored to actual treatment conditions, and a program that balances work with outpatient treatment, including drug and radiation therapy. We have also created a "Working Support Handbook for Cancer Patients," which has been made available to all employees.
Helplines
In recent years, incidents of harassment and bullying in the workplace have been increasing as people working in the difficult social environment become less considerate of others, and there seems to be a lack of communication. Insensitive words and actions not only hurt the feelings of individuals, but can adversely affect the work environment as a whole.
The Chugai Group provides confidential channels for employees to consult about their worries without fear of reprisal: the BCG Hotline and internal and external helplines for sexual harassment issues. The Chugai Group resolves such issues in a fair manner to ensure that employees enjoy a working environment where they can perform at their full potential in an atmosphere of mutual respect for personality, individuality, and values.
Sound labor-management relations
Regular meetings are held at various levels between the Company and the Chugai Pharmaceutical Workers' Union to improve communication and to build cooperative, sound labor-management relations based on trust. The workers' union, which operates democratically, had 3,447 members as of December 1, 2017.
The Chugai Pharma Manufacturing Workers' Union was established in 2009. In the same year, it joined with the Chugai Pharmaceutical Workers' Union to form the Federation of Chugai Workers' Unions. Since 2010, the Chugai Group has been conducting labor-management consultations under a collective labor agreement.