Facilitating Work/Life Balance
In response to the social backdrop of an aging population and low birthrate, Chugai is striving to improve working conditions. We provide information and conduct seminars to support the development of the next generation and educate employees about balancing nursing care and work. In part, these efforts meant to ensure employees can continue to work rather than leaving due to childbirth or for childcare, nursing care and other reasons. In addition to efforts to reduce long working hours, in 2013 management and labor worked to bring together a vision for Chugai Group's work/life balance goals under the theme of pursuing work/life synergies.
In 2015, the pursuit of work/life synergies was positioned as part of the new mid-term business plan, and action plans were established and implemented across all organizations as part of our initiatives to create a rewarding, inclusive workplace. In addition, an internal website for the pursuit of work/life synergies was launched to provide tools for deepening the understanding of this initiative, and to share positive case studies from various divisions with the other parts of the Company.
Furthermore, with regard to the "work style reforms" that are also gaining attention at a societal level, management and labor are working together to improve working conditions in which a diverse range of employees can make the fullest use of their capabilities, and to investigate and discuss the organic combination of a variety of knowledge in order to promote innovation.
Improving Working Conditions
In addition to a flextime work system, Chugai has introduced flexible work systems such as a discretionary work system for researchers, with the aim of improving working conditions to facilitate a better balance between work and major life events.
Work-related system

Short-time work system for childcare (flextime work)
Super-flextime system (no core time) (including for MRs and other remote workers)
Flexible shifts for childcare (for fixed-time workers)
Telecommuting System (available for childcare, family nursing care, enhancing productivity, injuries and treatment, and "spot" telecommuting*)
Short-time work system for nursing care (flextime work)
Use of business vehicle to take children to, or pick them up from childcare centers
Commuting by Shinkansen due to marriage, spouse's transfer or nursing care

* Telecommuting for short periods at home before leaving home or after returning home (usable in units of 15 minutes)

Leave

Long-term childcare leave (first 14 consecutive days are paid leave)
Paternity leave
Child nursing leave
Nursing care leave and long-term nursing care leave

Support for expenses/tools

Company PCs rental service for employees taking maternity leave, childcare leave or nursing care leave
Subsidies for non-registered daycare facility expenses after returning from maternity leave or long-term childcare leave
Subsidies for babysitting expenses (All Japan Childcare Services Association)

Information provided via websites

Suku-Suku Square: website to support raising the next generation (information site for programs and services related to childbirth and childcare)
Info Care (information website on balancing nursing care and work)

Other support

Support plan for MRs to live with their spouses
Registration program for rehiring employees who resigned due to marriage, spouse's transfer, childcare or nursing care
Kids' Square Nihonbashi Muromachi, a consortium-managed childcare center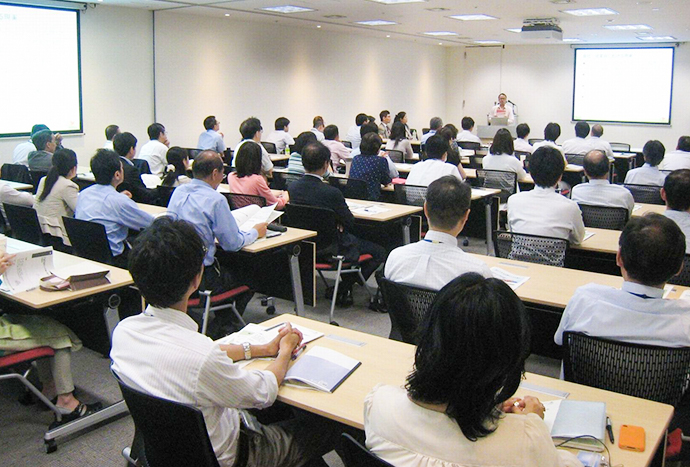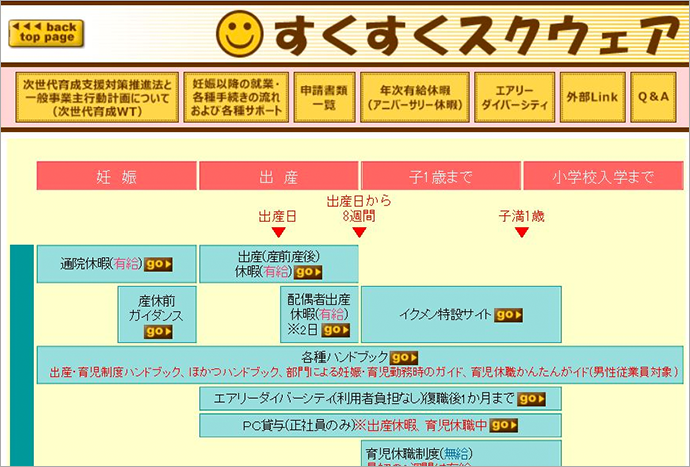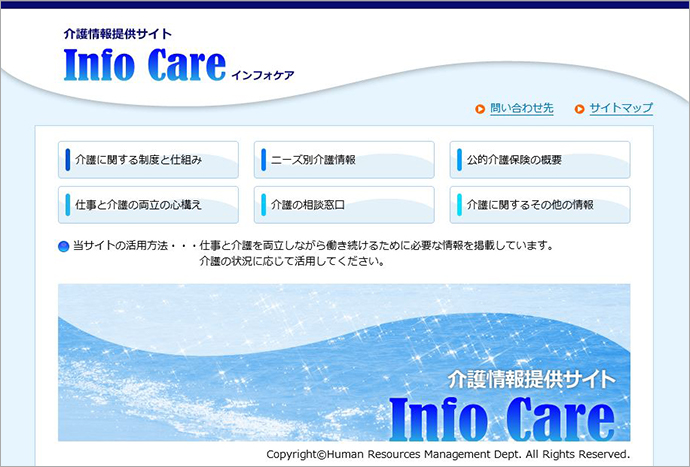 Support for Raising the Next Generation
Having recognized a range of initiatives, the Minister of Health, Labour and Welfare has certified that Chugai is a company that is taking steps to improve labor conditions.
Chugai formulated a general employer action plan in 2005 pursuant to Japan's Act on Advancement of Measures to Support Raising Next-Generation Children, and has taken measures to improve working conditions such as introducing a program to support employees who return to work after childcare leave. In recognition of these efforts, in 2008, 2011, 2015 and 2018, Japan's Ministry of Health, Labour and Welfare certified Chugai as a company that actively supports the balance between work and family life under the terms of the act. In addition, as a result of the initiatives implemented during the 4th Action Plan, the Company obtained "Platinum Kurumin" certification in 2018. Currently, the Company is in the process of implementing the 5th Action Plan for Raising the Next Generation, which runs for two years and nine months from April 1, 2017, to December 31, 2019, with the intent of supporting the balance between work and childcare at an even higher level than it is today. As employee circumstances diversify with childcare, nursing care and other life events, we have developed a handbook to familiarize supervisors with some of the key points they should manage. We have also created tools to enable employees to continue communicating with the company during childcare leave and to promote one-on-one discussions following their return to work, efforts designed to support a smooth return to the workplace.
For more information, click here
Goals of Action Plan for Raising the Next Generation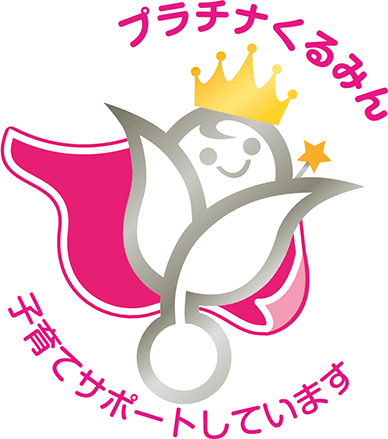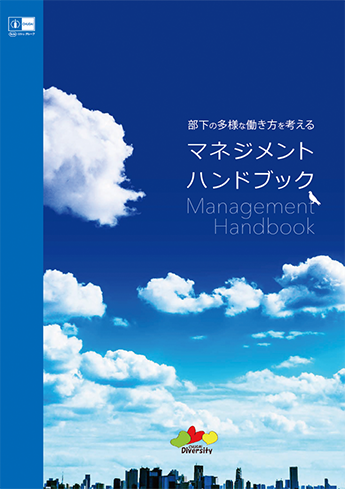 Measures to Reduce Long Working Hours
Even as work demands increase in terms of both quality and quantity, Chugai is implementing initiatives aimed at enhancing productivity
Since 2007, Chugai has been making ongoing efforts to educate employees about appropriate working hours through sharing of overtime work conditions between labor and management, setting recommended days for taking annual leave (five days a year) and registration of annual leave as an anniversary day (can be registered unlimited times). Other measures include "no overtime days" set by sites and divisions, ensuring advance determination of the necessity of overtime work, and time management training.
In 2018, these initiatives resulted in monthly average overtime work (unregulated) of 5.5 hours per person, with an average of 60.0% (on a non-consolidated basis) taking annual leave.
We will continue to pursue work style efficiency and improve productivity through efforts to reduce long working hours and realize work/life synergies.