The Chugai Group has formulated a new growth strategy, "TOP I 2030" (FY2021-FY2030) to realize our Envisioned Future, and is working on a new stage of transformation based on the strategic alliance with Roche, aiming to achieve further competitive advantage as well as sustainable profit growth and an expansion of corporate value.
Name
"TOP" expresses our aspiration to become "the world's top innovator, not just in Japan." The "I" has two meanings: in addition to "innovator," it also expresses that "people" are the driving force behind value creation; each and every member of the Chugai Group plays an important role in our efforts to realize TOP I 2030.

Chugai's Basic Policy
Companies are required to sincerely address underlying social issues and make efforts to solve them for sustainable business growth. Chugai strives to develop hand-in-hand with society by solving social issues through its business activities.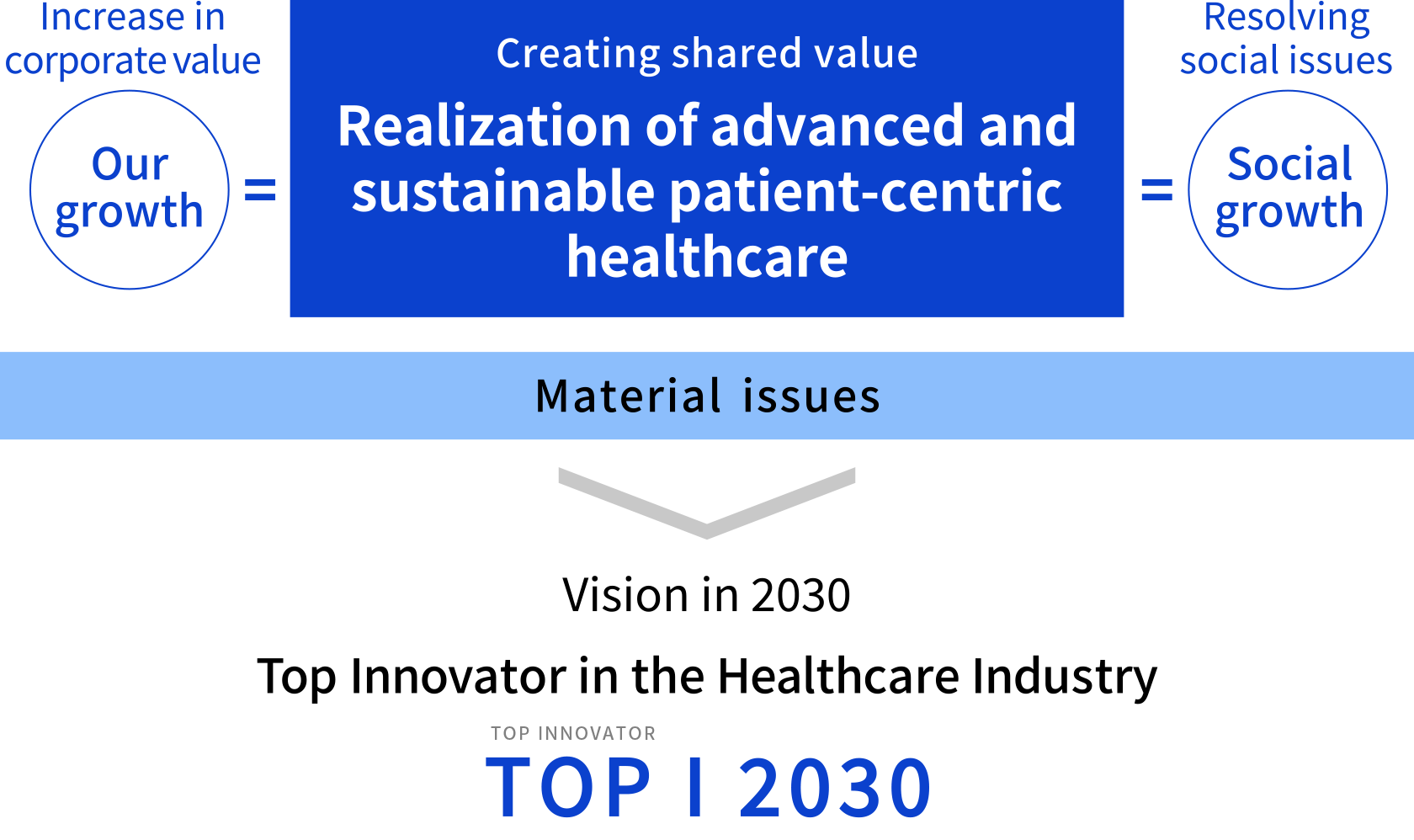 Top Innovator 2030
In collaboration with Roche, we will continue to place "innovative new drugs" at the core of our business, while aiming to become a leading innovator in the global healthcare field, where a diverse range of players, not limited to pharmaceutical companies, are taking on the challenge of innovation.
We have set our vision of "Top Innovator 2030" as shown below.
Top Innovator 2030

"Expectation from patients all over the world"
With world-class drug discovery capabilities, patients around the world expect that "Chugai will surely create new treatments."
"Attracting talent and players from around the world"
Attract passionate talent from all over the world, and inspire players in globally to think they can create something new by partnering with Chugai.
"Role model for the world"
Recognized for its ESG initiatives through its business activities, Chugai will become a global role model as a leader in resolving social issues.
New Growth Strategy to become a Top Innovator 2030
While finishing mid-term business plan "IBI 21" one year earlier than scheduled, we have established a new growth strategy toward 2030 – TOP I 2030 – to realize the Envisioned Future stipulated in our Mission Statement.
New Growth Strategy to become a Top Innovator 2030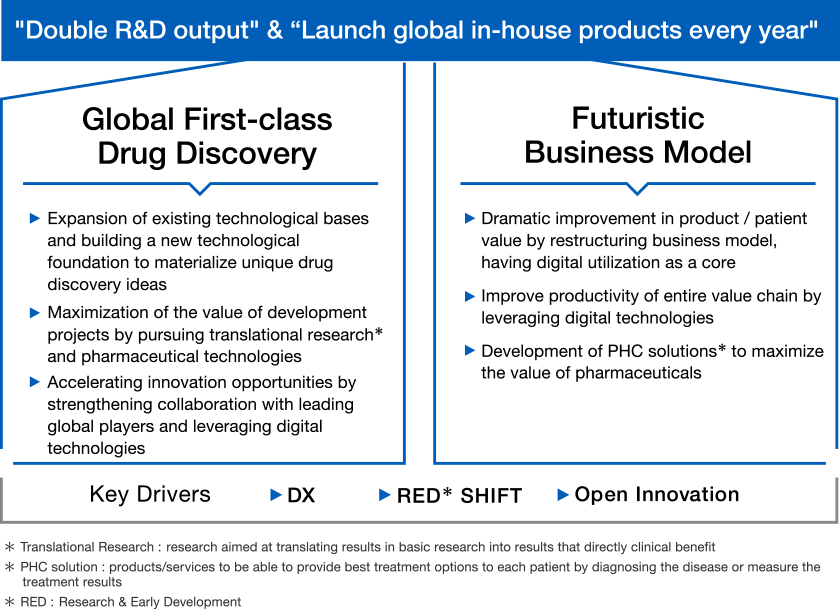 The two pillars of "TOP I 2030" are "Global first-class drug discovery" and a "Futuristic business model".
Having created numerous innovative new drugs by making full use of our proprietary science and technology, we aim to significantly improve our drug discovery capabilities over the next 10 years, and to build and strengthen a system that can continuously deliver solutions that meet the world's Unmet Medical Needs*. Specifically, we will double the current R&D output in 10 years and aim to become a company that can launch innovative Chugai-origin global products every year.
We will also work to build a futuristic business model in light of environmental changes and technological evolution. In particular, we will dramatically improve productivity across all value chains and expand value and product value for patients by dramatically restructuring processes and value creation models centered on digitization.
* Medical need that is not adequately met due to a lack of effective treatments
5 Reforms to Realize the Top Innovator Image
In order to realize the two pillars of "TOP I 2030", we have set forth five reforms along the value chains of "Drug Discovery," "Development," "Pharmaceutical Technology ," and "Value Delivery", as well as the "Foundation for Growth" that supports them.
5 Reforms to Realize the Top Innovator Image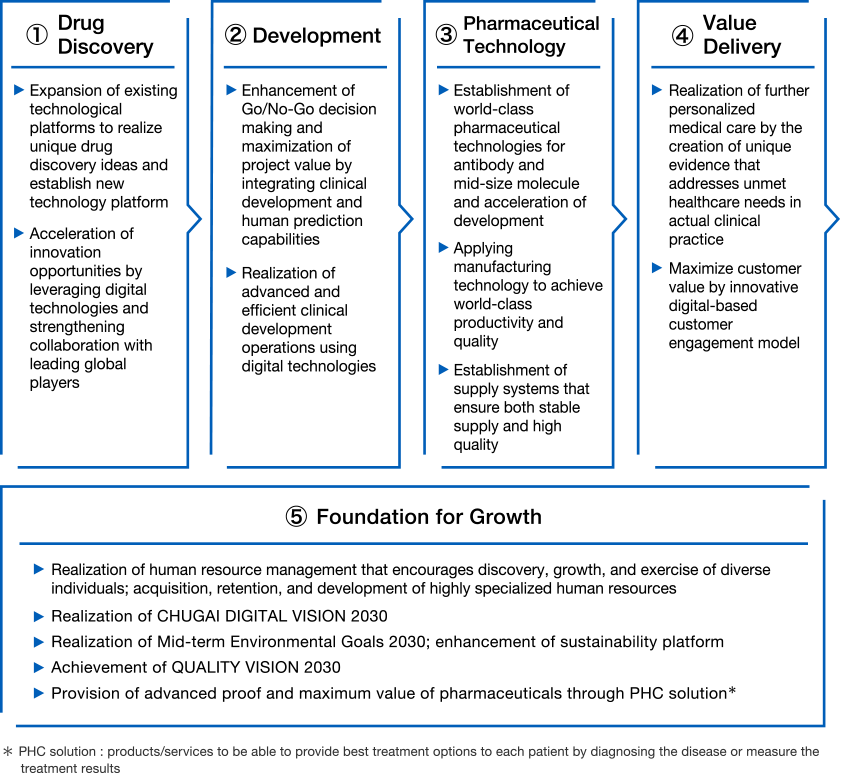 1. Drug Discovery
Aim to double output by strengthening digital capabilities, promoting external collaboration, and strengthening the foundation of drug discovery technology to realize innovative drug discovery ideas.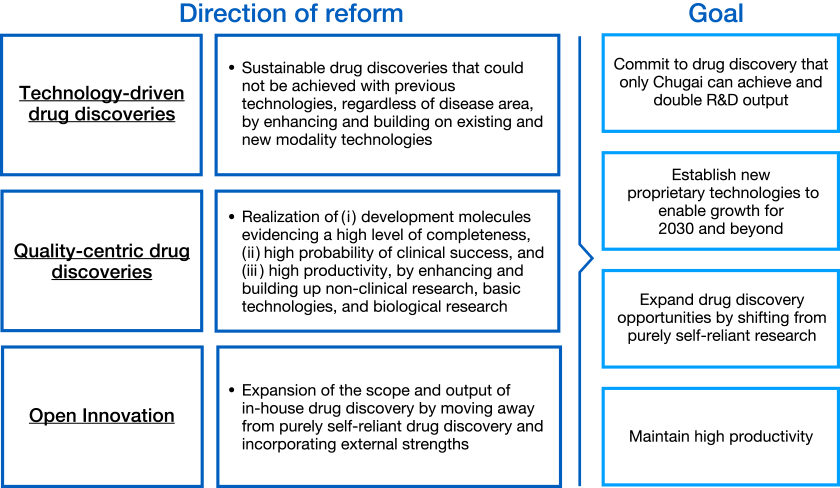 In TOP I 2030, Chugai will aim to further strengthen its drug discovery technology foundation, in order to materialize original drug discovery ideas based on its accumulated strengths in drug discovery, including protein engineering technology. In addition, Chugai will concentrate resources on a company-wide basis, on drug discovery and early development, in order to create maximum value and produce results with adequate investment.
In particular, in mid-size molecule drugs, which are expected to constitute the mainstay for driving Chugai's medium- to long-term growth, Chugai will give priority to investing resources in technology development and clinical projects for early commercialization. Chugai will also strive to diversify and accelerate drug discovery technologies, through the effective utilization of digital technologies including AI, as well as proactive external collaboration.
2. Development
Realizing a world-class clinical development model that can maximize product value by improving productivity and the clinical trial success rate through the use of digital technologies.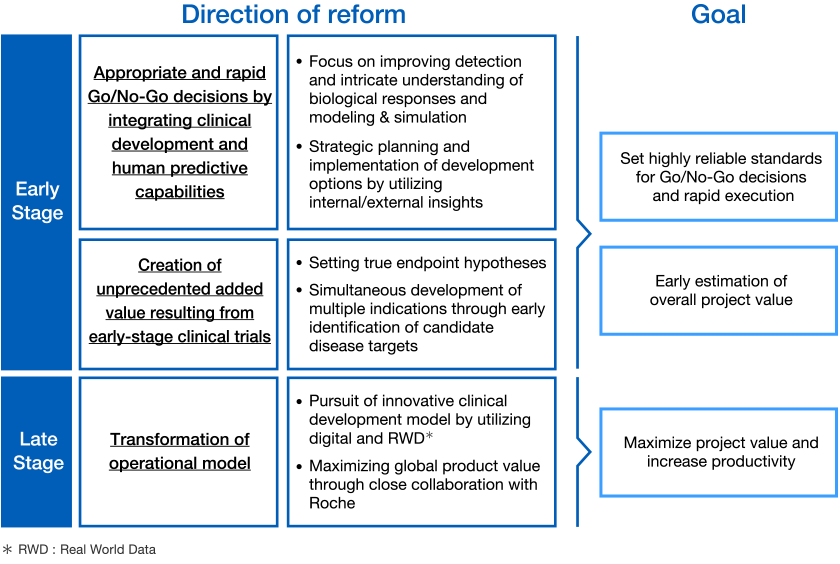 In order to deliver ground-breaking projects, as quickly as possible to as many patients as possible, Chugai will build a top-class clinical development model in the industry that makes maximum use of mathematical models and digital technologies. Chugai will enhance the predictability of dosing options, efficacy, and safety by precisely understanding biological reactions and thoroughly utilizing various disease and treatment data accumulated in-house, as well as real-world data (RWD). At the same time, Chugai will utilize digital biomarkers and digital devices to demonstrate the QOL of patients at an early stage. In addition, Chugai will work on a fundamental reform of its operations model, with a view toward enhancing operational efficiency of late-stage clinical development.
3. Pharmaceutical Technology
Realize PT Functions befitting a Top Innovator by combining world-class drug manufacturing technologies that turn drug discovery ideas into drugs with high cost competitiveness.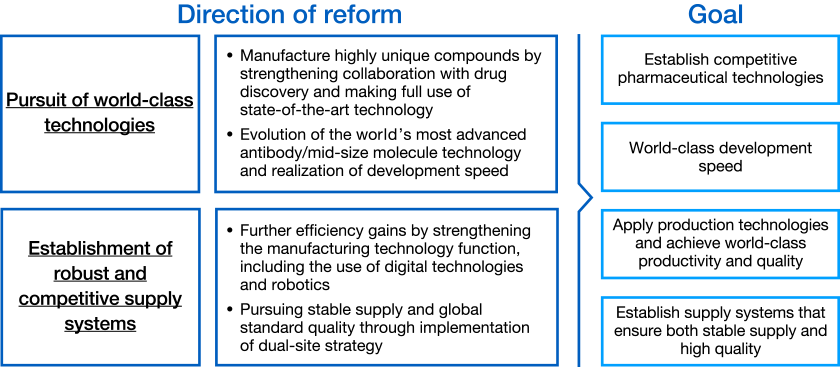 While Chugai aims to substantially expand its R&D output, the pursuit of world-class pharmaceutical technologies that steadily commercialize innovative drug discovery will also represent an important challenge. Chugai will further strengthen the collaboration between the drug discovery/development and pharmaceutical functions, in order to advance the development of pharmaceutical technologies for drugs with a high degree of difficulty, such as mid-size molecules, through the application of leading-edge technologies. With regard to antibody drugs, which are expected to continue evolving as a core technology, Chugai will continue to work to further promote technological development and to improve the speed of development.
Meanwhile, Chugai will also pursue world-class cost competitiveness and cost reduction, by building next-generation plants that dramatically improve productivity by means of digital and robotics technologies, and by optimizing insourcing and outsourcing.
4. Value Delivery
Achieve high-level Value Delivery with a limited number of exceptional talent by creating evidence for personalized healthcare and innovative customer engagement models.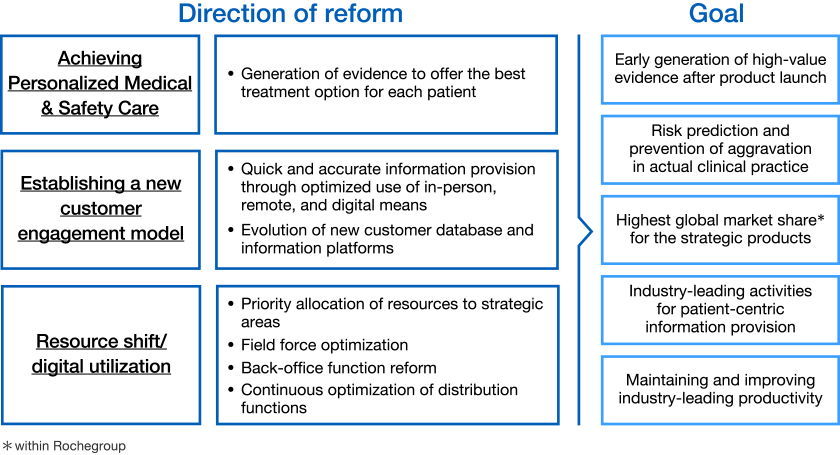 Chugai will advance the generation of evidence that promotes Personalized Healthcare, and also accelerate the development of biomarkers that accurately predict efficacy and safety for each patient, through the comprehensive analysis and utilization of various databases accumulated through drug discovery and development, as well as real-world data.
In addition, the customer contact points of pharmaceutical companies are also changing significantly owing to the development of digital tools and the impact of the spread of COVID-19. By also taking such changes into account, Chugai will aim to establish an innovative customer engagement model, in order to deliver the information required by healthcare professionals and patients accurately and promptly, while ensuring a high level of expertise. Specifically, Chugai will build a system that is capable of providing valuable information to customers promptly and optimally, through the appropriate utilization of face-to-face, remote and digital systems, as well as suitable collaboration among the specialized functions of sales, safety and medical functions.
5. Foundation for Growth
Strengthening the foundation for growth necessary to create innovation and evolve the Value Chain.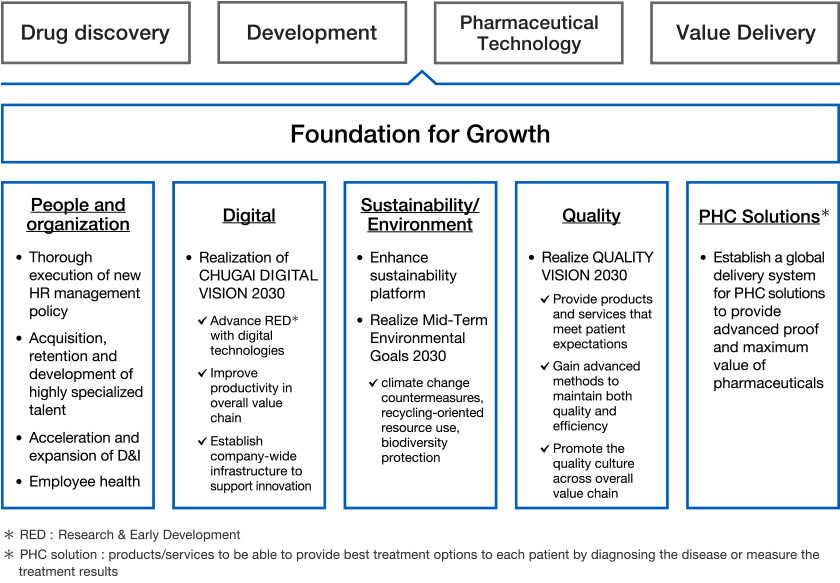 In parallel with the reforms of each value chain process, we will also work to strengthen our business foundation which supports the generation of innovation and the realization of our growth strategy, especially in the following five priority areas.
People and organization
The Chugai Group will promote the assignment of the right person to the right position through further advances in position and talent management, and enhance its corporate culture to encourage personnel to boldly take on challenges. The Group will also focus on the acquisition, nurturing, and provision of the highly specialized human resources who will be key in implementing business strategies, such as in the fields of science and digital technology, and will strive to foster a culture of innovation through promotion of diversity and inclusion (D&I).
Digital
Under CHUGAI DIGITAL VISION 2030, we will focus on innovative drug discovery by applying digital technologies. We will also promote DX in each part of the value chain to improve efficiency. The Group will build a digital platform for both software and hardware as well as establish a global-level IT infrastructure by integrating various in-house data and building an analysis platform in collaboration with the Roche Group.
Acceleration of Digital Transformation: CHUGAI DIGITAL VISON 2030
Environment
The Group will contribute to realizing a sustainable global environment by implementing advanced initiatives to achieve our Mid-Term Environmental Goals 2030 for the three issues identified as material: climate change countermeasures, use of renewable/recycled resources, and protection of biodiversity. For climate change countermeasures in particular, the Group will work on long-term programs aimed at achieving the goal of zero CO2 emissions by 2050.
Goals and Initiatives in Environment: Mid-term Environmental Goals 2030
Quality
In addition to measures implemented thus far to ensure product quality, we are also working to advance quality management across all business processes and in our responses to pharmaceutical affairs. Furthermore, the Group will also step up the development and implementation of quality management methods that balance both quality and efficiency suited to changing business processes, including responding to regulatory affairs matters that address challenges brought about by new modalities and diverse technological evolution, enhancing digital compliance, and developing a quality assurance system in anticipation of expanded collaboration with external parties.
Insight Business
Working in partnership with other Roche Group companies, Chugai will collect external data, including real-world data (RWD) and data obtained at each stage of drug discovery, development, pharmaceutical technology, and value delivery, and perform advanced analysis to extract and utilize various insights that contribute to in-house drug discovery and development and maximizing the value of pharmaceuticals.
Basic Principles of Increasing Corporate Value and Shareholder Returns
Chugai will target a Core EPS payout ratio of 45 percent on average while maintaining stable dividends
Chugai's basic strategy is to continuously generate profits and increase its corporate value by focusing on innovation and realizing advanced and sustainable patient-centric healthcare. The results will then be returned to shareholders through higher valuation in the capital markets and stable dividends.
In TOP I 2030, we will target a Core EPS payout ratio of 45 percent on average while maintaining stable dividends. We remain committed to generating steady profit growth and maintaining appropriate returns to shareholders.