Framework for Promoting Sustainability
The Compliance Committee was established as a body for deliberation on issues, policies, targets and plans in promoting compliance; the EHS Committee play the similar roles in promoting environmental protection and occupational health and safety. Both committees are chaired by the Representative Director & Deputy Chairman, who is also the officer in charge of Sustainability Dept. The Compliance Committee is comprised of two subcommittees: the GxP Subcommittee, responsible for compliance with regard to pharmaceutical regulations, both domestic and overseas, as well as compliance with internal rules established based on those regulations; and the C&H (Corporate & Healthcare) Subcommittee, which deals with all other compliance issues aside from GxP.
Framework for Promoting Sustainability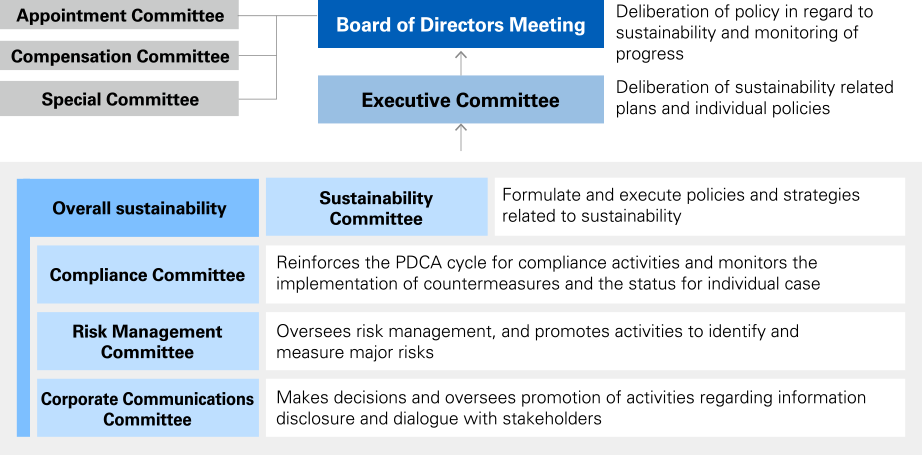 To ensure compliance = a cornerstone of promoting Sustainability = the Compliance Manager is designated head of the organization, and works with the Compliance Officer, appointed by that manager, to understand the state of compliance within each organization, resolve any issues, and engage in education and awareness.
In terms of the environment, safety and health, action plans determined by the EHS* Committee are shared with the EHS general managers and EHS managers at each business site, and are reflected in business site-specific action plans formulated by the Safety, Health and Environment Committee at each site, chaired by their EHS general managers.
* Environment, Health and Safety