Chugai conducts systematic education and training.
EHS
Since 2014, each facility conducts an EHS risk assessment at least once every three years. Briefings are held as needed for those conducting the assessments in an effort to familiarize them with the significance of the EHS risk assessments and to maintain and improve their assessment techniques.
Environment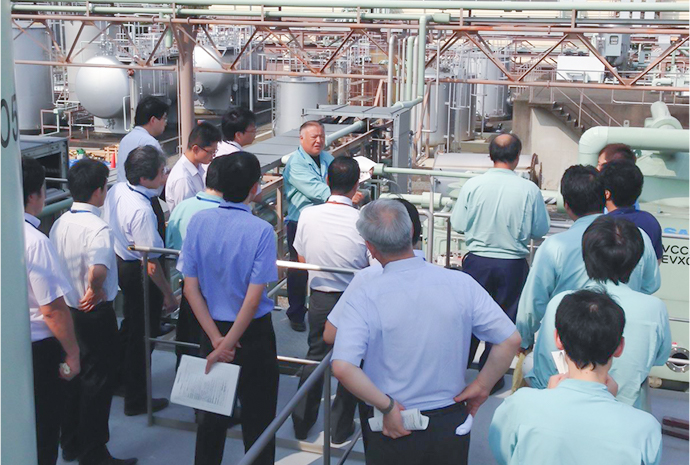 The Chugai Group believes that findings and problems identified by internal environmental auditors with global knowledge and perspective play an important role in supporting effective governance, and we are focused on developing internal environmental auditors with global-level capabilities.
Since 2014, we have utilized the Organization Employing Auditors (OEA) scheme of the International Register of Certificated Auditors (IRCA; England) to maintain and standardize the caliber of our internal environmental auditors. Within the internal environmental audit structure, IRCA-certified (provisional) internal environmental auditors act as leaders of the internal environmental audit team and play a central role in promoting environmental management system activities with the goal of contributing to environment-oriented management.
Maintaining and promoting health
The Chugai Group conducts regular health-related education targeting all Group employees.
Because the Chugai Group Code of Conduct (CCC) calls for promoting health and productivity management in areas such as "Pursuing Innovation" and "Respect for Human Rights," CCC and human rights training includes an explanation of the intent behind the Declaration on Health and encourages an understanding of health promotion among Chugai's employees and organizations. Improving health literacy has been set out as one of the priority items in health and productivity management, so the Group also works to promote awareness of lifestyle disease, and offers education on reviewing the results of one's own medical checkup, caring for one's own mental health and other issues. In addition, individual department managers are briefed on the results of stress checks conducted once a year, and a support system is in place to ensure they can exercise leadership on behalf of organizational health. Health-related lectures, etc. are also held at each facility at least once a year.
Amid concerns for the health of employees working from home during last year's coronavirus pandemic, Chugai up a special website for employees to offer information including stretching and other exercise, how to address mental health issues, and how to contact help and hotlines.
Through these activities, Chugai aims to achieve its vision of health and productivity management, "to ensure employees are healthy in both mind and body, and to nurture a vibrant, sound organizational culture."