Health and Productivity Management
The Chugai Group sees health and productivity management as a mid- to long-term strategy, and is advancing a number of initiatives unique to Chugai.
Read an employee comment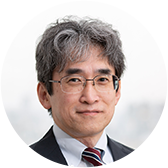 Environment, Health and Safety Group, Sustainability Dept.
Nobuaki Kato
Health and productivity management as a mid- to long-term strategy
The health and safety of employees has always been a management priority at Chugai. In December 2017, we announced the Chugai Group Declaration on Health to advance health and productivity management as a mid- to long-term strategy, rather than simply addressing issues when they occur. Based on this strategy, we conducted a company-wide analysis of issues, set six priority items (cancer, lifestyle diseases, mental health, presenteeism, health literacy and workplace safety*), and are implementing a PDCA cycle for each of them.
What makes our activities distinctive is that we work together with multiple departments from the planning stage and set quantitative targets with fixed time limits. These approaches have received recognition as examples of good practice, but the results are what count. Efforts to increase cancer screening rates and awareness of internal company systems are beginning to yield results, and we hope to quickly show successful outcomes from activities for other priority items as well. We are also considering designing a total performance indicator to evaluate our initiatives for health-related issues.
* After a review of the priority items, they have currently been changed to include cancer, lifestyle disease, mental health, health literacy, workplace safety and improving organizational culture.
At Chugai, we believe that a satisfying and rewarding work environment where all employees can do their jobs in good physical and mental health is the foundation for growth. We are focusing on health and productivity management to contribute to the health of individuals and the health of the organization at the same time. Being a life sciences company, we frequently handle materials that significantly affect the human body, and therefore place high priority on ensuring the safety of our employees. In addition, we are undertaking companywide initiatives based on an EHS management system that integrates environmental protection and occupational health and safety management, which are closely related.
Material Issues
Improving occupational safety and health
Occupational safety and health initiatives