Anti-Counterfeit Initiatives
Background
Amidst the recent globalization of distribution and the growth of electronic trading, the risk of contamination of pharmaceutical supply chains by fraudulent products due to illegitimate transactions and counterfeiting (referred to below as "counterfeit drugs" *1) has been increasing, and criminal activity involving pharmaceutical drugs has become a global problem *2. Counterfeit drugs are reportedly responsible for the death of more than 1 million people annually *3, and the importance of initiatives to prevent access to dangerous products has attained global recognition in recent years.
It can no longer be claimed that stable production of high-quality products alone is enough to ensure product quality; rather, pharmaceutical companies are now expected to adopt further initiatives that contribute to both patient healthcare and human health.
Despite previous assumptions that official drug distribution channels in Japan posed a rock-solid barrier capable of preventing counterfeit drugs from entering the country, counterfeit drugs were discovered in Japan in 2017. Since then, the regulatory authorities and pharmaceutical industry have been cooperating to promote new countermeasures.
Since entering into a strategic alliance with Roche, Chugai Pharmaceutical has not only been importing products into Japan, but has also been exporting its original products overseas, so it has been working on supply-chain security measures on a global scale as well as in Japan.
*1: Seventieth World Health Assembly: "Member State mechanism on substandard/spurious/falsely-labelled/falsified/ counterfeit medical products."
*2: G7 Japan 2016 Ise-Shima Summit, G7 Leaders' Declaration, Annex: "G7 Ise-Shima Vision for Global Health."
*3: Natalie Southwick (2013). Counterfeit Drugs Kill 1 Mn People Annually: Interpol, InSight Crime
Main Initiatives
Based on the common anti-counterfeit policy within the Chugai Group in Japan and overseas, Chugai Pharmaceutical has been working on the following measures to protect patients from the globally-expanding threat of counterfeit drugs and to ensure confidence in its drugs.
Introduction of anti-counterfeit technology
Security measures
Prevention of fraudulent distribution
Participation in external preventive activities
Awareness-raising activities
Handling on discovery
Introduction of Anti-Counterfeit Technology
Chugai Pharmaceutical will introduce product and packaging anti-counterfeit technologies and improve security to prevent counterfeiting of its products.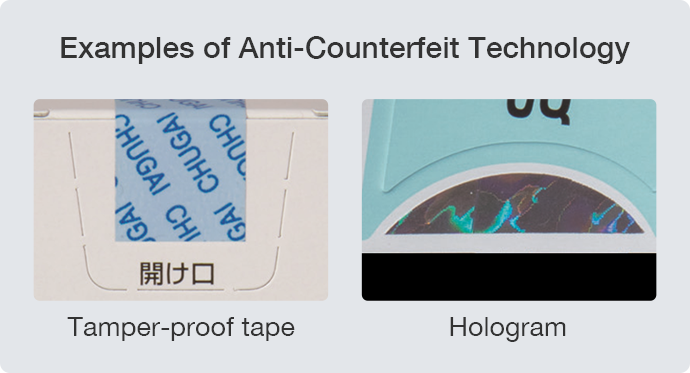 Security Measures
Chugai Pharmaceutical will establish its own GDP (Good Distribution Practice) to ensure the integrity of official distribution channels, and will devise supply-chain security measures together with distributors.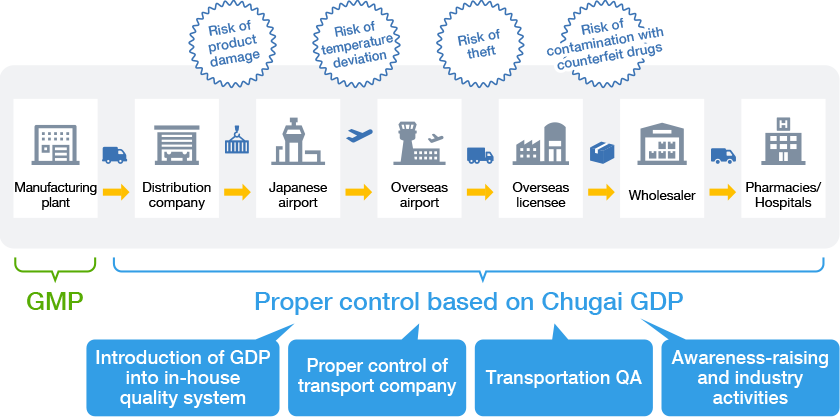 Prevention of Fraudulent Distribution
Given that most counterfeit drugs are distributed via online pharmacies and websites, Chugai is investigating the marketing of Chugai products on the internet to gain a clear picture of how its products are fraudulently distributed with the aim of applying the findings to preventive measures.

Participation in External Preventive Activities
As a member of the Pharmaceutical Security Institute (PSI, an industry group dedicated to protecting public health), Chugai Pharmaceutical cooperates on activities to eradicate counterfeit drugs and also participates in and supports the drug anti-counterfeiting activities of Japanese and foreign law enforcement agencies, regulatory authorities, and industry groups.
Awareness-Raising Activities
Chugai Pharmaceutical will make use of various opportunities, including workshops and industry meetings in Japan and overseas, to promote anti-counterfeit drug measures not only in the pharmaceutical industry but also in other industries, by raising awareness of and disseminate information about the danger of counterfeit drugs and the need for preventive measures.
Handling on Discovery
In cooperation with the entire Chugai Group, Chugai Pharmaceutical has established an anti-counterfeit structure to enable rapid response upon receipt of any information or samples related to the counterfeiting of Chugai products, with the aim of preventing and minimizing health injuries to patients.

Structure of Anti-Counterfeit Initiatives
Based on its anti-counterfeit drugs policy, Chugai Pharmaceutical has established a cross-departmental project team to work on countermeasures and to collaborate with the Roche Group and relevant external entities.
Organization Chart of Chugai's Anti-Counterfeit Initiatives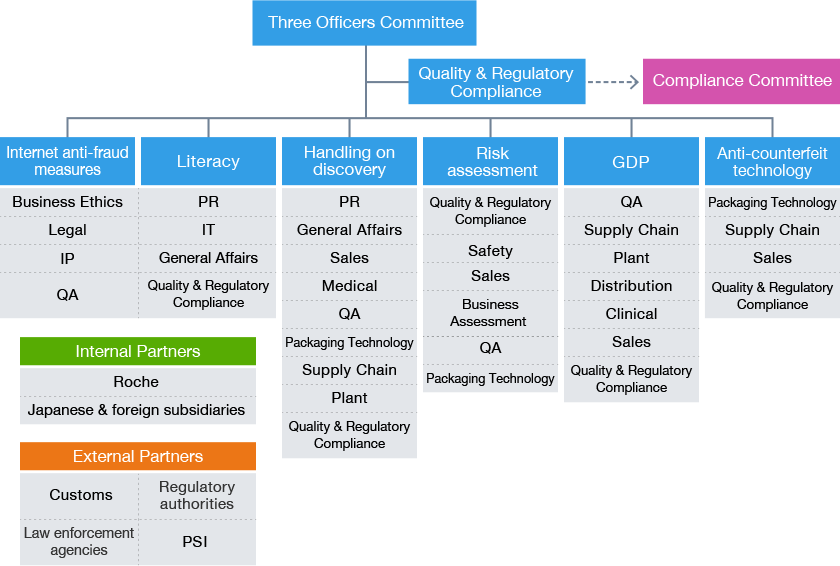 For more information, click here