In light of business expansion, Chugai is upgrading its global compliance system across divisions and Group companies.
Read an employee comment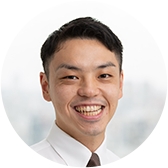 Compliance Monitoring Group, Sustainability Dept.
Toru Nagashima
Building a global compliance system and structure
At Chugai, ethics take priority over profits. However, business risks are expanding along with the global growth of our business scale, and compliance requirements are increasing worldwide. In light of these and other developments, we have been building a global compliance system and structure across departments and Group companies since January 2016.
Specifically, we updated our compliance policy and areas, reorganized committees and organizational structures, improved our global documentation system, and formulated local guidelines, manuals and SOPs for overseas subsidiaries based on each country's laws and regulations. Under this system and framework, it will be particularly important for overseas subsidiaries to implement PDCA cycles on their own, and to take steps to reinforce compliance independently. To support those efforts, we will share educational materials and various kinds of information, as well as provide active cooperation, to help compliance officers appointed at each company carry out their activities smoothly.
Rooted in its belief that corporate ethics take priority over profit, Chugai places paramount importance on respect for life, and strives for fair and transparent corporate activities based on high ethical standards, along with sincere scientific initiatives. We believe that compliance encompasses not only complying with laws and regulations but also meeting the expectations of society. Based on the Chugai Group Code of Conduct (CCC), we ensure all employees in Japan and abroad to comply with the Code of Conduct to through enhancing compliance education for them, implementing monitoring surveys, and compliance risk management measures in order to achieve a higher level of compliance.
Material Issues
Compliance
Code of conduct
Fair transactions
Ethics and Compliance Initiatives
Policy and Initiatives for Bioethics and Animal Welfare