Policy for Research by Animals
As a corporate philosophy of dedicating ourselves to adding value by creating and delivering innovative products and services for the medical community and human health around the world, Chugai is working on development of innovative medicines.
In the development of medicines, we must conduct clinical trials to ensure that our drugs are both safe and effective. However, before medicine can be tested in humans, in compliance with worldwide regulations, we must first obtain efficacy and safety data from studies involving animals. It is not yet technologically possible to accurately recreate complicated physiological phenomenon outside of a living body, therefore testing in animals remains necessary to provide new safe and effective medicines to the world.
Chugai strives to meet the following 3Rs principles when using animals:
Replacement
Replace the use of animals with alternative non-animal methods.
In the search for medical candidate compounds, we evaluate efficacy and safety by incorporating non-animal methods such as cell-based experiments and computer simulation.
Reduction
Reduce the number of animals involved in experiments as much as possible.
We have significantly reduced the number of animals involved in pharmacokinetic experiments by evaluating multiple candidates simultaneously in one animal. Previously, each individual candidate had to be checked using a separate animal, which increased the overall number of animals that were needed.
Refinement
Avoid the suffering of animals however we can.
To make life better for animals, we provide them with toys and nesting materials and we continuously improve the quality of their veterinary care.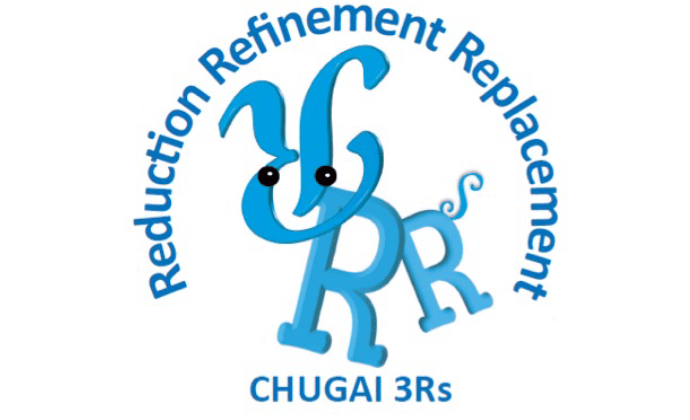 Chugai complies with domestic regulations and guidelines regarding the care and use of animals, and has established the Institutional Animal Care and Use Committee (IACUC) to confirm, evaluate, and monitor compliance with the 3R principles, to review and approve experimental protocols, and to provide education and training for personnel engaged in the care and use of animals. For further details, please refer to "Policy for the Care and Use of Laboratory Animals [PDF 219KB]."
Our activities have been evaluated by AAALAC International, the independent and globally-recognized evaluation organization with which Chugai has maintained full accreditation since 2007, and will continues to be it.