As a research-based pharmaceutical company, Chugai specializes in the research, development, production and marketing of prescription pharmaceuticals. We have established the following business processes to create innovative medicines.
Research
Chugai focuses its efforts on creating innovative drugs by using its competitive strengths that include proprietary antibody technologies and cutting-edge research resources.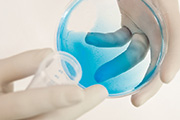 In its research functions, Chugai works to continuously create new compounds with first-in-class*1 or best-in-class*2 potential to address unmet medical need. In addition to our pioneering advances in antibody technologies, we have industry-leading research and technology capabilities, backed by technologies for small and middle molecules*3, access to the Roche Group's world-class research infrastructure and a strong external network with academia and other research institutions. These advantages also allow us to contribute to healthcare overall through the creation of our own drug discovery projects the presentation of research findings at scientific conferences.
*1. An original drug that is highly novel and useful, and will significantly change the therapeutic system
*2. A drug that offers clear advantages over other existing drugs in the same category, such as those with the same molecular target
*3. Middle molecules are technology of significant potential which enable approaching the target of diseases that are difficult to target with antibodies and small molecules.
---
Research: Activities for creating innovative medicines, ranging from the identification of target molecules to the creation and optimization of drug candidates, and establishing commercial-scale production processes that ensure stable supply of those medicines to the market, including product and packaging design and development of analytical methods
Development
Chugai has a cross-functional lifecycle management system to deliver innovative medicines to patients as quickly as possible.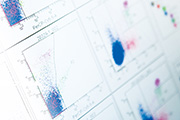 In development, Chugai seeks to deliver innovative medicines to patients as quickly as possible. To accomplish that end, we have established a lifecycle management system for integrated management of research, regulatory affairs, drug safety, production and other functions at the project level to conduct clinical trials with exceptional speed, efficiency and science, supported by the cooperation of many medical institutions and clinical trial facilities. Moreover, through our alliance with the Roche Group, we are implementing many global development projects (multinational clinical studies) and promoting simultaneous development of therapies and corresponding diagnostic agents suitable for personalized healthcare.*4 Through these initiatives, we are creating best practices in development and filing in Japan, which may contribute to the advancement of the industry.
*4. A treatment approach designed and implemented according to each patient's unique molecular and genetic profile
---
Development: Activities for obtaining regulatory approvals for drugs by generating data in optimal clinical trials with the latest science to verify the efficacy and safety of drug candidates, based on findings at the research stage
Production
Chugai has built a world-class safety and quality management system and its supply infrastructure is among the strongest in Japan.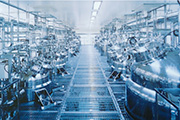 The most important task of Chugai's production is to ensure thorough safety and quality management and stable supply so that patients and healthcare professionals can use its products with confidence. We have built a global-standard safety and quality management system and have established one of Japan's leading pharmaceutical supply platforms in terms of both quality and quantity. In addition, we in- and out-license production technologies with the Roche Group to help ensure stable supply of our products globally. Moreover, in light of our growing pipeline of innovative development projects, we are focusing on strengthening our production functions to accommodate fast launch and multiple and simultaneous development.
---
Production: Activities for providing a stable supply of high-quality medicines so that patients and healthcare providers can use them with confidence and the enhancement of production technologies to accelerate commercialization
Marketing
In addition to proposing treatment options based on a high level of expertise, Chugai conducts patient-oriented marketing activities to help solve issues related to healthcare.
Chugai handles many innovative medicines, including biopharmaceuticals, which account for half of its sales. In oncology, we introduced specialist medical representatives (MRs) particularly early on. With their high level of expertise and a strictly patient-oriented approach, these MRs are able to propose science-based treatment options and side-effect management strategies. This consulting function is a major feature of our marketing activities. We also contribute to the advancement of healthcare overall by promoting the use of multidisciplinary team care; supporting the coordination of regional healthcare; holding lectures and study sessions; and conducting disease awareness activities. Through these and other proactive initiatives, we will fulfill our mission as a driving force in the industry.
---
Marketing: Activities for promoting appropriate use of drugs by providing a variety of information to healthcare providers and collecting efficacy and safety information on the drugs their patients use.
Medical Affairs
Chugai works to properly deliver the value of medicines based on global compliance standards.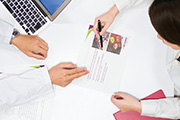 Chugai recognizes the importance of continuously creating innovative medicines and unerringly delivering the value of those medicines to patients to improve treatment. That is why we focus on generating good data and providing appropriate information to healthcare providers. In addition, we have achieved global-level compliance*5 standards, including funding transparency and the separation of marketing and medical affairs*6. At the same time, we are creating internal systems and reinforcing functions to help raise the quality and scientific level of clinical studies.
*5. Strict adherence to laws and industry standards
*6. Activities to generate data useful for patient treatment based on knowledge gained in clinical studies, and to optimize patient access to drugs based on that data
---
Medical Affairs: Activities for promoting appropriate use of new products centered on safety, and disseminating scientific data based on verification of the usefulness of these products in clinical setting
Drug Safety
Chugai's safety management system includes expert safety evaluation as well as timely gathering and reporting of safety information.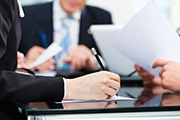 In Japan and overseas, Chugai handles many biopharmaceuticals, molecular targeted therapies and other innovative medicines that are backed by advanced science and technologies. To promote appropriate use of products globally and ensure that they can be used with confidence, expert safety evaluation, timely collection and provision of safety information and speedy decision-making to secure safety are indispensable. Chugai has therefore established its Drug Safety Division as an independent organization directly linked with corporate management to strengthen trust.
---
Drug safety: Activities for collecting, evaluating and providing timely, accurate, high-quality safety information to facilitate appropriate use of drugs