We conduct original programs under the themes of science and health to nurture the next generation of human resources who will support society in the future.
Read an employee comment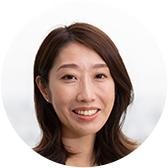 Social Contribution Group, Sustainability Dept.
Megumi Sakai
Chugai's unique initiatives for nurturing the next generation
One of the priorities of our social contribution program is development of the next generation. Our objective in this area is to foster the human resources who will support society and drive its development in the future. Children's disengagement from science in recent years is widely acknowledged, and companies like ours that deal with advanced science have a duty to foster an interest in science from an early age. In addition, health is a perpetual social issue that will affect the future of all children.
Chugai partners with local government agencies, NPOs and educational institutions to conduct educational programs for students from elementary school to university. In scientific fields where Chugai's experience and expertise can be put to use, we are taking our own measures, such as conducting science workshops, to spark children's interest in science and health. Depending on local needs, our other activities include support for disaster prevention education, acceptance of visitors to Company facilities, and career education classes (at schools and at Chugai) that make use of Chugai's diverse employees.
We hope to provide more opportunities for children to experience the fun of science, and to think about their own and society's future.
Chugai recognizes the importance of social contribution in the Chugai Group Code of Conduct (CCC). We are aware of our role and responsibility as a good corporate citizen, and actively promote social contribution activities in cooperation with communities and society. We also encourage and support the social contribution efforts of individual employees.
Working together with local governments and NPOs, Chugai will actively promote our social contribution programs in our priority areas of healthcare, social welfare, inclusive society, next generation development, and local community.
Material Issues
Social contribution activities
Improvement of access to healthcare
Basic Concept of Social Contribution Activities
Social Contribution Initiatives
For more information, click here