Chugai is promoting R&D based on organic collaboration between the respective functions of its three core research laboratories in Japan: Fuji Gotemba (Gotemba City, Shizuoka Prefecture), Kamakura (Kamakura City, Kanagawa Prefecture) and Ukima (Kita-ku, Tokyo). Moreover, Chugai is utilizing the Roche Group's network to expand its drug research structure globally in a variety of fields, making it possible to discover promising new drug candidates early and to shorten development time.
Research Bases
Fuji Gotemba Research Laboratories

These facilities, which are the core of Chugai's biopharmaceutical R&D network, conduct genomic antibody research as well as research of small molecule drugs. In discovery research, we focus on research of treatments for bone and joint, renal, hematologic and immune diseases based on antibody engineering, developmental engineering, protein engineering and chemical synthesis research. In development research, we study safety, pharmacokinetics and formulations. We also conduct post-marketing development research for products that have already been commercialized.
Kamakura Research Laboratories

The Kamakura Research Laboratories focus on the oncology and infectious disease fields, and conduct chemical synthesis, protein engineering and discovery research based on bioinformatics, high throughput screening of compounds and natural substances, pharmacokinetic research, and post-marketing development research.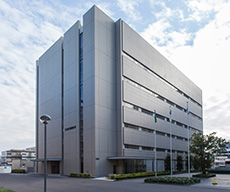 Ukima Research Laboratories

These facilities study industrialization of newly developed drug candidates, and manufacture investigational new drugs. In particular, as a research base for late-stage development, these facilities conduct pharmaceutical API manufacturing process research, product design (formulation and packaging) and production method research, facility design and research on production technology, analysis of the structure and physical properties of pharmaceuticals, and development of quality testing methods.
Domestic and International Satellite Labs
Chugai has set up satellite labs in Japan and other countries to shorten drug discovery and development time and to continuously create innovative R&D projects.
Forerunner Pharma Research Co., Ltd.
Forerunner Pharma Research is an interdisciplinary laboratory that searches for target molecules for therapies and diagnostics for cancer and lifestyle-related diseases. It also conducts joint research with the University of Tokyo Research Center for Advanced Science and Technology (RCAST). By generating and testing genetic expression profiles, mechanism-based research results and ideas, it conducts rapid and systematic analysis and evaluation of candidate target molecules.
Chugai Pharmabody Research Pte. Ltd. (Singapore)
Chugai Pharmabody Research utilizes Chugai's proprietary antibody engineering technologies to quickly and efficiently generate innovative therapeutic antibody candidates that provide unprecedented value.
C&C Research Laboratories (South Korea)
C&C Research Laboratories performs target searching and drug-discovery research centered on a flexible synthetic chemistry research function.