Features of Drug Discovery Approaches
At Chugai, we first develop proprietary technologies that are applicable to drug discovery, and then apply them to drugs that target disease-causing molecules. With this approach, we aim to create first-in-class*1, best-in-class*2 new drugs that can be differentiated from the drugs of other companies.
*1 An original drug that is highly novel and useful, and will significantly change the therapeutic system.
*2 A drug that offers clear advantages over other existing drugs in the same category, such as those with the same molecular target.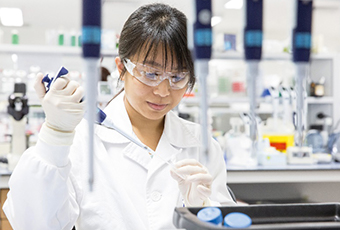 As for the proprietary technology needed for this technology-driven approach, Chugai is establishing drug discovery technologies (modalities) that can accommodate a variety of target molecules We boast world-class technologies in two modalities, antibodies (polymers) and small molecules. Above all, we are a leader in the world with our proprietary antibody engineering technologies that expand the possibilities for antibody drugs. In addition, we are working to establish a technological base for medium molecules as the third modality. With this new modality, we are aiming for a completely new approach to addressing diseases that still have no treatments.
In addition, we are selecting drug discovery targets by uncovering disease-causing molecules and utilizing global research networks such as academic institutions in both Japan and overseas. Chugai will continue to develop its own innovative drug discovery technologies based on this "technology-driven approach".