Chugai Pharmaceutical Co., Ltd. (Chugai) will pursue interactive corporate communication activities in an attempt to deepen mutual understanding and further enhance trust with its stakeholders, such as investors, shareholders, consumers, patients and healthcare service providers.
In order to achieve this objective, Chugai will ensure that information related to its business activities are made available in a timely, fair, and consistent manner to all stakeholders.
In accordance with this basic policy, Chugai will disclose information to capital market participants, such as investors, shareholders and security analysts as follows;
1. Disclosure to Capital Market Participants
In order to receive legitimate recognition from the market, a timely, consistent and credible disclosure of information will be made to all capital market participants, such as investors and shareholders, in accordance with the Securities and Exchange Law of Japan and relevant rules of the stock exchange on which shares of Chugai are listed. In addition, measures to allow easy access to disclosed information will be established to ensure transparency.
2. Information Subject to Disclosure
Material Information required to be disclosed under the Securities and Exchange Law of Japan and Timely Disclosure Rules established by Tokyo Stock Exchange will be disclosed through the Timely Disclosure network (TDnet).
Information other than (1) above that may affect investment decisions will be disclosed in a timely manner through press releases, press conferences, briefings, etc., depending on the importance and urgency of the information to be disclosed.
Information disclosed under (1) and (2) will be promptly posted on Chugai's website following disclosure.
For the convenience of capital market participants, Chugai will make efforts to provide English translations of the information disclosed in Japanese (excluding personnel information), provided that the Japanese original prevails over its English translation in the case of any discrepancy found between documentation.
3. Disclosure of Forward-Looking Statements
Forward-looking statements disclosed by Chugai (including information posted on the website) , such as its business plans, forecasts or strategy, may include risks and uncertainties. Actual results may materially differ from the forward-looking statements.
4. Responding to Third Party Business Forecasts and Market Rumors
Chugai will not make any comments on evaluations, business forecasts and market rumors about Chugai made by third parties. However, should this information substantially affect the capital markets, be considered by Chugai to be potentially damaging to its business, or should Chugai be requested by the stock exchange on which shares of Chugai are listed or other institutions to provide an explanation or take action, Chugai may make some comment.
5. Quiet Period
Chugai will make the period from the next business day of the end of each quarter to the day of the announcement of the financial results of the quarter a "quiet period," during which Chugai will refrain from making any comments on undisclosed financial results (i.e. financial information and business activities including research and development) requested by capital market participants.
6. Framework for Information Disclosure
Chugai has established a Corporate Communications Committee. The Committee shall be responsible for the establishment, revision and internal dissemination of its information disclosure policy and other related activities.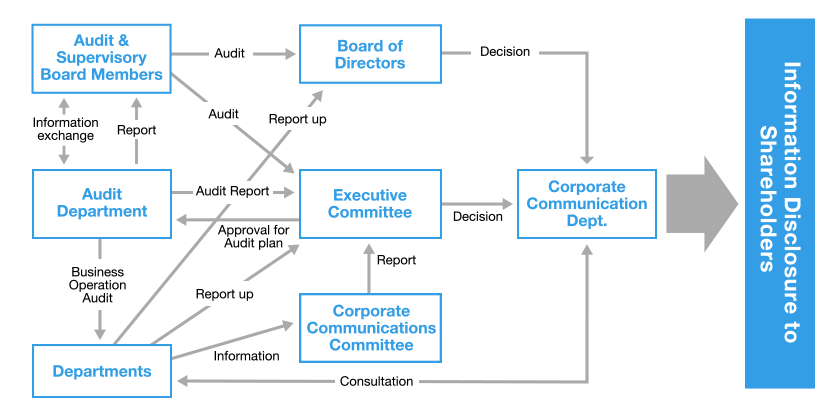 7. Others
When browsing our website for company information, please refer to Disclaimer posted on the website, in addition to this Disclosure Policy.