Chugai views its global intellectual property (IP) strategy as the foundation for creating innovative new drugs. By integrating it with our business and R&D strategies, we protect the competitive advantage of our products and ensure operational flexibility. We focus resources on and secure IP rights for high-priority R&D projects. At the same time, we actively work to secure rights outside Japan with a view to global co-development with the Roche Group. When we apply for patents for products, we include filings for lifecycle patents related to formulation, production method, diagnostic method and PHC in addition to those for the substance and use. We also work to establish rights globally for significant drug discovery technologies such as innovative antibody engineering technologies and mid-size molecule technologies, and use those rights in planning and executing our IP strategy. Moreover, we are building our own database for patents related to antibody engineering technologies, which are becoming increasingly complex and sophisticated, and are using this database to plan IP strategies, including monitoring trends at other companies.
Chugai's IP Strategy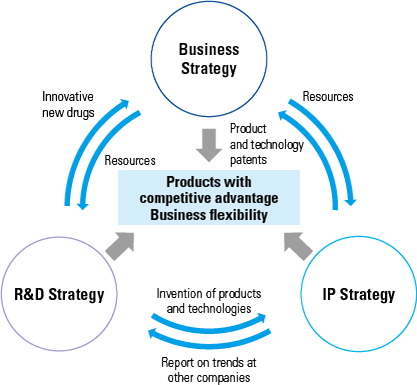 Integration of IP and Research Strategies (Strategic Mix)
At Chugai, we view our antibody engineering technologies as a core drug discovery technology platform, and we are deploying research and development strategies both to cultivate basic technologies and to apply them to product development. Since 2018, we have been dispatching IP liaisons to the Fuji Gotemba Research Laboratories and Kamakura Research Laboratories to strengthen cooperation at the initial stage of research, and they are enhancing and promoting a strategic mix that builds a portfolio of our own technologies and development compounds in the white spaces (gaps) of technologies and rights. IP liaisons hold monthly meetings to review intellectual property with the Pharmaceutical Technology Division, which is also promoting the same strategic mix in manufacturing. In 2019, we dispatched an IP liaison to the Collaboration Promotion Laboratory at IFReC* and began similar initiatives there.
* Osaka University Immunology Frontier Research Center
Current Patent Portfolio
Supported by technological development, we have structured a well-balanced patent portfolio that reflects the diversity of products and development projects generated through Chugai's own research and development. Bone and joint diseases account for approximately 25 percent of patents by therapeutic area, oncology for approximately 29 percent, and other diseases including chronic disorders, hematologic diseases, and drug discovery technology for approximately 46 percent.
Maximizing Product Value in Response to Changes in the Competitive Environment
With the globalization of our portfolio of products developed in-house and the expansion of our portfolio of development projects and drug discovery and manufacturing technologies, our competitive environment is becoming increasingly intense. This requires more sophisticated IP activities to maximize the value of Chugai's intellectual property while respecting the effective rights of other parties. This in turn will help to maximize the value of our products, development projects and technologies.
We carry out IP activities in close cooperation with internal and external stakeholders including Roche, Genentech Inc. and other affiliated companies, outside attorneys, and our business and legal departments. Chugai will deepen cooperation in its intellectual property activities so that it can continue to provide value to society.
Chugai's position on Intellectual Property and Access to Health
The Mission set forth in the Mission Statement of the Chugai Group is to "Dedicate ourselves to adding value by creating and delivering innovative products and services for the medical community and human health around the world".
The Core Values are our most important standards of judgment that will be applied while engaging in activities that support our realization of the Mission and we will operate our business in accordance with them. The Chugai Group will contribute to the realization of a sustainable society by solving social issues through the creation of innovation and efforts toward respect for the environment, human rights, and more.
We believe that robust Intellectual Property (IP) systems stimulate such innovation and solving social issues for the benefit of society as a whole. At the same time, we also believe that it is important to carry out our IP activities in consideration of the public interest. Based on those principles, we established our position on Intellectual Property and Access to Health in the Executive Committee.
The full text of Chugai's position on Intellectual Property and Access to Health