Overview of Chugai's Research Activities
Pioneer in biotechnology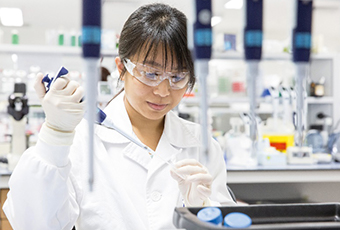 Results in biopharmaceutical research reaching back more than 30 years
Successful creation of Japan's first original antibody drug
Chugai has been involved in pioneering the research and development of biopharmaceutical products for more than 30 years. We enhanced the level of our technologies and built up our experience as a leader in biotechnology, starting with the launch of two biopharmaceutical products in the 1990s and the successful launch of the first antibody drug created in Japan, in 2005. Currently, we are a leader in the world with our proprietary antibody engineering technologies that expand the possibilities for antibody drugs.
Technology-driven drug discovery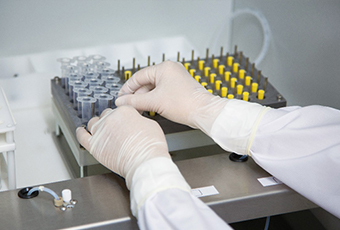 Two types of world-class drug discovery technologies (modalities): biotechnology and chemical synthesis
Initiative to establish middle molecules as a third modality
In the world of drug discovery, fundamental technologies are referred to as "modalities."
In addition to its two world-class level modalities, Chugai is pursuing the establishment of middle molecules. With this new modality, we are aiming for a completely new approach to addressing diseases that still have no treatments.
One significant feature of Chugai research is that new drug discovery is technology driven; we use the most outstanding technology without setting limits in advance on the target disease areas for research.
Open Innovation through collaboration with academia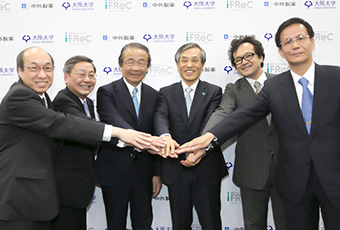 Proactive cooperation with academia based on our technical strengths
An agreement with Osaka University on comprehensive collaboration began in 2017
Chugai has established its research system within an environment of Open Innovation based on our technical advantages. By accumulating collaborative research in which we provide our highly useful drug discovery technology and know-how, and academia contributes their new discoveries, we are building a productive external network. In May 2016, we entered into an agreement with Osaka University for comprehensive collaboration with the Immunology Frontier Research Center (IFReC). In 2017, Chugai opened a Collaboration Promotion Laboratory and started full-fledged activities.
Strategic alliance with Roche
Each company in the Roche Group independently pursues drug discovery research to carry out healthy competition
Sharing drug discovery platforms is an advantage
In the Roche Group, each company (Roche, Genentech and Chugai) conducts drug discovery research independently, while they share drug discovery platforms such as a compound library. This creates a significant advantage for Chugai to pursue innovation.