In 2010, a working group headed by Chugai's president was assembled and began activities to promote gender diversity, the most familiar type of diversity. In 2012 we established the Diversity Office to broaden these activities and promote diversity not only of gender, but also of nationality and age. Divisional diversity and inclusion promotion teams have also been set up, and have conducted their activities to promote diversity and inclusion in accordance with conditions in their respective divisions.
Gender Diversity Management Working Team Activities (2010-2011)
Conducted awareness surveys on gender and identified and analyzed issues. Set and achieved targets for increasing the number of female managers
Female employees in managerial positions selected from each division conducted awareness surveys on gender and identified and analyzed issues. In 2011, they submitted a report to management, and the contents of that report became the foundation for the start of gender diversity promotion initiatives.
Based on those responses, a numerical target of 60 female managers for the year 2015 (double the number in 2010) was set as part of the effort to promote the active participation of women in business, a target that was subsequently achieved.
Divisional Diversity and Inclusion Promotion Team Activities
Members take actions geared to the issues in each division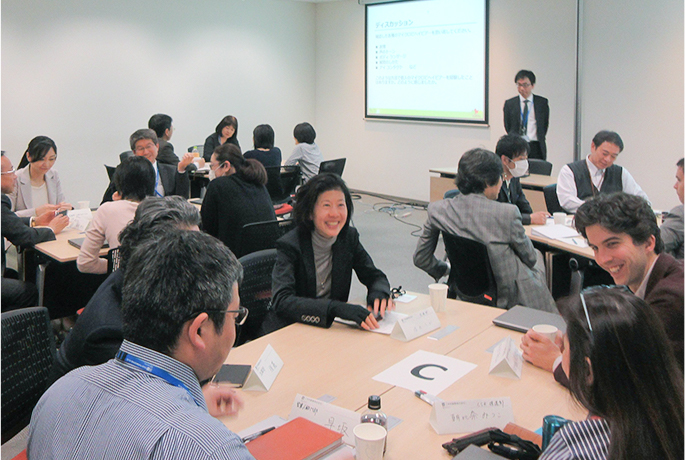 Thus far each division has conducted a variety of activities, including forums and lunchtime gatherings on themes such as balancing work and childcare, and women's careers. In addition, activities such as holding talks and distributing email magazines have been conducted with the aim of promoting a better understanding of diversity and inclusion. Members are able to conduct flexible and dynamic activities with the aim of stimulating employee interest in diversity and inclusion as they are closely linked to each workplace.
Moreover, regular meetings are held that are attended by representatives from each Divisional Diversity and Inclusion Promotion Team, and where explanations and information are shared in order to deepen understanding of Company-wide policies and measures, the teams' actions are taken in conjunction with the Diversity Office.
Chugai Diversity Promotion Forum
Held every year as a venue to share the status of D&I promotion and also opinions from outside the Company
Since 2013, Chugai has held the Chugai Diversity Promotion Forum which brings together executive officers, division general managers, unit heads and other members in charge of diversity promotion from each division, with the aim of accelerating the promotion of diversity and inclusion. At the forums, in addition to introducing divisional D&I promotion initiatives and sharing case studies from outside the Company, messages from top management about D&I are provided on an ongoing basis.
The forum shares anew the awareness of how diversity and inclusion are essential for the growth of the Company given rapid changes in the business environment and progress in technological innovation, and also serves as a venue in which to renew the participants' determination to further promote diversity and inclusion.
The 2018 forum was held under the theme of "The True Nature of Inclusion," affording them an opportunity to think about the true nature of inclusion by means of specific case studies from inside and outside the Company that described instances, where involving a wide range of people and collaborating beyond inter-organizational boundaries led to business success.