Chugai successfully created the first therapeutic antibody originating in Japan and has established a consolidated drug discovery platform that utilizes its own innovative antibody engineering technologies such as Recycling Antibody® technology (SMART-Ig®) and bispecific antibody manufacturing technology (ART-Ig®). We have also developed next-generation antibody engineering technologies, such as the Switch antibody™ technology (Switch-Ig™), which corresponds to targets that have been difficult to address in terms of safety issues.
In order to address higher unmet medical needs, we need to research disease biology and investigate target molecules to expand our modality platforms for drug discovery, because the mechanisms and modalities needed for pharmacotherapy will become more diverse. Chugai has already developed world-class technologies for antibody engineering and mid-size molecule drug discovery which can reach some intracellular targets that were previously difficult to access, and have high binding activity, and good oral absorption, and we will now pursue a multi-modality strategy with a flexible approach to the use of external technologies.
* Medical needs that is not adequately met due to a lack of effective treatments
Chugai's Strengths are Antibody Engineering Technologies
Therapeutic antibodies are expected to contribute to patients suffering from cancer and other intractable diseases that currently have no effective treatment.
An antibody is a molecule that specifically binds to a marker (antigen) in a specific foreign substance and removes it from the body.
When applying an antibody to the treatment of cancer, the antibody can pinpoint a marker (antigen) on the surface of cancer cells, but it does not bind to normal cells that lack the marker (antigen). Therefore, a high therapeutic effect and a reduction of side effects can be expected.


Chugai is a pioneer in the field of biopharmaceuticals.
Chugai has become a leading biotechnology company in Japan by using its experience and know-how accumulated since the 1980's to create the first therapeutic antibody originating in Japan. Based on this experience, Chugai has continuously succeeded in establishing proprietary antibody technologies that attract world attention. These technologies enabled Chugai to create the first bispecific antibody for hemophilia A and launch that drug for the first time in the world in 2017.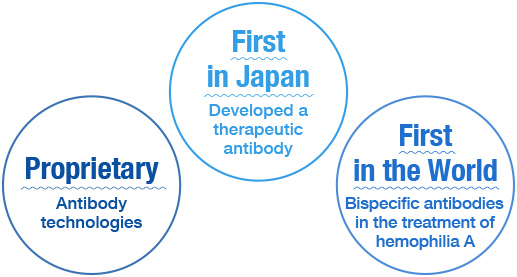 Chugai's Unique Innovative Antibody Technologies
1. SMART-Ig® ("Recycling Antibody®" "Sweeping Antibody®" Technology)
A conventional antibody derived from ordinary technology has two limitations no matter how high its affinity to the target antigen may be: 1) the antibody can bind to the antigen only once; and 2) the antibody can only bind to the antigen, not eliminate it from plasma.
SMART-Ig®, developed by Chugai, is an entirely new technology that overcomes these two limitations. It enables the targeting of previously untargetable antigens and achieves a product profile that could not be realized in the past with a conventional antibody.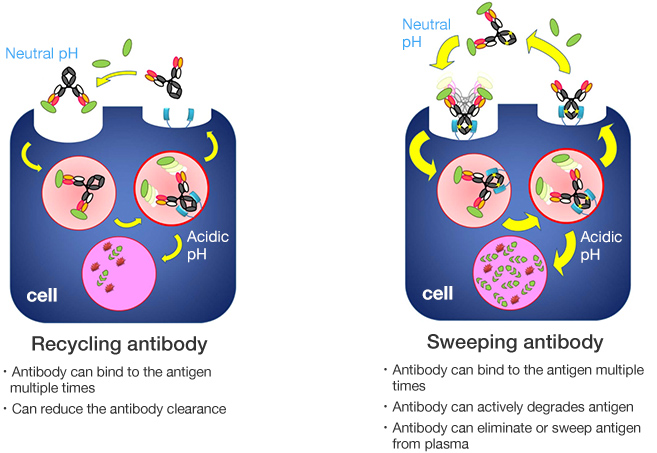 2. ART-Ig® (Bispecific Antibody Manufacturing Technology)
This technology enables commercial production of bispecific antibodies, which is expected to lead to the generation of drugs with a new mode of action that enhances efficacy by simultaneously binding with two types of antigen or provides new pharmacology by bridging two antigens.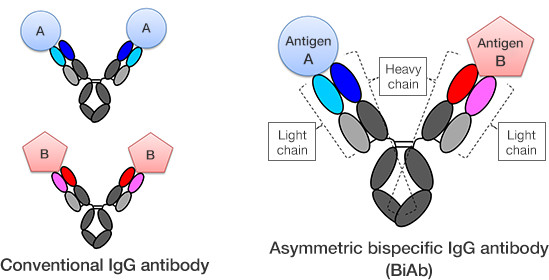 3. Switch-Ig™ (Switch Antibody™ technology)
"Switch Antibody™" is designed to bind to the antigen only in the presence of tumor specific small molecule metabolite (switch molecule).
Conventional antibodies bind to target antigens in normal tissues as well as at sites of disease, resulting in side effects. Our Switch Antibody™ technology is expected to solve this issue by increasing the specificity of antibodies to the sites of disease.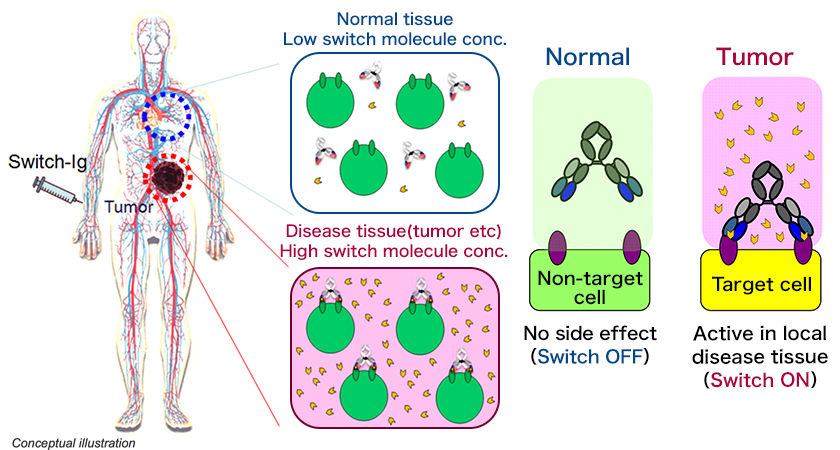 Mid-Size Molecule Technology
In addition to the Company's portfolio of therapeutic antibodies and small molecule drugs, Chugai is also working to establish new technologies for drug discovery in the modality (therapeutic approach) of mid-size molecule drugs. Our objective is to develop drugs that can be given orally and treat targets that have been difficult to reach with conventional technologies like small molecule drugs. Multiple technological issues have made it difficult to create metabolically stable mid-size molecule drugs that can penetrate within the cells. After focusing business resources in this field for over 10 years, we have now established unique mid-size molecule technologies that provide the Company with a competitive advantage, including the creation of a huge and diverse library of mid-size molecule compounds (cyclic peptides) with structures that are relatively easy to formulate as drugs. Our first mid-size molecule drug project has moved into clinical stage in October 2021. We believe mid-size molecule drugs have enormous potential as a solution to medical needs that cannot be solved with conventional modalities and hope to make this new approach available to patients as soon as possible.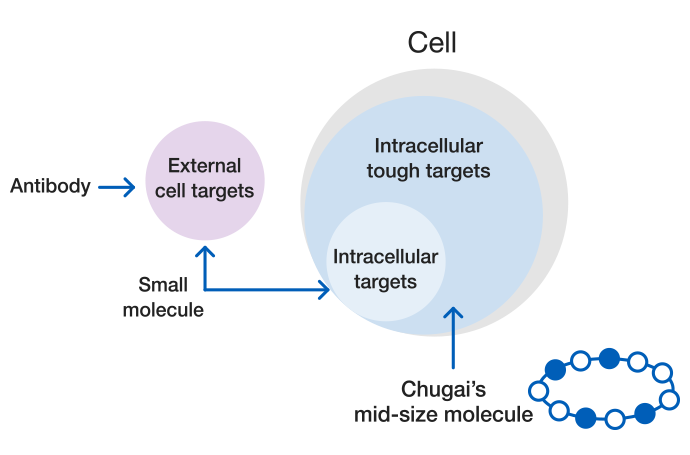 Innovating Drug Discovery Processes Using AI
In the field of drug discovery, we are using AI to transform various processes. For example, in the creation of antibody drugs, we are promoting an initiative called AI Machine Learning x Antibody (MALEXA®) to select therapeutic antibodies for drug discovery purposes. By learning the patterns of a large number of antibody amino acid sequences during the selection process, we are able to propose candidate sequences in a short timeframe. Antibodies with strong binding activity have already been successfully obtained in a number of projects. For antibody optimization as well, we have confirmed that machine learning can be used for sequence generation and predictive modeling, which allows us to propose antibody sequence groups based on optimal pharmaceutical characteristics, including binding activity, pH dependency, and physical properties.