Support for Children's Performance of "Momotaro:"
As part of our support for areas stricken by the Kumamoto earthquakes, Chugai was a special supporter of a children's performance, "Narikiri Stage", held by the Huuug Association on January 30. Based on the tale of "Momotaro," the program welcomed children to become the characters themselves on stage, telling the story through song and dance as a way of developing their creativity, expressiveness and cognitive abilities.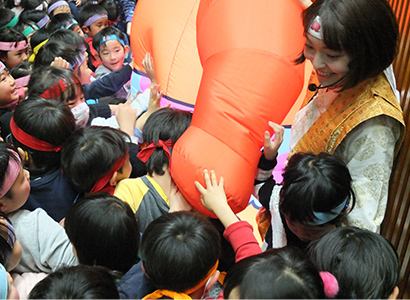 As the children entered the auditorium, they each put on their choice of headband, participating in the musical by "becoming" Momotaro. As Anji Hino, RiRiKa, Kotone and other former members of the Takarazuka Revue performed the tale through powerful words and song, the children had great fun responding with shouts, dances and movement.
In this version of the tale, Momotaro goes to Onigashima to rid it of an ogre, accompanied by a dog (kindness), a monkey (wisdom) and a pheasant (courage). In the end, he realizes that the ogre is all alone, and ends up making friends with him. Through the musical, the children had a chance to think about the importance of friends and the meaning of compassion. The event ended with a choral rendition by the performers of The Song of Life, a song of survival and a reminder that this was a day for learning about the value of life.