Digital x Drug Discovery
Chugai Pharmaceutical has established a grand strategy, titled CHUGAI DIGITAL VISION 2030, with the aim of becoming a top innovator that uses digital technologies to innovate business and to deliver healthcare solutions that will change society. Three people who are involved in Chugai Pharmaceutical's digital transformation discuss what makes that transformation special and its possibilities.
Yoshito Nakanishi

General Manager,
Digital Strategy Dept.,
Digital IT Supervisory Div.
Since 2005

Applied to Chugai Pharmaceutical after an advertisement portraying Chugai Pharmaceutical's intentions toward the research and development of new drugs inspired him during his job search. Has gained a wide range of experiences to date, working in drug discovery research and as a global project leader for anti-cancer drug development, and now works as the General Manager of the Digital Strategy Department.

Hiroyuki Tsunoda

General Manager,
Discovery Technology Dept.,
Research Div.
Since 1997

Specialized in biotechnology at graduate school and joined Chugai Pharmaceutical in search of a place where he could use his knowledge in drug discovery. Worked for many years in research and development of antibody drugs and currently serves as General Manager of the Discovery Technology Department. He supervises the research and development of new technology needed for next-generation drug discovery activities.

Toru Maruyama

Discovery Technology Dept.,
Research Div.
Since2018

Did his undergraduate studies in biology. During that time, he studied programming out of personal interest and went on to specialize in bioinformatics at graduate school. After completing the doctoral program, he joined Chugai Pharmaceutical with the desire to make real-world contributions, and he is now working as a data scientist.
Desire to use data science to do research
that will make real-world contributions.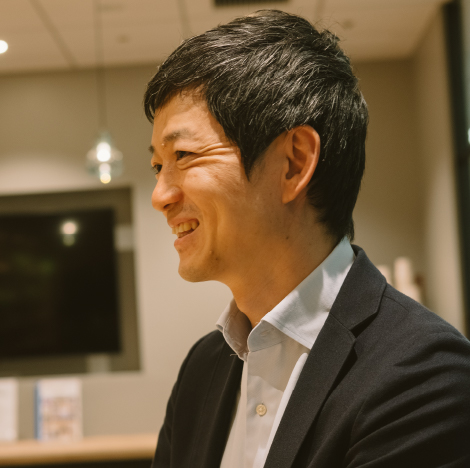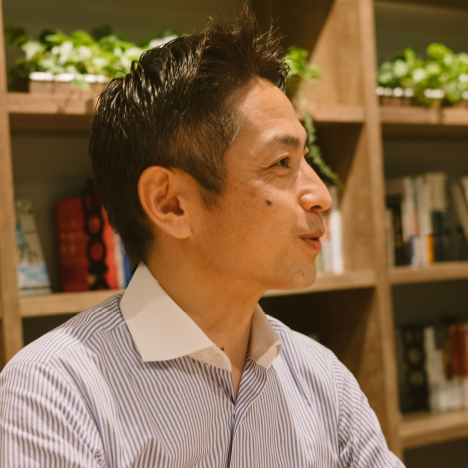 NakanishiDigitization is proceeding at a rapid pace in today's society. In a bid to stay a step ahead of that trend, Chugai Pharmaceutical is working to transform its business by deploying digital technologies across the entire company. The flagbearer of that movement is my department, the Digital Strategy Department. We work very closely with the Discovery Technology Department, which Tsunoda-san heads up.
TsunodaMy department, the Discovery Technology Department, researches and develops various basic technologies for the creation of innovative new drugs. Digital technologies are essential to that work. For example, we use artificial intelligence (AI) to seek out disease-causing genes and candidate substances for new drugs from massive volumes of data. In this way, drug discovery is changing dramatically with the use of digital technologies. If we want to use our massive volumes of data to discover new knowledge, we need specialist data science personnel to analyze that data. Maruyama-san is one of those personnel. You specialized in bioinformatics(*1) at graduate school, didn't you?
MaruyamaYes. I actually planned on becoming an academic. From when I was an undergraduate student, there has been this vision for the future, in which there would come a day when the genetic information of each individual person could be used to choose the best drugs for that person. Back then, it seemed like a pipedream, but by the time I started my doctoral program, the technology had advanced to the point where large-scale analysis of genetic information could be performed easily, and I felt that the future was within reach. If that were the case, I decided that, instead of pursuing an academic career, if I were to work in a company I could do research that would make real-world contributions.
NakanishiWhat interested you in Chugai Pharmaceutical as a place to work?
MaruyamaAfter talking to several people who worked there, I felt that the company had an atmosphere where I could flourish to my full potential from an early stage. You also had a major impact on me at the interview, Tsunoda-san.
TsunodaThat's right. I interviewed you. Data scientists like Maruyama-san were in extremely high demand, and he had received offers from several companies, so he was having a hard time deciding which way to go. We really wanted him to join us, so I convinced him by telling him that at Chugai Pharmaceutical, he could do responsible work that would contribute to society greatly from a young age (laughs).
MaruyamaHaving joined the company, I really do feel that it is exactly as Tsunoda-san said.
TsunodaChugai Pharmaceutical has a bottom-up culture, in which anyone can flourish to their full potential, be they a veteran or a young person. Nakanishi-san, you were tasked with leading your current department in your thirties, and Maruyama-san, you already play a core role in the data science organization.
(*1) An academic discipline that uses information science techniques to analyze the various information that living things hold to elucidate life phenomena.
Analyzing medical big data to seek out new knowledge that will lead to new drug development.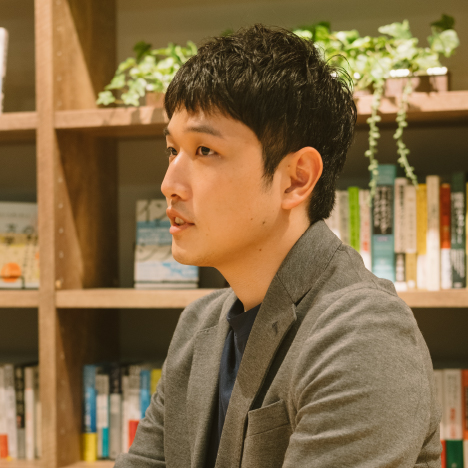 MaruyamaI have only been with the company for a few years, and I have been given responsibility for several important topics. For example, the research I am doing at the moment involves working with hospitals to obtain data such as the gene expressions from patient cancer specimens obtained in surgery and analyzing that data to discover the seeds of new drugs. Elucidating cancer at the genetic level from data is purely interesting as a science.
TsunodaLately, the pharmaceutical industry has been enthusiastic in its efforts to seek out new knowledge from real-world data (*2) and use that knowledge for new drug discoveries. You are a part of those efforts, Maruyama-san, aren't you?
MaruyamaThat's right. The real-world data that I am working on is the analysis of medical insurance statements. Those statements contain patients' medical history and the history of the drugs they have been prescribed. Several million of these patient statements, which have been properly anonymized, have been made available. By analyzing the big data from those statements, we can see how a disease progresses and venture hypotheses for the creation of new drugs. Also, the Discovery Technology Department has specialists in experimental technologies, so we work with them to research ways of using data obtained from new technologies, such as single-cell analysis (*3).
TsunodaThe shape of drug discovery research is undergoing a major transformation these days. In the past, the most common method was to develop candidates for pharmaceuticals based on research findings published in articles and the like and then administer them to animals to study their efficacy and safety. However, such methods have their limits. So, more recently, moves have been growing to create drugs that are tailored to the condition and symptoms of each individual patient. If we want to understand the patient more deeply, ultimately, we need to analyze the data at the level of the cells that make up the patient's body. That requires a high level of digital technology. That is why people, like Maruyama-san, who have knowledge of data science will be so important to drug discovery efforts going forward.
(*2) Medical big data at the individual patient level obtained from clinical settings, such as medical insurance statements and electronic patient charts
(*3) Technology for the analysis of the state (expression, mutation, etc.) of genes at the level of a single cell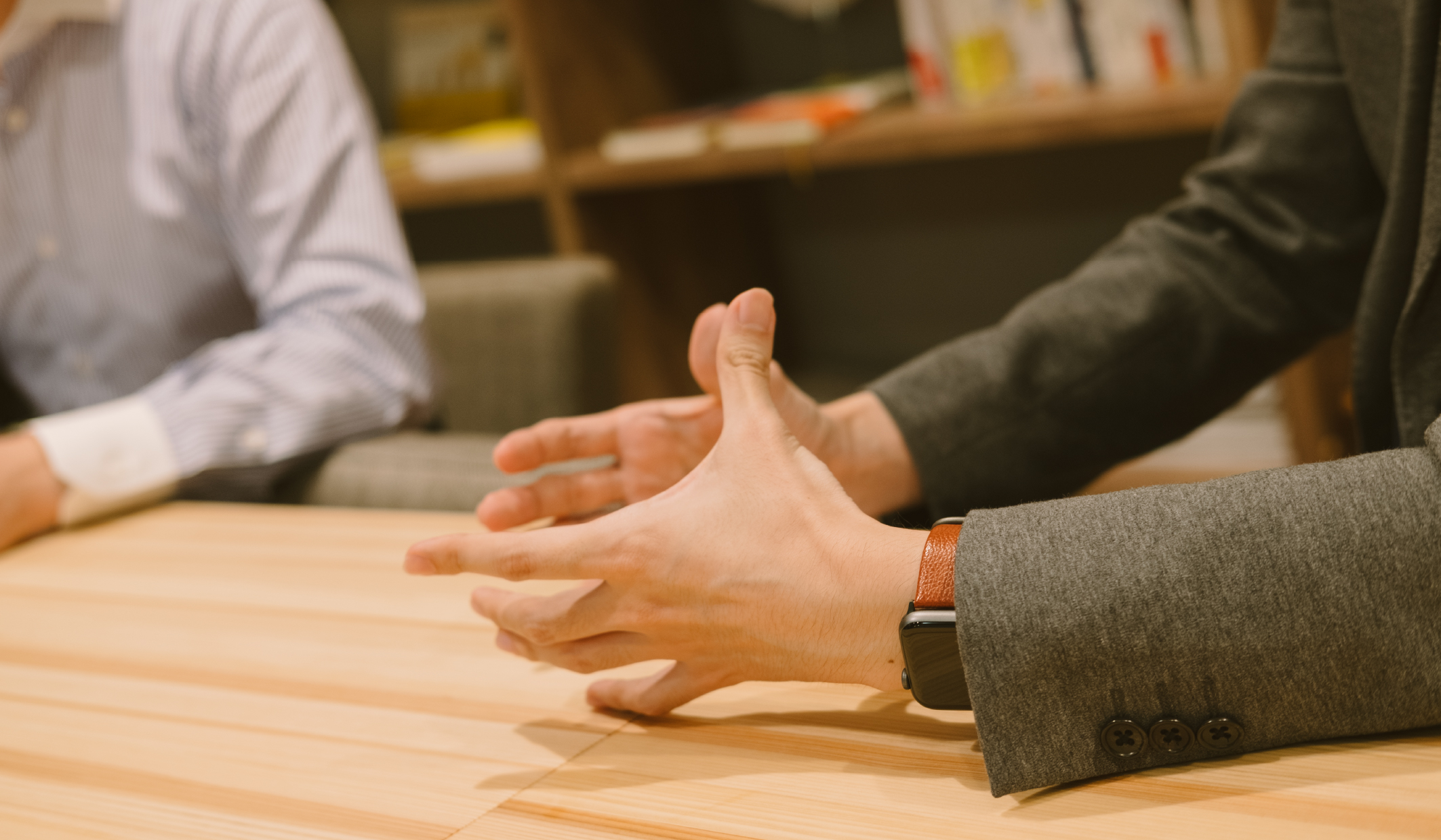 My own research outcomes could conquer diseases
that are difficult to treat and will save lives.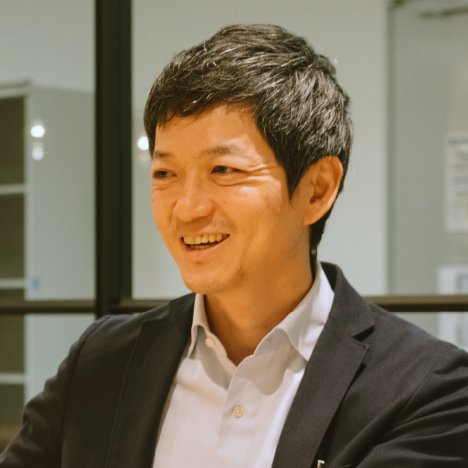 NakanishiAs well as the drug discovery research that Tsunoda-san and Maruyama-san are involved in, Chugai Pharmaceutical's digital transformation is making rapid progress in other areas, such as drug manufacture in the factories and in the provision of information to medical practitioners. For example, the Digital Strategy Department and the Pharmaceutical Technology Division, working with the Sales Division, are developing systems for digitizing the manufacturing plants, to make the production processes and quality control more advanced. They are also working on systems to support more precise MR activity by using AI to predict what kind of things physicians are currently interested in. There are still many areas in the company that could be transformed with the power of digital and the challenge is very rewarding.
MaruyamaI think our company is brimming with opportunities for anybody who wants to work in data science. I can be involved in many different areas from a young age and have my ideas incorporated. The new knowledge that I discover from the data could provide clues for conquering diseases that have until now been difficult to treat, ultimately helping to save lives.
TsunodaThat's right. What makes working in data science so interesting at Chugai Pharmaceutical is the fact that we can create new value in medicine and other areas of the healthcare sector. The ability to deliver your own research outcomes to patients in the form of new drugs is something truly special that can only be experienced at a pharmaceutical company.
NakanishiAt Chugai Pharmaceutical, data analysts are involved in every part of the process, from the discovery of new drugs to their delivery to patients. This is one of the greatest benefits of working as a data scientist at our company.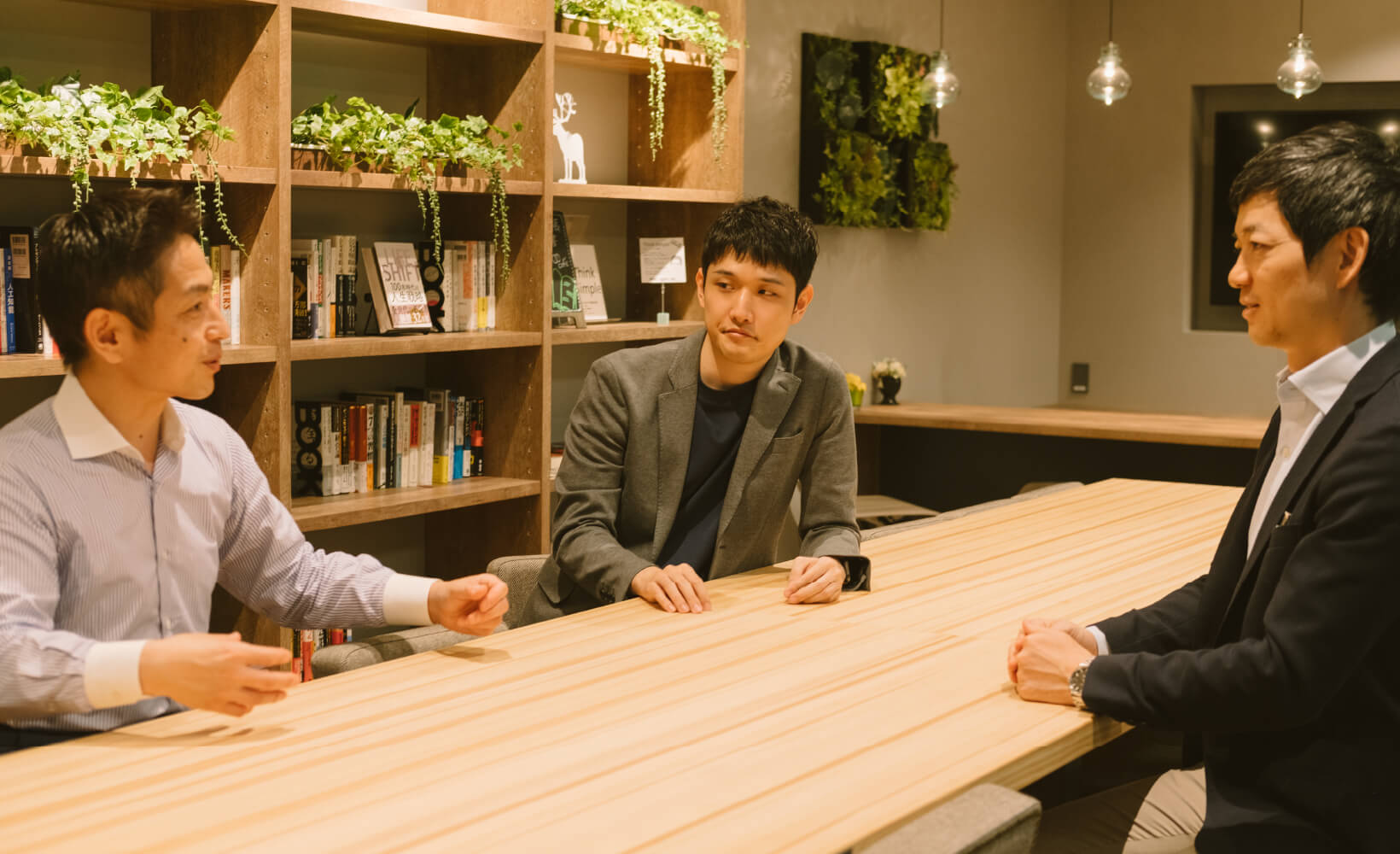 Global collaboration is also something special.
You can flourish even without pharmaceutical knowledge.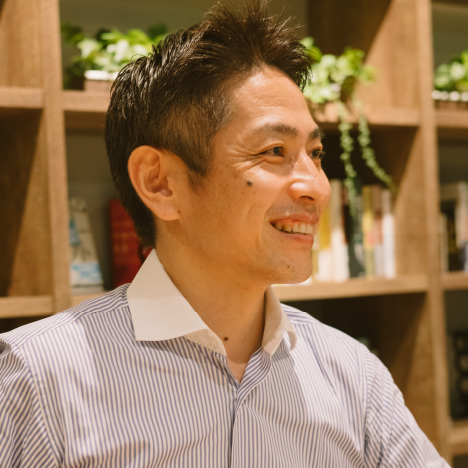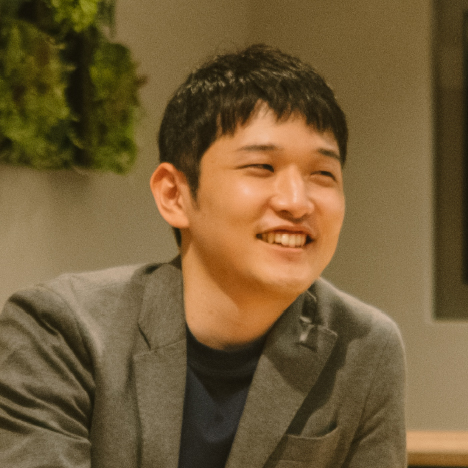 TsunodaAs a member of the Roche Group, Chugai Pharmaceutical is deepening its collaboration with Roche in the data science domain as well. Roche has had made enormous investments in the use of digital and has already built up a wealth of knowledge in data analysis technologies. We intend to be more proactive about personnel exchanges so that our people will also be able to make use of their leading-edge technologies and infrastructure. Maruyama-san is at the vanguard of these efforts and will soon go on temporary assignment to Roche's headquarters in Basel, Switzerland.
MaruyamaI have wanted to leap out into the world and do joint research with Roche since I first started at Chugai Pharmaceutical, but I never dreamed that I would be given the chance so quickly, in only my third year with the company. Roche has been acquiring a succession of top companies that specialize in the analysis of electronic patient charts and genetic analysis. It is handling tremendous volumes of information in the pursuit of data science research. When I heard about this, it sounded truly dynamic and the sheer scale of what they are doing excites me. I am really looking forward to seeing what kind of research I will be able to do when I move to Switzerland.
NakanishiThe many opportunities for global collaboration are another very special thing about working at Chugai Pharmaceutical. When I was working in drug discovery research, I also spent a year on temporary assignment to Genentech in the United States, a bio-venture of the Roche Group, where I did research on biomarkers. As well as being able to raise my game as a researcher, the opportunity to encounter a different culture really expanded my world, and that experience is now serving me well in my leadership of the Digital Strategy Department.
TsunodaChugai Pharmaceutical is an attractive company in terms of demonstration digital knowledge and skill, but people may think that you also need knowledge of medicine and pharmacy to work in data science at a pharmaceutical company. However, we have many data scientists who have absolutely no background in medicine or pharmacy at all. For example, we have one expert who is using machine learning, a form of AI technology, to develop technology for the selection of the best antibody drugs. He was actually a physics major and knew nothing about pharmacy until he joined Chugai. You're the same, aren't you, Maruyama-san?
MaruyamaYes. I didn't know a thing about pharmaceuticals. Even so, the company has an environment in which you can learn after you join the company, and there are plenty of experts in drug discovery around you, so you can ask them and benefit from their knowledge. On the contrary, it has been very stimulating and interesting to encounter what, to me, are the unknown worlds of medicine and pharmacy and obtain more and more new knowledge.
We want to use digital technology to achieve truly
"Personalized Healthcare (PHC)"
(※4)


and transcend the boundaries of a pharmaceutical company.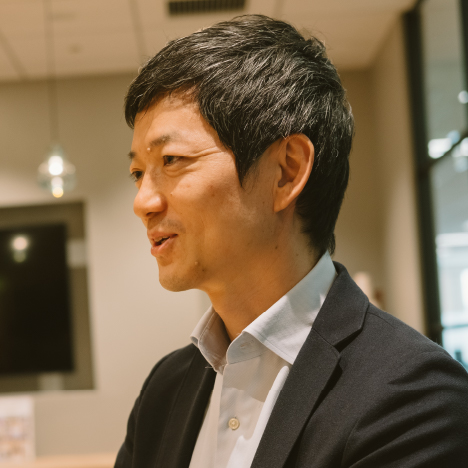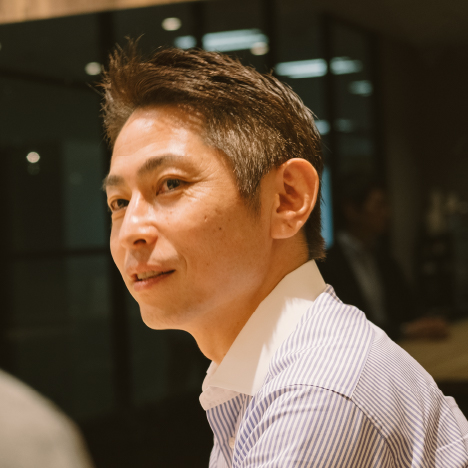 NakanishiChugai Pharmaceutical's ultimate aim is to realize "Personalized Healthcare" in the truest sense of the word. If we can take full advantage of the power of digital to gain an accurate understanding of each individual patient, so we can give them the optimal medical treatment, the world of medicine will evolve dramatically.
TsunodaIn providing this personalized healthcare, we are attempting to leap far beyond the conventional boundaries of Chugai Pharmaceutical's business. Instead of merely researching and developing pharmaceuticals, we are endeavoring to step into the domain of patient diagnosis. The power of digital will also be essential in terms of realizing the provision of those kinds of products and services.
MaruyamaAs Tsunoda-san just said, I think there will be a huge change in the role played by pharmaceutical companies. We will be able to demonstrate our value not only in treating disease, but also preventing it. As well as creating ground-breaking new drugs with data science, I imagine us being able to discover people who are at a higher risk of a certain disease in advance and to create systems that will help prevent those people from contracting the disease. These days, we are able to obtain biological information from wearable devices and take advantage of real-world data. The power of digital will allow us to see things that have been invisible until now and to do things we could not do before. I want to use digital to create a new model for pharmaceutical companies for the next generation.
NakanishiI want to make Chugai Pharmaceutical into a company that is able to make good use of leading-edge digital technologies as a matter of course whenever it takes on new challenges.
TsunodaChugai Pharmaceutical has a plan to establish a huge new research center called Chugai Life Science Park Yokohama in 2023 in the city of Yokohama in Kanagawa Prefecture. Our aim is to make maximum use of digital at this new research center, so it will provide a stage for data scientists like Maruyama-san to realize their potential even further. We would love to work together with people who want to use digital to contribute to life science fields such as drug discovery and medicine and to take Chugai Pharmaceutical even further into the future.
(*4) Personalized Healthcare (PHC): Treatment that is tailored to the physical condition and disease type of the individual patient. It refers, for example, to treatment that is tailored to the individual patient's physical condition and disease after investigating the genes that are related to the patient's condition and disease in detail.
※The contents of this article, and the divisions
that the people featured in this article
belonged to and the names of those divisions
are current as of the time of the panel discussion.
※Click on the banner below for details of Chugai Pharmaceutical's digital strategy.