Panel Discussion with
Junior Employees
At Chugai Pharmaceutical, we believe that our people are our greatest asset. As such, human resources management is one of our most important management themes. It is in this belief that we actively entrust junior employees with responsible jobs and have established an environment in which they can perform to their full potential.
The six people in this article are all in their second year with the company.
These are the real voices of junior employees close to the age of students in the midst of their job search activities. They talk about everything from their reasons for applying to Chugai Pharmaceutical, how their assumptions differed from the reality after they joined the company, and the mistakes they made in their early days, to the reward they find in their work and their goals for the future.
Ryuta Kawaji

Regulatory Affairs Dept., Project &
Lifecycle Management Unit
Since 2019

Started in a regulatory affairs position. Main duties include preparing electronic files for submission to the authorities for new drug approval applications. Also works in the management of software and other tools needed to prepare those files.

Hitomi Keo

Regulatory Affairs Dept., Project &
Lifecycle Management Unit
Since 2019

Started in a regulatory affairs position. Like Kawaji, works in the editing and production of electronic files needed for approval applications and is also involved in the introduction of new systems, etc. that form the foundation of that work.

Takenori Sumida

Regulatory Intelligence &
Management Dept.,
Quality & Regulatory Compliance Unit
Since 2019

Started in a reliability assurance position. Works in applications and inquiry responses to indicate to the authorities that the manufacturing plants are complying with GMP (Good Manufacturing Practice: quality control standards that plants must adhere to when manufacturing pharmaceuticals).

Rikako Watanabe

Quality Assurance Dept., Quality & Regulatory
Compliance Unit
Since 2019

Started in a reliability assurance position. Performs duties related to responses to quality investigations of marketed pharmaceuticals and assuring the reliability of products through quality improvement activities, based on the information from those investigations.

Masato Uto

MR, Marketing & Sales Div.
Since 2019

Started in an MR position. As an MR assigned to the Tokyo Metropolitan Area, is responsible for a variety of medical institutions, from general practices to city hospitals.

Shiori Egusa

MR, Marketing & Sales Div.
Since 2019

Started in an MR position. As an MR assigned to the Kanagawa Prefecture area, is responsible for providing information about Chugai Pharmaceutical's products, including anti-cancer drugs.
One of Chugai's major attractions is
how very many pipelines it has.
I was also drawn by the unusual positions it advertises.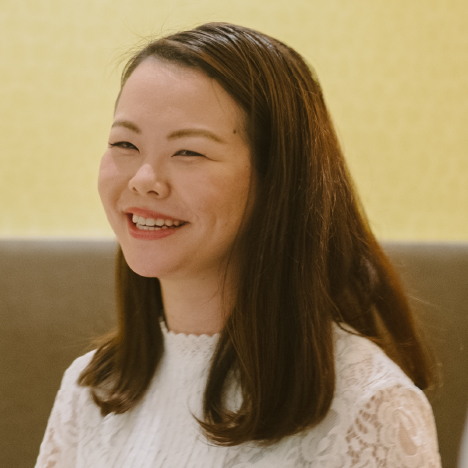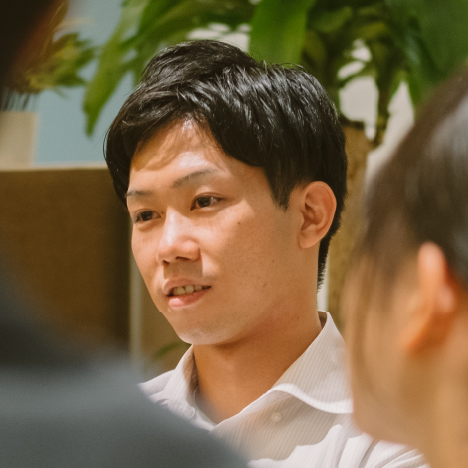 UtoWhy did you all apply to Chugai Pharmaceutical when you were looking for employment after university?
EgusaFirstly, the job search process revolves around what you want to do, doesn't it? For me, that was being involved in human health. I have always believed that good health is the most important thing in people's lives. I developed an interest in the job of MR, which handles pharmaceuticals, and when I heard that Chugai Pharmaceutical, in particular, had many good products and an abundance of pipelines (potential new drugs), I thought that it had great potential for helping patients, so I decided to apply.
KawajiI was also attracted by its abundance of pipelines. I applied for a clinical development position, and I thought the process of negotiating with the authorities for new drug approvals looked particularly interesting, so I chose a regulatory affairs position. Chugai Pharmaceutical has many items that it has introduced from Roche, and I thought that I would be able to experience approval applications for many different new drugs.
KeoI studied pharmacy at university, where I did a practicum at a hospital pharmacy, so I was keenly aware that there are many patients waiting in hope for new drugs. That experience prompted my interest in jobs that would deliver safe, reliable drugs to patients through the new drug approval application process, which is why I applied to Chugai Pharmaceutical. At the information session, I heard someone describe the job of regulatory affairs as being like the conductor of an orchestra, connecting various departments toward the goal of new drug approval, and I thought it sounded like a rewarding job.
WatanabeI'm the same as Keo-san, in that I studied pharmacy at university. Most of my classmates wanted to become hospital pharmacists, but I was considering pharmaceutical companies because I wanted to do a job that included more involvement with people. So, during my job search, in the course of researching various companies, I came across the job of reliability assurance at Chugai Pharmaceutical. I applied because I sensed the great significance of the job that assured the quality of drugs and made it possible for patients to use them for a long time.
SumidaI also joined the company in a reliability assurance position, and I remember being struck by how rare that type of position was. Almost no other pharmaceutical companies were advertising for it. Initially, I had trouble imagining what kind of job it was, but at the information sessions, the head of the Unit said that the position of reliability assurance served as the final bastion for the delivery of safe drugs to patients, using the analogy of a goalkeeper in soccer. I thought that this was a job that might suit me. The fact that such highly specialized positions are open to new graduates may also be a sign of the expectations the company places in its young people.
Always committed to innovation,
while respecting the individual. That is Chugai.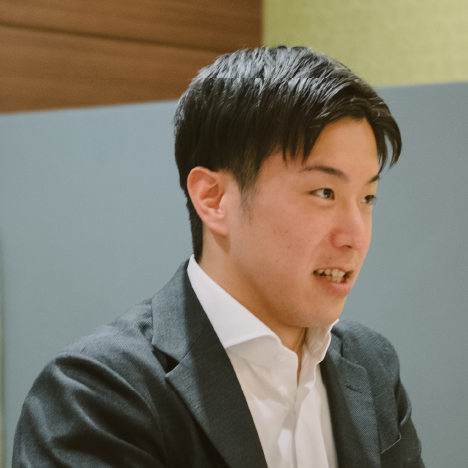 UtoOne thing I remember well about my interview with Chugai Pharmaceutical was how frequently the employees I met used the word "innovation." That really brought home to me the message that they wanted to do something that nobody else could do, which was an ethos I found very appealing.
SumidaWhen I heard the words "pursuit of innovation," it sounded dry and conjured up an image of intense competition. I didn't think it would suit me, but in fact, so many of the people I met were warm and serious, and I decided that this was a place where I could fit in.
EgusaYes, there are many serious, sincere people, aren't there? Personality-wise, I am not at all gregarious and I am much more the type that wants to work steadily and laboriously. I was told that this made me Chugai's type of person (laughs).
WatanabeThe atmosphere in the interviews was very honest, wasn't it? During my interview, there were occasions when I struggled to answer and my mind went blank, but the interviewer lightened the atmosphere. After that, I was able to be myself and talk freely.
KeoI had the same experience. When I was having trouble expressing myself in answer to a question, the interviewer said, 'There's no need to stress. We're not looking for people who can rattle off the answers they've memorized beforehand.' That exchange left a big impression on me.
KawajiMy impression is that Chugai Pharmaceutical is an organization that acts swiftly to do what it needs to do as a company. When the novel coronavirus started to spread, it immediately distributed infection prevention kits, including face masks and sanitizer spray, to all employees, and I remember thinking that is just what we would expect of Chugai.
KeoWhen society was in turmoil because of the pandemic, the executive officers held an online dialogue event, where they discussed the topic of how to keep delivering Chugai's drugs to patients in the same way as always.
I thought that this attitude of thinking about what the company needed to do for the sake of the patients under those circumstances and the speed at which they considered and implemented measures to ensure an environment to keep the impact on its employees' work to a minimum were typical of Chugai.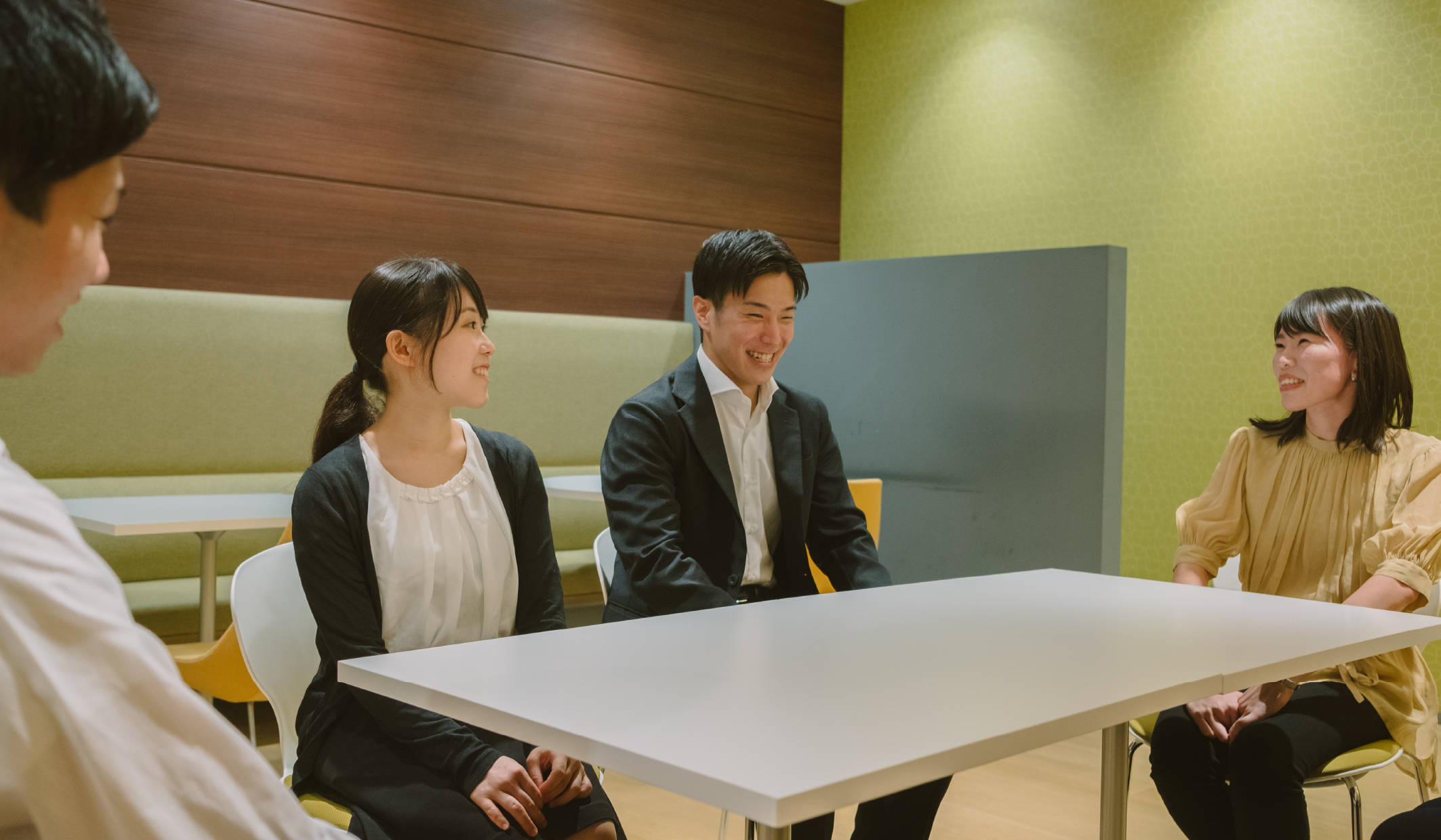 Major discretion and responsibility are evidence of trust.
The work is much more profound and
interesting than I imagined.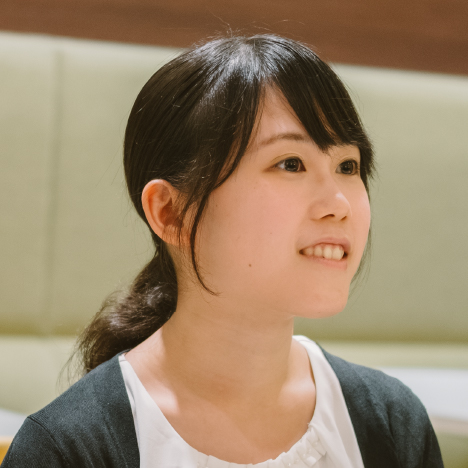 EgusaAlthough I joined Chugai Pharmaceutical with the ambition to be an MR, because I came from a liberal arts background, I was anxious at first about whether I would really be able to do the job. However, they gave us a thorough education and training after we joined, so now, I spend every day working hard, dealing with physicians. For the patients and the doctors, it doesn't matter that I'm only new. The study is hard, but when a doctor asks me a question and I am able to give a proper answer, it motivates me to work even harder.
UtoI am also an MR and I have been surprised by how flexible the working arrangements are. We are allowed to go straight to our customers from home and back again, without having to go into the office, and the medical institutions in each area are assigned to individuals, so we can use our own judgment in how we work from our first year. Because I can decide my own working arrangements at my own discretion, I feel that I have the company's trust. This makes me conscious of wanting to do my assigned work and even more beyond that.
EgusaAlso, if there is anything we don't know or we have any problems, our superiors and senior colleagues will support us straightaway. Everyone is so kind.
WatanabeIn my job of reliability assurance, we need a variety of knowledge about the quality of pharmaceuticals. I am extremely grateful to my OJT coach (new-graduate recruit mentor) and to my senior colleagues in my team for taking the time to teach me.
SumidaIn terms of how the reality of the job differed from my assumptions, before I started, I thought that the job of reliability assurance was mostly managing pharmaceutical manufacturing processes according to the set rules and controlling quality. However, I was surprised to find that it is not like that at all. There are some things that don't have detailed written rules. Often, I have to judge for myself whether a certain production method is compliant with the regulations. I found it bewildering in the beginning, but I just kept asking my senior colleagues until I started to see the criteria for myself. I actually find those times when there is no set answer the most rewarding and interesting.
KawajiI felt that difference too. The role of regulatory affairs is usually to draw up a schedule for the application for approval of a new drug and coordinate with the relevant departments toward that goal. However, the role that I was given involved preparing the application documents digitally. A lot of the work is IT-oriented and there is so much I don't know, but that in itself means I have been able to encounter new worlds, which has been a good thing.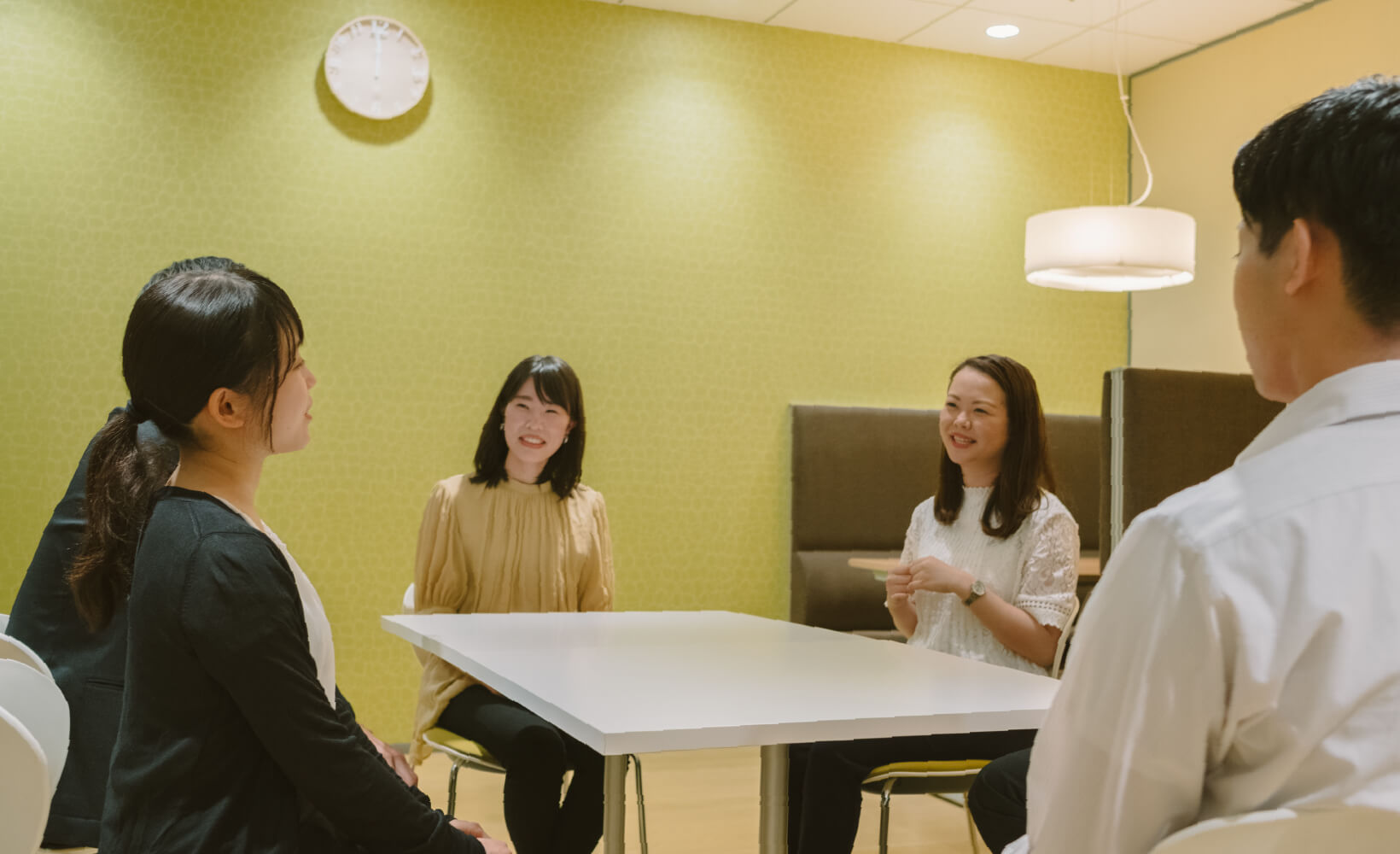 Precisely because the company has expectations for
its people, we can be entrusted with
important work while we're still young.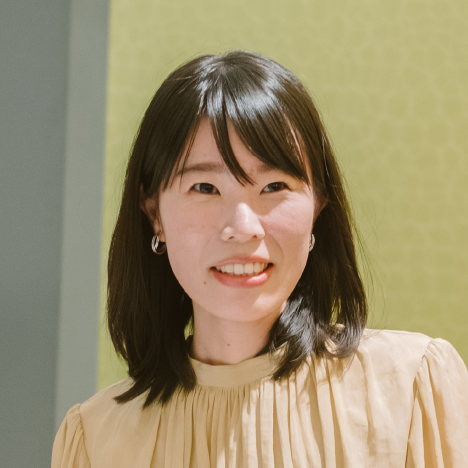 KeoChugai Pharmaceutical really is a company that gives its people opportunities while they are still young. I was given the task of preparing the application documents for a new drug approval from my first year. When I heard that the authorities had accepted the documents I had prepared, I really felt that my own work was helping with the new drug application, which made me happy.
WatanabeMe too. At the end of my first year, I was given the opportunity to attend a meeting in which companies in the same industry shared information about pharmaceutical quality. I was asked to give a presentation on our company's approaches. After preparing the presentation materials myself, with the support of my superior, I was very nervous as I gave the presentation, but it was a really good experience.
KawajiIn my second year, I was given the job of leading an operational improvement task that we were working on in the regulatory affairs team. It's fun to feel your own influence in your team growing little by little, isn't it?
SumidaSlightly off topic, I recently had the opportunity to have dinner with some VIPs from Roche who were visiting Japan. My superior was scheduled to attend, but some urgent work came in and I was chosen to go in my superior's place.
UtoWow! What did you talk about?
SumidaOf course, we had some serious discussions, but the conversation got quite lively when we started talking about how, in Switzerland, every home's fondue is different, like miso soup in Japan (laughs).
I was happy to have been given such a precious opportunity, but I did feel keenly that I needed to study English more. It was a great experience that made me feel quite global.
EgusaAs an MR, when the physician I deal with adopted a pharmaceutical that I had introduced, telling me that it worked and that the patient was happy, I was delighted, but I also felt the weight of my responsibility.
UtoI do believe that Chugai Pharmaceutical is unique in the way first-year employees are able to have those kinds of experiences. Even as a new MR, we have our own areas we are responsible for, so being able to work with medical institutions of different sizes also helps us to grow. In a good way, we're not being treated as rookies.
Every person has their own career ambitions.
But our intentions toward the patients is the same.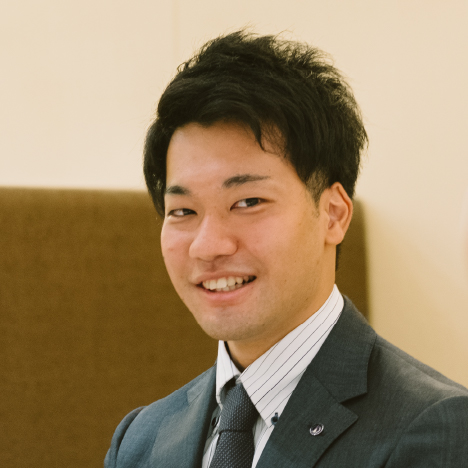 EgusaChugai Pharmaceutical has many drugs that I want to recommend to the people who are important to me as well. I want to build up my career even further and become the kind of MR who engages with a variety of hospitals and doctors and who can deliver drugs to more patients.
UtoAfter I have gained experience as an MR, because this is an environment where I can take on new challenges, I'd like to try lots of different jobs, such as marketing in head office.
KawajiI want to perfect the work of regulatory affairs and become an asset who can deal with the people at Roche on an equal footing. If I have the opportunity, I would love to go to Switzerland and work at Roche headquarters.
WatanabeI want to hone my abilities more so I can work with people from overseas. Also, I want to be strongly aware of the existence of the patients who are on the other end of my work and to fulfill the mission of reliability assurance.
SumidaChugai Pharmaceutical will continue to move into new areas in the healthcare domain in future. With that challenge comes risk. I specialize in dealing with regulations, so my goal is to become a professional who can encourage innovation from the regulatory side.
*The contents of this article, and the divisions
that the people featured in this article belonged
to and the names of those divisions
are current as of the time of the panel discussion.