Panel Discussion on
Three-Division Cooperation
At Chugai Pharmaceutical, the Drug Safety Division, Marketing & Sales Division, and Medical Affairs Division, have been dubbed the Three Solutions Divisions. Through cooperation between the three divisions, we have enhanced our consultation functions and provide solutions that are tailored to our customers' needs, including proposals for personalized healthcare (*1) and contributions to regionalized medicine and multi-occupational coordination.
We heard from six employees who are working on these initiatives, which are unique to Chugai Pharmaceuticals.
(※1)Personalized Healthcare (PHC): Treatment that is tailored to the condition and disease type of the individual patient. It refers, for example, to treatment that is tailored to the individual patient's physical condition and disease after investigating the genes that are related to the patient's condition and disease in detail.
Kazuo Miki

Group Manager,
Risk Communication Dept.,
Drug Safety Div.
Since 1994

Works on designing the contents of Safety Expert (SE) activities and planning and developing new safety-related solutions as group leader. Responsible for promotion of interdivisional cooperation in the Drug Safety Division.

Takahiko Tsumuraya

Risk Communication Dept.,
Drug Safety Div.
Since 2006

Works on the collection, analysis, and provision of drug safety information as an SE. Strives to solve problems related to safety while maintaining close involvement with people on the ground in medical settings and in sales.

Ryuuji Takei

Group Manager,
Area Strategy Execution Group Oncology Therapeutic Area Sect.,
Kanto-Minami Regional Management Office,
Marketing & Sales Div.
Since 1992

Manager of a group that is responsible for planning and proposing marketing strategies and for rolling out tactics in the cancer domain. Responsible for promotion of interdivisional cooperation in the Marketing & Sales Division.

Tohru Murata

Manager, MR Section,
Kanto-Minami Regional Management Office,
Marketing & Sales Div.
Since 2001

As an MR in the cancer domain, conveys the efficacy and safety of Chugai Pharmaceutical's products to health professionals and pursues consulting activities to ensure they are used properly.

Takashi Kano

Group Manager,
Medical Liaison Dept.,
Medical Affairs Div.
Mid-career recruit in 2015

Leads Medical Science Liaisons as manager. Supports the creation of post-market evidence. Responsible for promotion of interdivisional cooperation in the Medical Affairs Div.

Chizuko Watanabe

Medical Liaison Dept.,
Medical Affairs Div.
Since 2004

As an MSL, identifies medical needs that are not yet being met on the ground in medical care and supports clinical investigations aimed at the creation of medical evidence to fulfil those unmet needs.
Three divisions cooperating
to help patients and medical professionals
from various angles.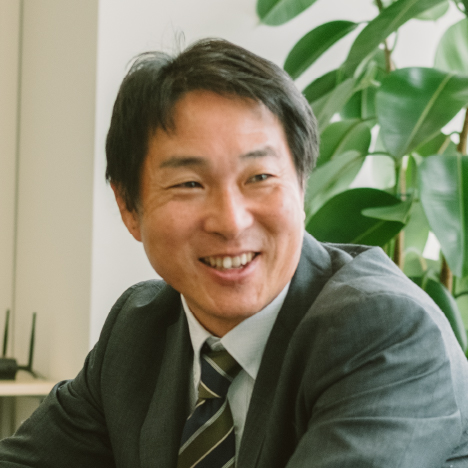 TakeiToday we have two people from each of the three divisions. Murata-san and I are from the Marketing & Sales Division, Kano-san and Watanabe-san are from the Medical Affairs Division, and Miki-san and Tsumuraya-san are from the Drug Safety Division. Chugai Pharmaceutical is currently seeking to help patients and medical professionals by deepening the cooperation among these three divisions.
KanoThe Medical Affairs Division where Watanabe-san and I work assists with clinical investigations, primarily for physicians. The specialists who pursue this work in clinical settings are called Medical Science Liaisons, or MSL, one of whom is Watanabe-san here.
WatanabeThe biggest part of my job as an MSL is to work with physicians concerning marketed medicinal products, while creating evidence (scientific grounds) that will lead to new therapies. There is a clear-cut division between our job and the role of the MRs, who provide information to physicians on pharmaceuticals. We purely pursue our mission, with no involvement in sales.
MikiTsumuraya-san and I work in the Drug Safety Division, which, as the name suggests, is the division responsibility for the safety of pharmaceuticals. Specifically, we gather information about adverse reactions from marketed drugs and conduct initiatives to ensure that patients use our products appropriately. Tsumuraya-san and the Safety Experts, or SEs, are the ones who are in charge of this work on the front lines in healthcare settings.
TsumurayaThe position of SE is precisely that, a job that specializes in safety. I have worked previously as an MR, and it struck me at the time that what the physicians wanted was detailed information about the adverse reactions of drugs, not just their indications. Their biggest concern is actually whether there administering a certain drug to their patients will cause any problems. My job is to respond to those concerns.
MurataThe MRs act as the contact point in charge of the individual facilities. If a physician at one of the facilities they are in charge of has certain clinical investigation needs, the MR will seek Watanabe-san's cooperation as MSL, and if they have concerns about adverse drug reactions, they will ask Tsumuraya-san, as SE, for advice. In this way, we MRs coordinate to help solve issues on the ground in medical care settings.
SE, the job that symbolizes
Chugai Pharmaceutical's philosophy.
Coordinating with MRs to win great trust.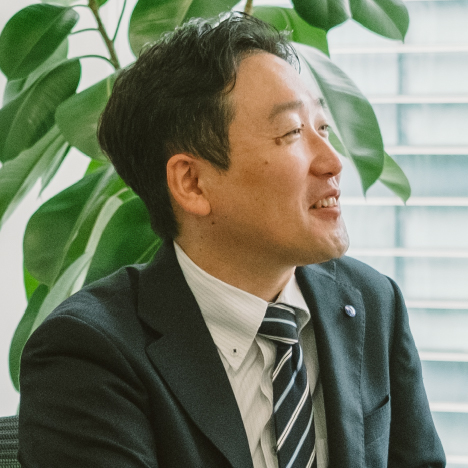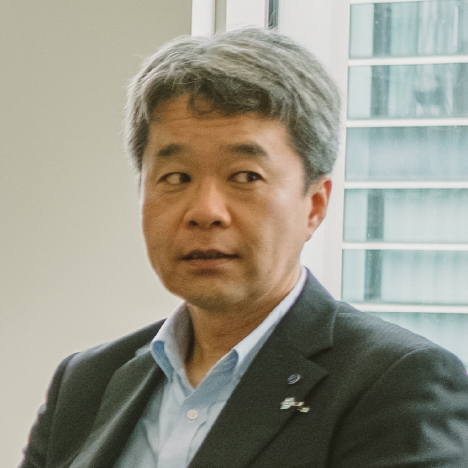 MikiThe job of SE in the Drug Safety Division is a relatively new position that was established only a few years ago. In a move that is typical of Chugai Pharmaceutical, we were the first in the pharmaceutical industry to establish a position that specializes in safety, including adverse drug reaction information.
TakeiThat's right. That culture of emphasizing safety has been firmly embedded in Chugai Pharmaceutical for a long time. The background to this is our "patient-centric" philosophy that prioritizes the health of patients above all things. That is why we actively gather information about adverse drug reactions and disclose them to medical professionals. This three-division cooperation takes that "patient-centric" attitude at Chugai Pharmaceutical even further.
MikiSEs are a symbol of Chugai Pharmaceutical's efforts toward safety, but until fairly recently their existence was not very well known, even within the company. So, as manager, I put a lot of effort into promoting our SEs. Thanks to their hard work, awareness has grown within the company and the MRs now often ask if an SE could accompany them on hospital visits.
MurataThe SEs are always a big help to us. At the moment, Tsumuraya-san and I make regular visits together to a large hospital.
TsumurayaThere is a certain customer I visit every month at Murata-san's suggestion. That customer is very strict, and I was a little nervous in the beginning. However, the customer gradually came to trust us and to talk to us sincerely about anything, which made me happy.
MurataThe aspect that that customer most emphasized when choosing drugs for use at that hospital was the safety of the drug. It was because Tsumuraya-san was able to respond to those concerns so well that the customer came to trust us. I doubt whether I would have been able to build up that kind of relationship on my own, and I think that Chugai Pharmaceutical's stance in having MRs and SEs work closely together was well received.
MRs, MSLs, and SEs working together to meet doctors' needs.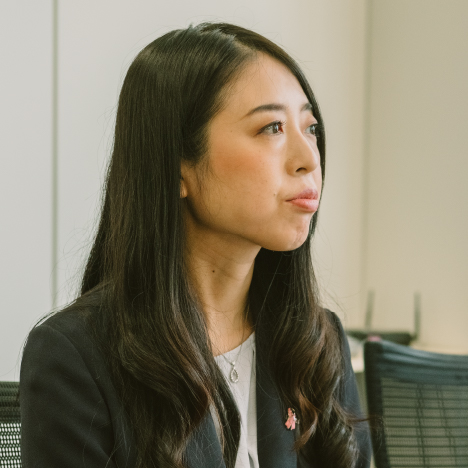 MurataWhen we plan pharmaceutical seminars for physicians as well, we ask Tsumuraya-san for his help.
TsumurayaIf the doctors want to hear about safety, Murata-san and I get together to think about the content for the seminar and bring it together. I love giving presentations, so you will often see me taking the lectern myself.
MurataOn the other hand, some doctors are interested in conducting clinical investigations to help their current patients and they want to be involved in the creation of evidence themselves. At those times, we cooperate with the Medical Affairs Division and pass the baton on to Watanabe-san.
WatanabeIf we can work together with the doctors to pursue clinical investigations and create evidence, we can bring new therapies to patients. Evidence creation can take years, but if we can better clarify the patients who are being helped by Chugai Pharmaceutical's drugs, the MRs will have the grounds for recommending our drugs to the doctors, helping them out as a result. Murata-san shares all the information with us, even the doctors' personalities, so we can deal with them smoothly right from the start.
MurataFor things that I can't do anything about on my own, if I can receive help from in-house experts like the MSLs and SEs, I can respond to the patients' and doctors' needs and make them happy. That is what makes this three-division cooperation so special.
WatanabeThe MSLs and SEs also often work together. We MSLs are involved from the clinical study stage before a new drug is marketed, so we can find out the opinions of the doctors about post-market safety concerns.
We share those opinions with Tsumuraya-san and the SE team so they can come up with post-market safety measures. In this way, we establish systems for ensuring that the drugs will be used with peace of mind.
TsumurayaOur offices are on the same floor and my desk is quite close to Watanabe-san's, so if either of us have a problem, we call out to each other and seek the other's advice.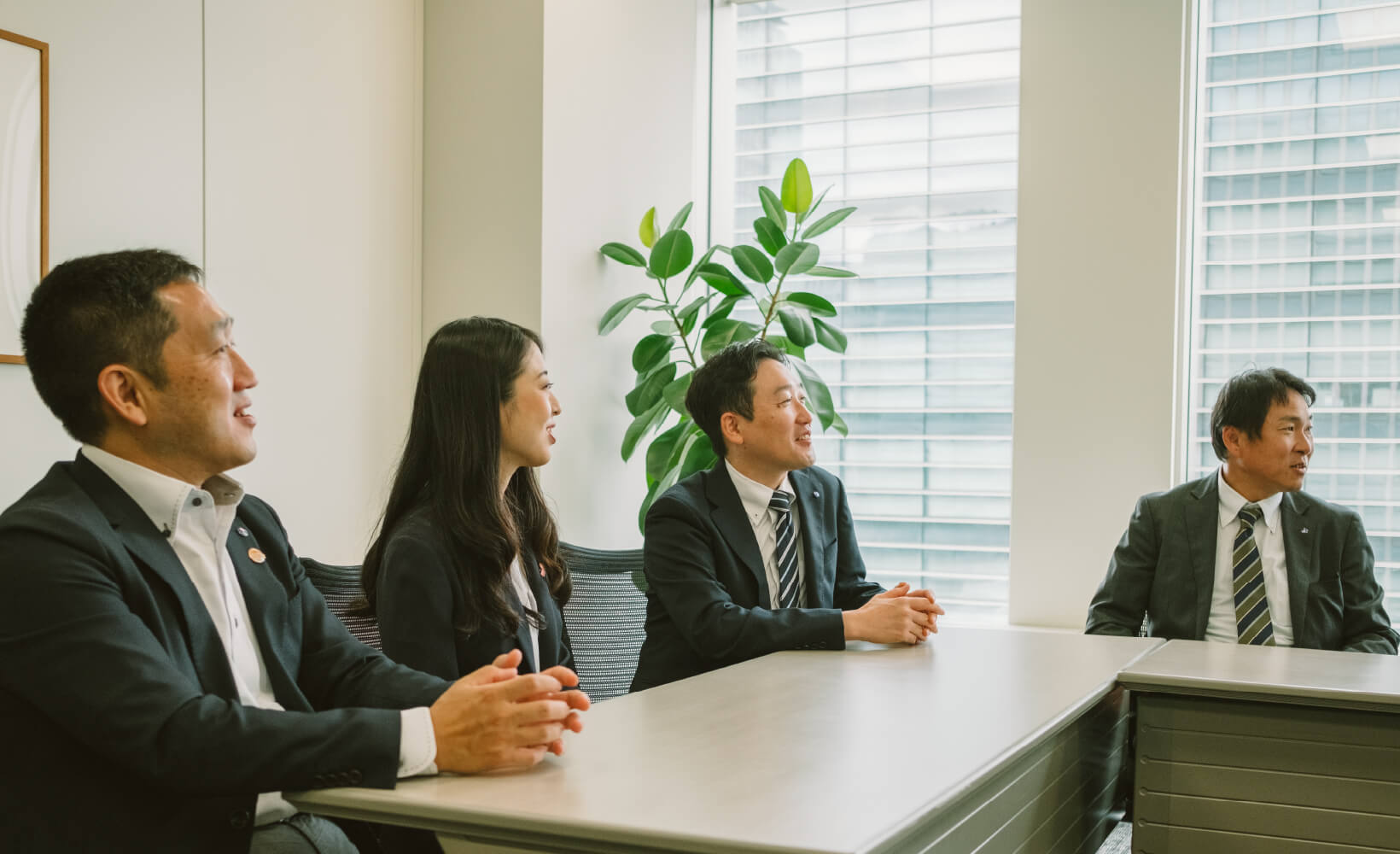 While their activities may differ,
the goal they are focused on is the same.
That is why a sense of unity is born.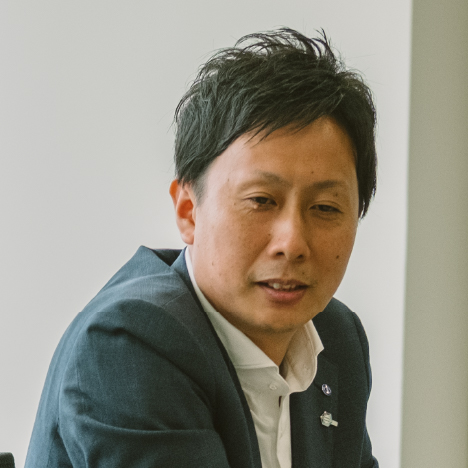 KanoThe nature of the work of MRs, SEs, and MSLs is very different. The MRs and SEs help patients who are suffering now, by delivering safety information and information about adverse drug reactions to doctors. On the other hand, evidence that will lead to new therapies is not something that can be created overnight, so our team of MSLs support clinical investigation over a long timeframe, and in so doing, will help patients five or ten years down the track. The purpose and timescale of our activities may differ, but the goal we are focused on is the same. That is why there is a sense of unity.
TsumurayaThe communication between divisions is also good, isn't it? Chugai Pharmaceutical's employees all have a fire inside and they are very determined. Discussions can get quite passionate, and there is a culture that encourages us to keep talking until both sides can be satisfied.
KanoI think that, in the first place, we have many people in these three divisions—and indeed in the whole company—who have excellent communication skills. Generally, MSLs are often specialists with a high level of knowledge, but at Chugai Pharmaceutical, many of our MSLs have transferred in from the Marketing & Sales Division and the Drug Safety Division. While of course a high academic level is an advantage, what is even more important is to be able to communicate properly with the doctors, understand your counterpart and convey your own thoughts properly. I think that the reason our three-division cooperation works so well is that our three divisions have so many people who possess such abilities.
WatanabeI transferred to the MA Division in my seventh year after starting as an MR. I then worked at head office for a time before becoming an MSL. The opportunity to build up a diverse career and expand your own potential is a major point of appeal of working at Chugai Pharmaceutical.
Thinking seriously about what the best
treatment is for the patient.
That is what three-division cooperation is all about.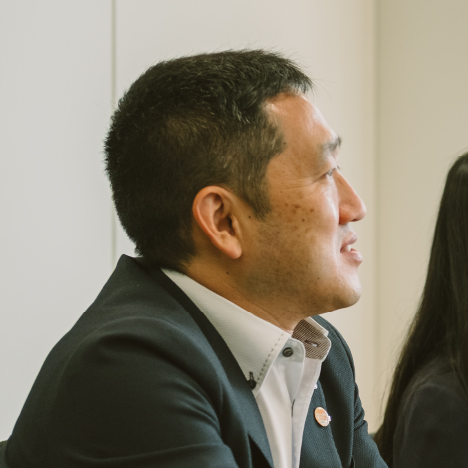 KanoI think that the main reason why doctors and other customers in healthcare commend Chugai Pharmaceutical is that we adhere so firmly to our "patient-centric" philosophy. This three-division cooperation is certainly not a strategy to increase sales.
MurataOur therapeutic agents for cancer, one of our core products, are extremely important drugs, on which patients' lives are staked. In some cases, adverse drug reactions occur, and using them may have risks for elderly patients suffering chronic conditions. When a doctor seeks our advice, saying they still want to use one of our anti-cancer drugs despite those circumstances, the MR, MSL, and SE put their heads together to come up with an answer about whether that therapy is really the best one for that patient. There are cases in which, if they determine that another company's drug would be more suitable, they will recommend that drug.
TsumurayaThat's right. Even if we do something that does not contribute to our own company's results, if it is for the good of the patient, at Chugai Pharmaceutical, that will not reflect negatively on our personnel evaluations. That is why, I believe, our proposals and work can be so substantive.
WatanabeWe all share that intent to propose the best therapy for each individual patient.
MikiWe are also putting efforts into developing tools for proposing the best therapies. For example, we have developed a database containing all adverse drug reaction information regarding Chugai's products. This database can be viewed freely on the internet by our MRs, of course, but also by physicians. We are also building other new tools that will enable the Drug Safety Division, Marketing & Sales Division, and Medical Affairs Division to collaborate even further. If these tools become a reality, the value that we can offer patients and healthcare professionals is bound to become even greater.
TakeiBecoming partners with the physicians, who are devoting themselves to helping their patients, and sharing the same goals of contributing to patients through these kinds of activities is truly rewarding. In my position of managing our group, I want to create an environment in which everyone can experience that kind of joy in their work to the fullest.
*The contents of this article, and the divisions
that the people featured in this article belonged
to and the names of those divisions
are current as of the time of the panel discussion.