EHS Promotional Activities/Support System
The Chugai Group has established an integrated management system for environmental protection, health and safety, and has promoted EHS activities effectively.
System to Facilitate Action
Framework for Promoting Environmental Protection, Health and Safety Activities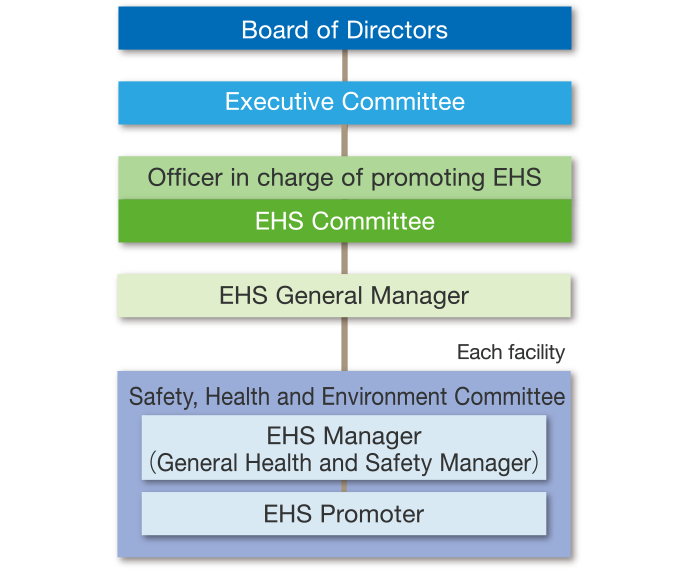 Support System
Health Management
Chugai has occupational physicians, nurses, psychologists, health officers and other occupational health staffs to provide necessary support not only for employees who are unwell or on leave due to illness or injury, but for all employees who need consideration for their health condition at work, including those with abnormalities found in health checkups, those who work long hours, pregnant women, employees being treated for cancer or other diseases, and employees with disabilities. Health staffs, human resource managers and workplace supervisors cooperate as shown in the diagram below.
Basic Health Management Structure
Support for Return to Work after Mental Health Leave
Support for employees returning to work after mental health leave is conducted within a framework similar to that for health management. Due to a return-to-work program, we found that a relapse-free job retention rate within a year was improved.*1 In addition, Chugai also conducts ongoing awareness activities including training for managers on promoting understanding of mental health problems and dealing with them appropriately.
Flow of Return-to-Work Program
*1 Namba, K. "Return-to-Work Program with a Relapse-Free Job Retention Rate of 91.6% for Workers with Mental Illness." Sangyo Eiseigaku Zasshi 2012, 54 (6), 276-285.
Work Support Measures for Employees with Cancer
Chugai has further enhanced supportive working conditions for employees undergoing cancer treatment, to ensure they can focus on their treatment while enjoying peace of mind as they continue to work. In 2015, we prepared a "Working Support Handbook for Cancer Patients" and offered it to all employees. We continue to maintain and improve the consultation system for carrying out measures in accordance with treatment conditions and the support system for working during outpatient treatments such as chemotherapy, hormone therapy or radiation therapy.
Coordination between internal help and hotlines
Staffs in charge of health, career, harassment and compliance hotlines and helplines meet regularly to cooperate and support problem-solving. They also work together in providing employees with training and information.
Environment, Health and Safety (EHS) Audits
Since 2017, we have shifted to an integrated environment, safety and health (EHS) management structure in promoting our EHS activities. We conduct periodic internal EHS audits to verify that this system is functioning as intended. Since we recognize the management system affect our value chain, and we will promote proactive efforts across the entire value chain working with our suppliers, partners and industry organizations.