Health and Safety Activities
Occupational Safety and Health, Health Maintenance and Mental Healthcare Initiatives
In January 2017, Chugai established the Basic Rules on Environmental Protection and Occupational Safety and Health, which combined previously separate rules, to move toward integrated management of EHS issues. Based on the principle that ensuring the safety of employees is the first priority in all business operations, these rules are guiding our efforts to improve the occupational safety and health system, secure safety and prevent occupational injuries, promote health maintenance, and form comfortable workplace environments.
Approach to Health and Productivity Management
To further improve the health and productivity management that has been a focus at Chugai, we have announced our Health Declaration, and under our health and productivity management policies, are engaged in initiatives centered on a number of priority agenda targets. Our efforts to date have also been recognized with our certification as a White 500 (large enterprise category) Health and Productivity Management Organization*1 for the second straight year in 2019.
We will continue to engage in these activities, focusing on prevention as we work to enlighten our employees about health and disease and implement efforts to further contribute to employee well-being.
*1 Under the 2018 White 500 Certified Health and Productivity Management Organization program, the Ministry of Economy, Trade and Industry (METI), in collaboration with the Nippon Kenko Kaigi, grants certification to large enterprises that demonstrate outstanding efforts in practicing health and productivity management. Refer to the METI website for details.
Occupational Injuries
Change in occupational injury rate and severity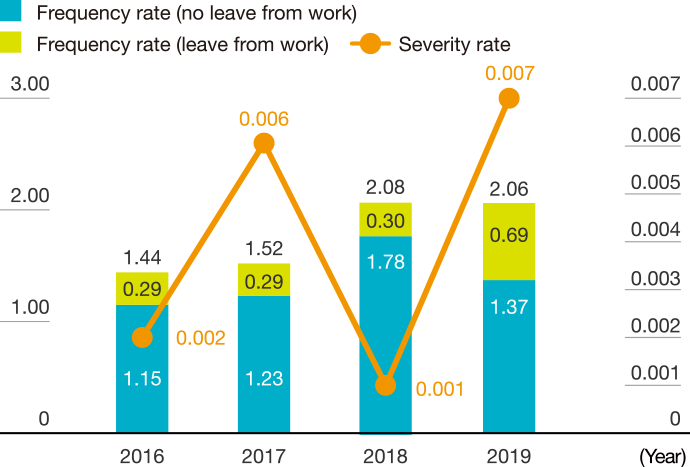 | | Number of accidents | Occupational incidence rate*2 |
| --- | --- | --- |
| Lost-worktime | 4 | 0.30 |
| No lost-worktime | 24 | 1.78 |
| Total | 28 | 2.08 |
Total lost-workdays
Occupational
incidence severity*3
14
0.001
*2 Number of occupational injuries and deaths per one million hours actually worked, an indication of the occupational incidence rate.
No. of occupational injuries and deaths / No. of hours actually worked x 1,000,000
*3 Number of workdays lost per one thousand hours actually worked, an indication of occupational incidence severity.
No. of workdays lost / No. of hours actually worked x 1,000
Labor-Management Relations
Regular meetings are held at various levels between the Company and the Chugai Pharmaceutical Workers' Union to improve communication and to build cooperative, sound labor-management relations based on trust.
The Chugai Pharma Manufacturing Workers' Union was established in 2009. In the same year, it joined with the Chugai Pharmaceutical Workers' Union to form the Federation of Chugai Workers' Unions. Since 2010, the Chugai Group has been conducting labor-management consultations under a collective labor agreement. The workers' union had 4,217 members as of December 31, 2018.