Chugai is transforming its own business to provide healthcare solutions that will change the society by combining unique scientific and technological capabilities with cutting-edge digital technology.
What the CHUGAI DIGITAL logo represents

Why Chugai is now engaged
in digital transformation
Digital technology is changing the conventional approach to develop new drugs.
It can take more than 10 years to develop a single new drug and the probability of success in a new drug development is decreasing every year while development costs are increasing.
Chugai is aiming to reform the drug discovery process by acquiring and analyzing large amounts of diverse data through the use of cutting-edge digital technologies.
Pursuing patient-centric healthcare
Chugai has been a pioneer in Japan, contributing to the development of personalized healthcare (PHC), in which treatment plans are made based on a patient's genetic information.
By combining and analyzing multiple data such as genomic data, real-world data, and digital biomarkers, we will lead the next generation of PHC to better understand a patient's condition and provide the optimal treatment for each individual.
CHUGAI DIGITAL VISION 2030
Chugai has set forth "CHUGAI DIGITAL VISION 2030" with a view to 2030.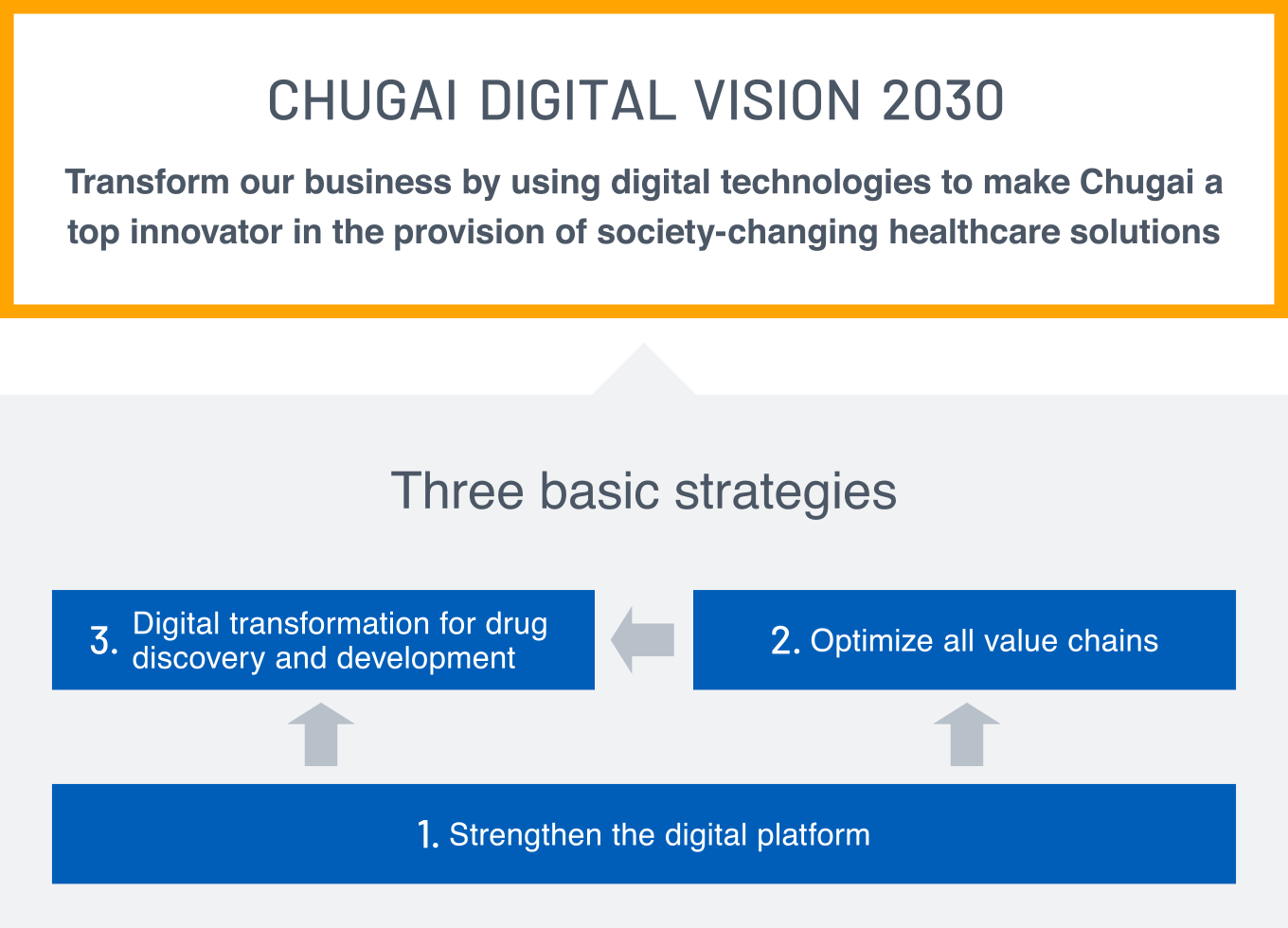 Three basic strategies will transform Chugai's business and provide healthcare solutions that change society
Strengthen the digital platform

In collaboration with the Roche group, we aim to establish a global-level IT infrastructure through the integration of various internal data and the construction of an analysis platform. In addition, we will actively promote the recruitment and development of digital talents, including data scientists and data engineers, and establish a system that allows employees to freely express their ideas and challenges, thereby establishing a foundation for new value creation.

Optimize all value chains

We will use digital technology to dramatically boost the efficiency of each department and function, in particular production and marketing processes. Through comprehensive analysis of customer data, we will also contribute to development of new solutions to enhance the customer experience.

Digital transformation
for drug discovery and development

(DxD3)

Based on the three initiatives, we aim to realize next-generation personalized healthcare that only Chugai can provide.

Dramatically changing the research process, including the use of AI and other advanced technologies to create new drug candidates and improve the probability of success in drug discovery
Providing new value based on patient biometric data acquired by wearable devices, etc.
Innovating the clinical development process through the analysis of genomic and real world data
Initiatives of DxD3*
* Digital transformation for Drug Discovery and Development
AI-driven drug discovery
AI technology will be utilized for the identification of disease-causing genes and the creation and evaluation of antibodies and small / mid-sized molecules as drug candidates. This will revolutionize the drug discovery process by improving the probability of success up to launch and significantly reducing development time and costs.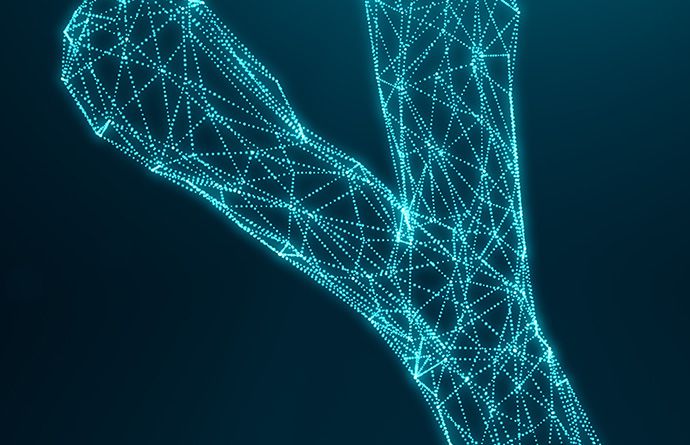 Digital biomarkers (dBM) initiatives
We will be able to better understand diseases and prove the true value of medicines for patients by analyzing the large amounts of physiological data acquired from wearable devices and using digital technology to create new health indicators.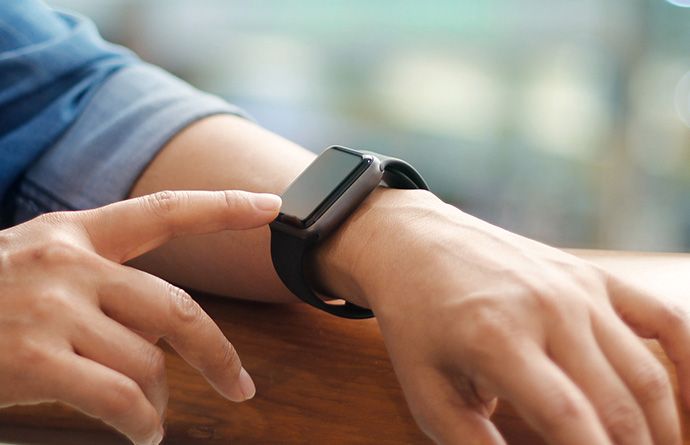 Utilization of real-world data (RWD)
Utilizing big data, including medical data, will help us understand the condition of patients and drug efficacy in actual clinical practice, something not possible by clinical trials alone. This will enable us to provide healthcare services that quickly offer the optimal treatment for each individual patient.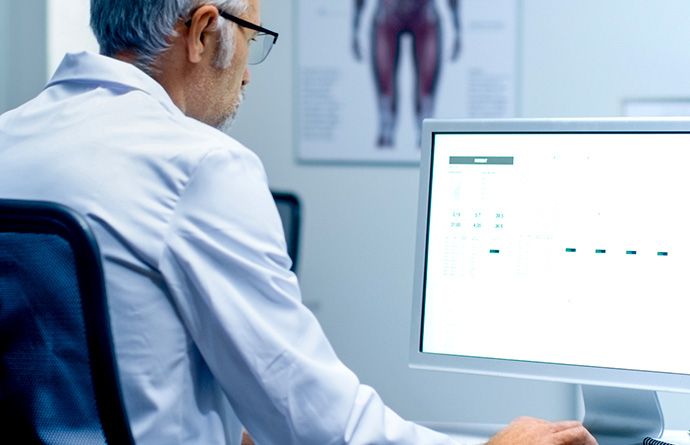 PEOPLE
Satoko Shisai


Vice President, Head of Digital & IT Supervisory Division

Joined IBM Japan in 1986. After serving as General Manager of the Public Agency System Division and the Software Division, Satoko was assigned to IBM Corporation in New York, and upon returning to Japan in 2009, she was appointed Vice President in charge of Security Business and Public Utilities. In 2019, she joined Chugai as the company's first woman Vice President. "We aim to become a top innovator in the healthcare industry by collaborating with external partners and digital talents."

Yoshito Nakanishi, Ph.D.


Senior Executive Director, Head of Digital Strategy Department

Joined Chugai's research lab in Kamakura as a molecular biologist in 2005. Yoshito worked in drug discovery research for more than 10 years and earned a Ph.D. based on the results of his research. He also spent a year working on biomarkers at Genentech in the U.S. Prior to becoming the Head of Digital Strategy Department, he led cross-functional teams as both a Global Project Leader and Lifecycle Leader for Oncology drug development. "We lead creating new value through the fusion of healthcare business and digital technology."

Reiji Teramoto, Ph.D.


Scientist, Discovery Technology Dept., Research Div.

Joined Chugai in 2010 after leaving his previous position at an electronics manufacturer. As a data scientist specializing in bioinformatics, Reiji is working to apply predictive models using machine learning techniques to the pharmaceutical R&D process. "Drug discovery research is linked to saving human lives. I want to make most of my skills to deliver medicines to the patients more quickly."
PARTNERS
Headquartered in Basel, Switzerland, Roche is one of the world's leading pharmaceutical companies. It is also a world leader of personalized healthcare applying digital technology. In 2002 Chugai started a strategic alliance with Roche, making us a member of Roche Group.

Preferred Networks is a global leader in AI technology, with strengths in cutting-edge technologies such as deep learning. Chugai signed a comprehensive partnership agreement in 2018 with the aim of creating new value in pharmaceuticals and services.
CAREERS
Chugai is looking for talent who can help us harness digital technology to become a leading innovator in the healthcare industry.