Chugai Group Activities Supporting Recovery from the 2016 Kumamoto Earthquake
Monetary donations (emergency aid in the immediate aftermath of the disaster, April 2016)
Japanese Association of Dialysis Physicians 10 million yen
Association of Medical Doctors of Asia (AMDA) 5 million yen
Japan Platform 5 million yen
In-house Fund-raising Activities (April-May, 2016)
Domestic business sites*1 Approx. 6.10 million yen
From overseas affiliates*2 Approx. 1.30 million yen
*1 At Chugai Group domestic business sites, fund-raising activities targeting employees were conducted jointly by labor and management, with the company providing a matching gift.
*2 Total of donations received from Chugai Pharmabody Research Pte. Ltd. (Singapore), Chugai Pharma France SAS (France), and Chugai Pharma Taiwan Ltd. (Taiwan).
Support Activities by Employee Volunteers
Five employee volunteer activities were conducted between June 2016 and June 2018 in cooperation with the CHUGAI Wellnet Club, operated jointly by labor and management.
First activity: June 10-11, 2016 (Hiroyasu Elementary School Evacuation Center, Mashiki-machi, Kumamoto Prefecture)
In cooperation with NPOs AMDA and AMDA Multisectoral & Integrated Development Services, 30 employees volunteered in weeding on behalf of evacuees and their children, both for bug prevention and to ensure clear pathways through the school grounds.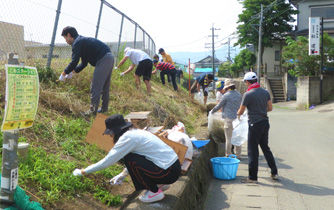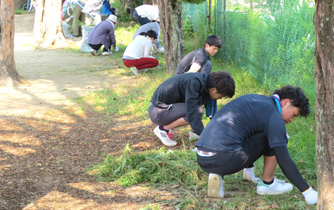 Second activity: October 28-29, 2016
31 employees assisted in cleaning a watermelon sorting station in Mashiki-machi, Kumamoto Prefecture; helped farmers in sorting, cleaning and preparing produce for shipment; and volunteered in weeding the Mashiki public field.
Similar volunteer activities were subsequently conducted, including twice in 2017 and once in 2018.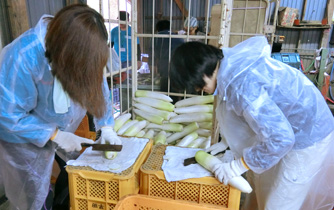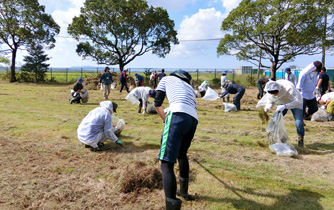 Charity Sale to Support the Areas Affected by the Great East Japan and Kumamoto Earthquakes (November 28-29, 2016)
As part of its support for recovery from the 2011 Great East Japan and 2016 Kumamoto earthquakes, Chugai held a charity sale at its Fuji Gotemba Research Laboratories. In cooperation with the Kesennuma Fisheries Cooperative Association and Japan's Central Union of Agricultural Cooperatives (JA) office in Kamimashiki, Kumamoto Prefecture, the event featured specialty products from Kesennuma and Mashiki. Sales totaled more than ¥590,000.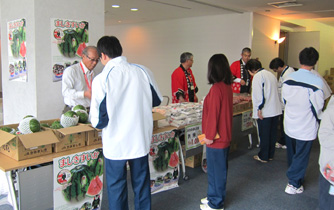 Roche Children's Walk 2017
Presentation ceremony at Take Child Care, a facility for children with disabilities.
In June, Chugai collected donations for and participated in the global charity event Roche Children's Walk 2017 implemented by the Roche Group.
That effort resulted in donations from 2,163 Chugai Group employees totaling ¥1,080,000. These funds were matched by the Company with a gift in the same amount, for a total of ¥2,160,000. Half of the funds are donated through Roche to assist orphaned children in Malawi. The remaining half was donated at the recommendation of the Association for Aid and Relief, Japan, an NPO, to the Kumamoto City Holding Hands Training Meeting, a social welfare organization in Kumamoto Prefecture.