To bring innovative pharmaceuticals to patients as quickly as possible, Chugai has established a lifecycle management* system for project-level integrated management of research, regulatory affairs, drug safety, manufacturing and other functions, and cooperates with numerous medical institutions and clinical research centers. In this way, we work to implement clinical trials distinguished by exceptional speed, efficiency and scientific rigor.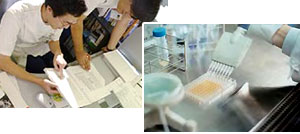 * The various measures taken to maximize the potential value of a drug, including shortening development time, expanding sales, extending the product's life, and conducting appropriate cost control. Competitiveness can be strengthened further by using earnings from sales of established drugs to strategically reinvest in new drug development, marketing or other areas.
Chugai Pharmaceutical's own in-house development pipeline has one of the strongest line-ups in Japan. By adding Roche and Genentech products based on license agreements with those companies, Chugai Pharmaceutical has benefited from a development synergy effect*1 and assembled a top-class, innovative domestic development pipeline*2.
*1 This refers to the synergistic effect that enables each pharmaceutical company to save large amounts of money and time in the new-drug development process by sharing know-how, R&D results, and data from research in progress.
*2 The set of products currently under development at a pharmaceutical company, from the initial development stage of each drug until the start of sales, is called the "development pipeline". The terms "product pipeline" and "new-drug pipeline" are also used.
Co-Development and Joint Promotion with Roche
By concluding co-development/joint promotion agreements with Roche, Chugai Pharmaceutical has established a business model that enables it to develop and market its own products overseas as well as in Japan, and enables it to utilise Roche's global network. As a result of coordination of co-development with Roche in Europe and the United States, Chugai Pharmaceutical's development is proceeding more effectively and efficiently. Furthermore, Chugai Pharmaceutical's products can now be sold through Roche's overseas sales network, so the alliance can be expected increase sales.