Chugai views its global intellectual property (IP) strategy as the foundation for creating innovative new drugs. By integrating it with our business and R&D strategies, we protect the competitive advantage of our products and ensure operational flexibility. We focus resources on and secure IP rights for high-priority R&D projects. At the same time, we actively work to secure rights outside Japan with a view to global co-development with the Roche Group. When we apply for patents for products, we include filings for our inventions related to formulation, production method, diagnostic method and personalized healthcare in addition to those for the substance and use. We also work to establish rights globally for significant drug discovery technologies such as innovative antibody technologies, and use those rights in planning and executing our IP strategy. In addition, we are building our own database for patents related to antibody engineering technologies, which are becoming increasingly complex and sophisticated, and are using it to plan IP strategies, including monitoring trends at other companies.
Chugai's IP Strategy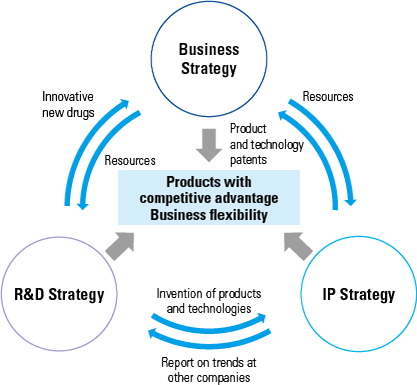 Features of Chugai's IP Strategy
One feature of our IP strategy is that we take full advantage of our benefits as a member of the Roche Group. For inventions originating at Chugai, we take responsibility for planning and execution of matters in Japan and overseas such as application strategies for individual products, selection of countries where applications will be filed, and strategies for acquisition of rights. In addition, we endeavor to choose our best options globally by coordinating closely within the Roche Group, including Genentech, at all times. Another feature is our strategic use of antibody-related technology patents. Antibody engineering technologies are an important part of our R&D strategy, and we actively conduct research and development both to cultivate our basic technologies and to apply them to product development. In our IP strategy, we make use of patents for antibody-related technologies to strategically secure a competitive advantage in the market.
Number of Patents Held (Including Pending Applications) and New Patents Granted