Chugai Redesigns Corporate Website
TOKYO, October 1, 2018 -- Chugai Pharmaceutical Co., Ltd. (TOKYO: 4519) announced today the launch of its redesigned corporate website.
URL: https://www.chugai-pharm.co.jp/english/
The Chugai corporate website is an important medium for communicating with stakeholders and disclosing information in a timely, appropriate, and fair manner.
In response to changes in the environment for using IT devices, and to the needs of our increasingly diverse stakeholders, Chugai has redesigned the layout and content of its corporate website in ways that make the site easier to view, easier to use, and easier to understand.
Three features of the redesigned website.
1. Easy to View
A responsive design had been adopted to enhance the website display on a wide range of screen sizes such as smartphones and tablets, and the font size was enlarged from 14px to 16px.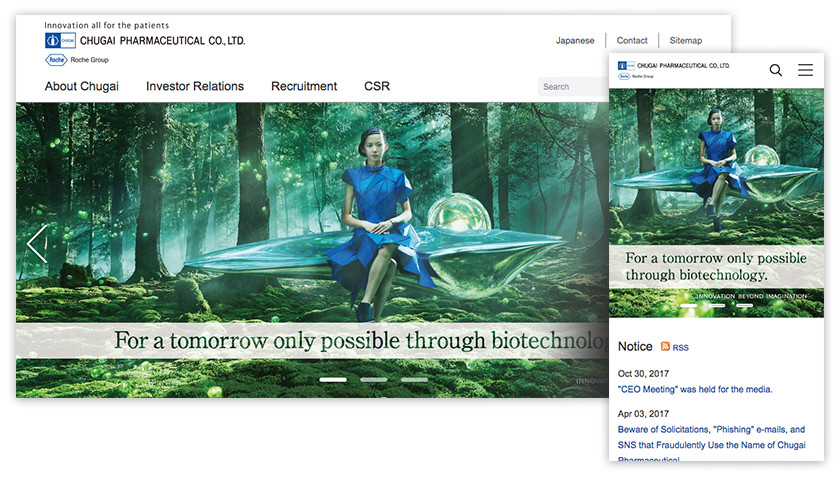 2. Easy to Use
Chugai conducted an investigation on website usability in order to redesign the structure of its website. As a result, accessibility to the information that users are looking for was enhanced, and links placed at the end of each page will guide them to learn more about Chugai. Also, a new search engine will enable users to conduct searches with convenient functions such as previewing referred pages before clicking on the link.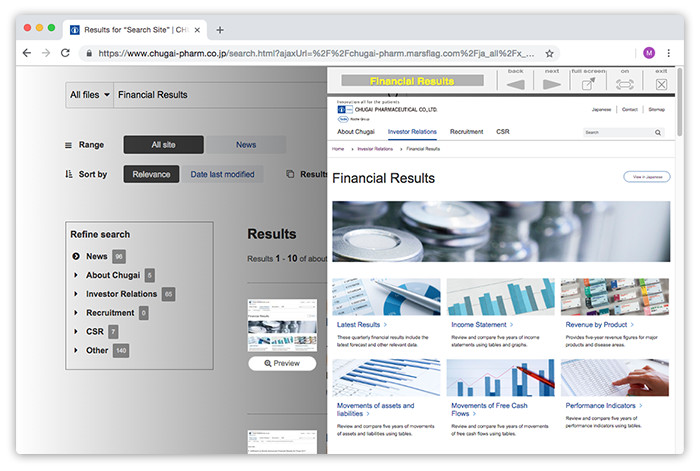 3. Easy to Understand
The contents have been revamped by reducing the volume of text and emphasizing important points through the use of illustrations, charts, and graphs.
Example: Chugai's Seven Strengths:
https://www.chugai-pharm.co.jp/english/profile/strengths/index.html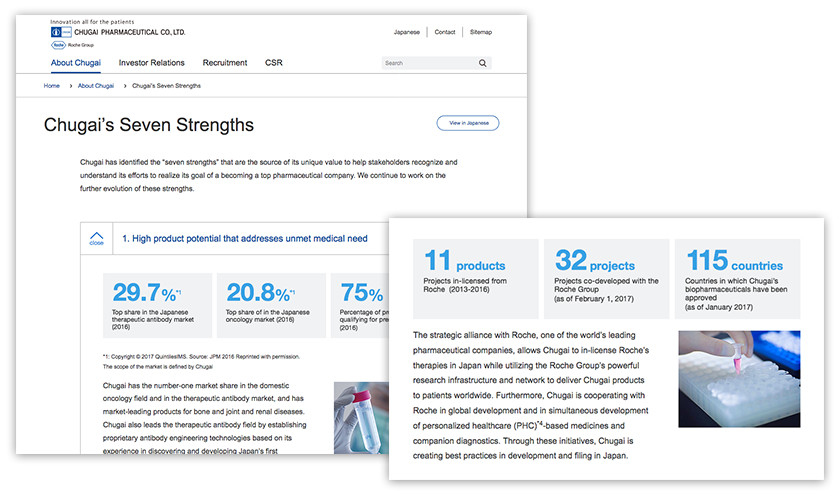 Chugai will continue to enrich its corporate website to promote effective communications with our stakeholders.
Contact:
For Media
Chugai Pharmaceutical Co., Ltd.
Media Relations Group, Corporate Communications Dept.,
Tel: +81-3-3273-0881
E-mail: pr@chugai-pharm.co.jp
For Investors
Chugai Pharmaceutical Co., Ltd.
Investor Relations Group, Corporate Communications Dept.,
Tel: +81-3-3273-0554
E-mail: ir@chugai-pharm.co.jp