Online Class on DX for Developing the Next Generation of Human Resources
-A bottom-up, employee-driven project-
Sustainable Patient-Centric Healthcare
Social Contribution
Next Generation Development
Based on the concept of "Pharmaceutical x Digital," Chugai is actively implementing initiatives that originate from the spontaneous ideas of its employees. One example is an effort to contribute to the development of the next generation of DX* human resources through the knowledge we have accumulated.
University students, who are the future leaders of society, generally have limited access to the latest trends in the pharmaceutical industry. To address the issue, we conducted an online class on DX in the course "Introduction to Pharmacy and Biomedical Sciences for Drug Discovery" at the Graduate School of Pharmaceutical Sciences, Kyoto University in June 2021.
The lecture presented innovation in the drug discovery process using AI, which Chugai is focusing on, as well as an overview of DX trends in the pharmaceutical industry and Chugai's initiatives on DX. About 90 students, nearly double the usual attendance, participated in the class. Feedback from the students was overall positive, saying: "I was able to understand digitalization in the pharmaceutical industry," "I felt the need to learn more about AI and big data," "I felt the need to be able to select what one needs from a vast amount of information and think about the story logically," "If I apply AI image processing to my own research, will it lead to new discoveries?"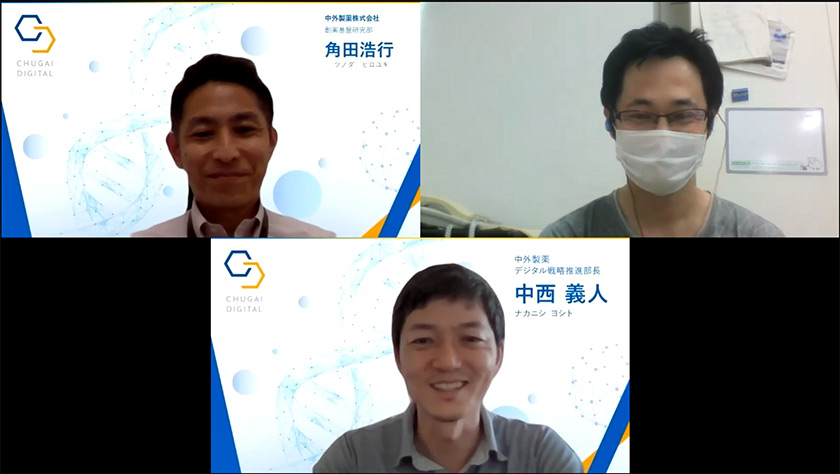 The online class (top right: Associate Professor Yuki Takahashi, Department of Biopharmaceutics and Drug Metabolism, Graduate School of Pharmaceutical Sciences, Kyoto University)
We will continue to actively disseminate the acquired knowledge and skills of "Pharmaceuticals x Digital" not only internally but also externally and contribute to strengthening digital human resources through the industry.
*Digital Transformation. The concept that the penetration of IT will change people's lives for the better in every aspect.