Co-sponsored "Living True to Oneself" ~ Love My Body More! ~
Social Contribution
Healthcare
Inclusive Society
Chugai co-sponsored the "Living True to Oneself" event held in Totsuka, Yokohama-City for the first time in two years, sponsored by the Yokohama Association for Promotion of Gender Equality. This event is held every year for the purpose of promoting the active participation of women toward the realization of an "inclusive society". This year it was held with sufficient infection prevention measures such as narrowing down the participants while canceled in 2020 due to the influence of spread of COVID-19.
In 2021, under the title of ~ Love My Body More! ~, with the theme of health, which is the basis for promoting activities, Ms. Akiko Suzuki, a figure skater, shared her experiences with eating disorders when she was a player. In addition, Dr. Osamu Chaki, Head of Women's Healthcare Department, Yokohama Rosai Hospital, gave a lecture on the health of women at each life stage from the standpoint of a medical professional.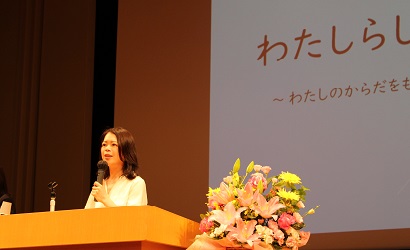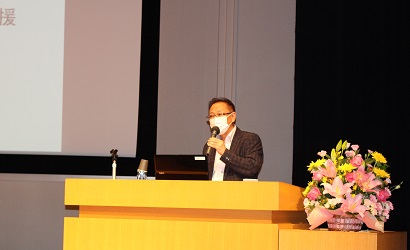 On the day of the event, various people participated, including those who had an eating disorder for themselves or their families. Many of the results of the questionnaire after the survey touched on the importance of "understanding" and "cherishing". We hope this lecture was an opportunity to reconsider one's own health, which is the basis of all the activities of the participants.

We aim to realize an inclusive society and would like to continue to support activities aimed at realizing an "inclusive society".