Health Camp Against NCDs and Helping Safer Childbirth (FY2020)
Helping to improve access to sustainable healthcare in Myanmar
Sustainable Patient-Centric Healthcare
Global Health
Social Contribution
Healthcare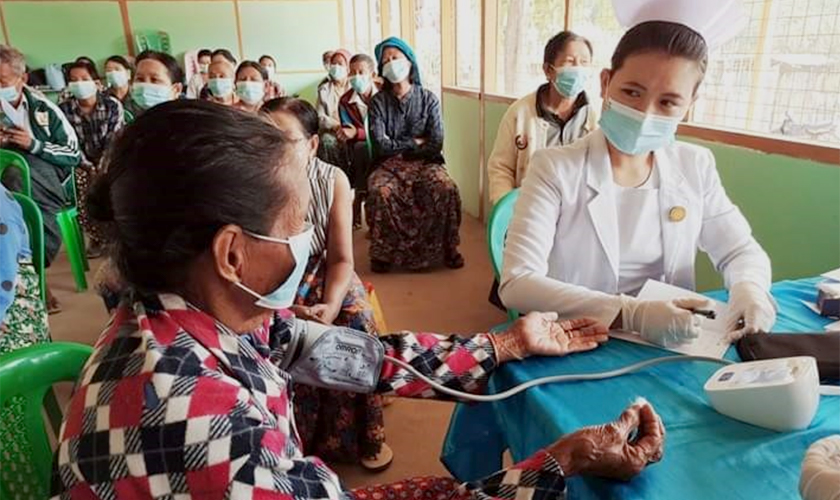 Mobile medical clinic in Meiktila (Au Yin Gone village)
Since November 2018, Chugai, in partnership with AMDA - MINDS (AMDA - Multisectoral and Integrated Development Services)*1, has been supporting an initiative to detect and treat non-communicable diseases (NCDs) in the rural villages of Meiktila Township, which is located in the Mandalay Region of Myanmar. In addition, we are working to help the development of basic self-sustaining systems for supporting safer childbirth and maternity healthcare in Pauk Township.
Please refer to the link for past activities.
In Myanmar, opportunities to use a regional hospital are often limited to emergency and inpatient treatment of serious illnesses. For rural patients in particular, ordinary outpatient consultations and treatment are a hurdle due to the distance and cost burden. As a result, initial treatment is delayed, which can lead to serious illness.
In order to help resolve these issues, Chugai supports the diagnosis and treatment of patients in Meiktila Township through the operation of mobile clinics, which conducts medical checkups and follow-up treatments, and encourages patients with serious conditions to be admitted to hospitals. At the same time, in Pauk Township, we monitored the operations of the support funds which are established with residents to help pregnant women and nursing mothers to access the hospitals in emergencies. Also, we monitored the utilization of the ultrasonic diagnostic equipment introduced at the Pauk Township Hospital.
Activities in 2020 - January 2021
1. Support for measures to expand COVID-19 in Meiktila Township and Pauk Township
We provided masks to residents in rural areas and provided personal protective equipment (gowns, caps, face shields, masks) to medical institutions.
2. Implementation of Mobile Medical Clinic and Health Education in Meiktila Township
After conducting workshops and training with the staff of the Township Health Department and taking measures to prevent COVID-19 infections, health checkups and treatment were conducted in 48 villages. Of the 4,077 patients seen, approximately 35% were diagnosed with NCDs such as hypertension, diabetes mellitus, and heart disease, which could be linked to early medication treatment and subsequent follow-up. In addition, we provided medical equipment (for measuring blood pressure and blood sugar) and provided health education.
3. Use of Ultrasonic Diagnostic Equipment (Echo) in Pauk Township and Monitoring of the Utilization of the Transportation Fund Management Committee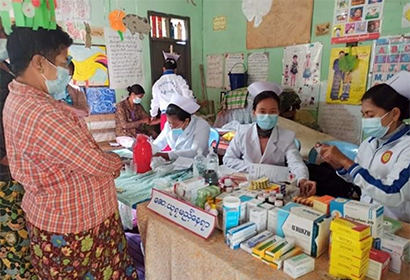 Mobile medical clinic in Meiktila (Pyin Thar village)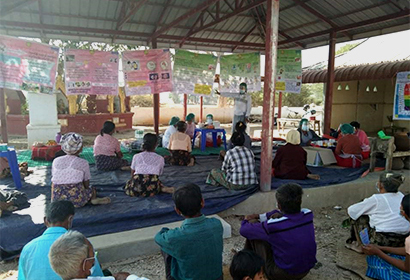 Mobile medical clinic in Meiktila (Health Education) (Yai Ngan village)
With the global pandemic of COVID-19 drawing attention from countries to combat infectious diseases, patients with NCDs such as high blood pressure, diabetes, and cancer have been severely damaged. WHO surveys show that many countries are shrinking or postponing healthcare services for NCDs, and there is widening disparities, particularly between low-and middle-income countries and developed countries. *2 In the future, there are concerns about the impact on infant mortality due to the decline in maternal and child health services, and that symptoms among patients with NCDs will worsen and early diagnosis will decline. In particular, NCDs in low-and middle-income economies such as Myanmar face double difficulties, as their access to treatment for basic diseases is hindered and they are also exposed to the risk of severity in the event of COVID-19 infections.
Under these circumstances, the mobile clinic pilot data we have presented to the Meiktila Township Health Department since 2019 has become increasingly important in terms of predicting the spread of patient severity.
We believe that these activities lead to Chugai's mission of providing sustainable solutions in line with local needs.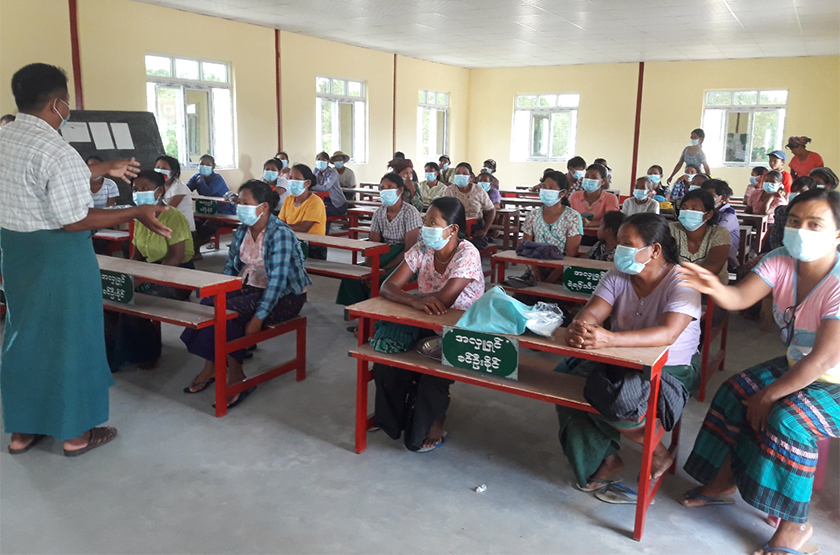 Pauk Township Health Assistant physicians instructs residents to prevent infections in COVID-19