Report on the survey results of vehicles usage in Para-transit Vehicles Donation Program
Social Contribution
Inclusive Society
We support the senior citizens and physically disabled people who receive long-term nursing care at home in leading more fulfilling lives through our home welfare transport service car donation program since 1985.
To strive for even better this program, we conducted a survey in 2020 of facilities to which donations were made after 2005.
This survey indicated that these vehicles donated by our company are being utilized as a means of transport linking these facilities with individual homes or transportation to and from medical institutions.
Please see below for the results of the survey.
Usage situation of Para-transit Vehicles
[Outline of Questionnaire survey in 2020]
Target:Facilities to which donations were made after 2005
Period: 21th April - 30th April 2020
Response rate:61.2%(N=93)
Cooperation partner: DEVELO Co., Ltd.
Question contents:Number of vehicle users/Running days per week/Purpose for use of the vehicles
[Aggregate results]
1. Services provided by groups and facilities(multiple answers)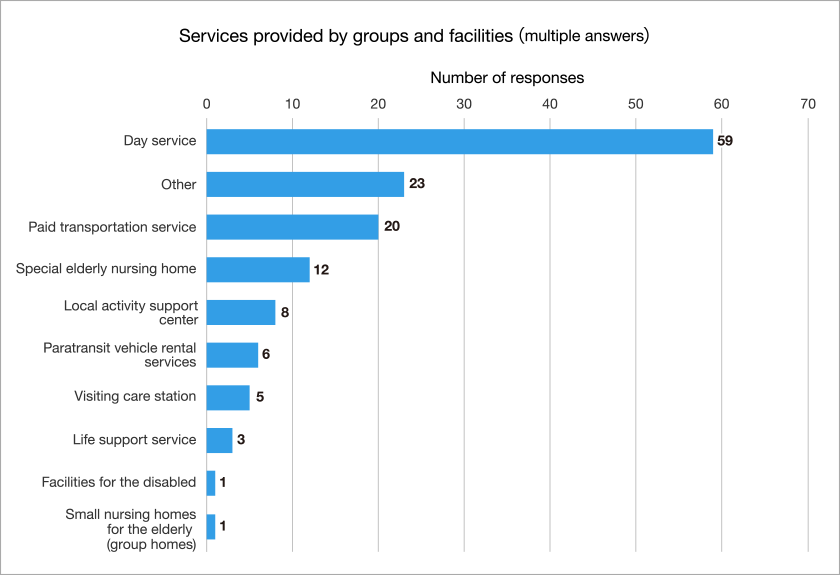 2. Operation status of vehicles
| Item | Mean | Valid answers |
| --- | --- | --- |
| Running days per week | 4.6 day | 86 answers |
| Average number of users per day | 13 people | 88 answers |
| Number of wheelchair users per boarding | 1.5 people | 89 answers |
3. Purpose for use of the vehicles(multiple answers)
In addition to providing innovative pharmaceuticals, Chugai aims to grow together with society and contributes to its sustainable development through social contribution activities mainly in the medical and health areas where Chugai has experience and expertise.