Chugai Sponsored Lab Class for Girls: "Challenge! Let's Dissect a Squid"
Social Contribution
Inclusive Society
Next Generation Development
On Saturday, November 16, Chugai sponsored a lab class held by the Yokohama Association for Promotion of Gender Equality.
This lab class program was launched in 2011 in the hopes of teaching even more young women how fun science can be. The class welcomed 22 girls in the fourth through sixth grades who, working with an instructor who is also a "Squid Meister" and science student assistants, dissected specimens of Japanese common squid.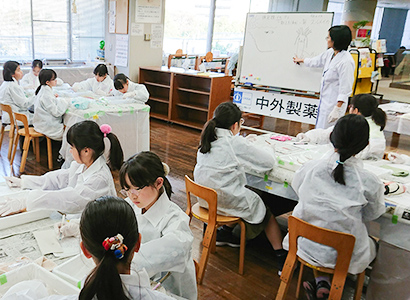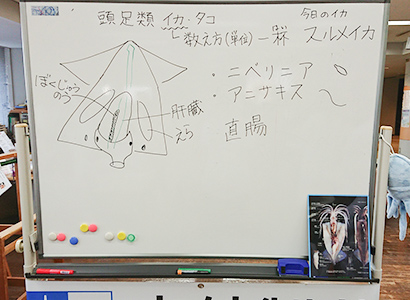 The children learned the proper location of the squid's parts by examining the samples in front of them, answering questions from the instructor as they drew pictures of squids in their lab notebooks. During the dissection, students who at first poked cautiously at the squid were soon keenly observing parts they had never seen before, and it was impressive to see them taking off on their own with their observations during the free time afterward. Ms Hayatake, their instructor, noted that, "I'd be delighted if, by using a familiar creature that regularly appears on their dinner tables, the children will gain even a small interest in squid and other living things."
Comments from participants
I was surprised to learn that squid has a mouth which is surrounded by their ten arms, has a long and narrow body. I want to learn more about fish.
I didn't know that squid's arms are growing out of its head. It was a surprise to me.
I not only join a squid dissecting class, I also like to see how squids take the bait.
I want to learn much more about squid. When I eat squid, I want to remember today's squid dissecting class.