Cooperation with Reading & Live Show – "Living True to Oneself"
Social Contribution
Inclusive Society
The Yokohama Association for Promotion of Gender Equality hosted the event "Living True to Oneself" again this year (Sunday, 20 October 2019). Chugai supported the event as one of our efforts to utilize a diverse and dynamic workforce and strive towards realizing an inclusive society in which individuals can realize their potential.
This year, the performance group "Shige-chan Ichiza", led by Ms. Shigeru Muroi, delivered a live performance, including a live reading of children's books.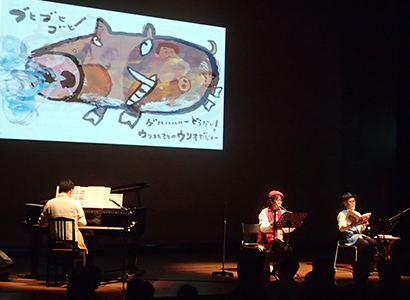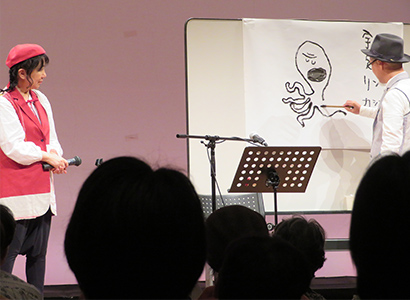 Ms. Muroi, who is also an actress and the author of the children's book "Shige-chan", performed live readings and musical numbers together with children's author Mr. Yoshifumi Hasegawa and pianist Mr. Satoshi Otomo, to deliver an important message to the audience. Attendees were moved – both to tears and to laughter – by the performance, and members young and old were also welcome to participate in special areas of the event, including an introduction to the art of Japanese hand-towel making.
Ms. Muroi spoke about her own experiences and difficulties as a child, including times she was often mistaken for a boy because of her first name (Shigeru), which is a traditionally male name. When she asked her mother to give her a more cute-sounding female name, her mother would tell her about the important meaning of her name, and she eventually came to understand and cherish it.
Ms. Muroi spoke highly of the importance of understanding the value of one's own name. "Living True to Oneself" is a message to everyone. Chugai promotes diversity and inclusion with the goal of achieving an inclusive society in which each of us can play an active role.