Online Workshop on Multidisciplinary Team Care for Healthcare Professionals in Cambodia
Sustainable Patient-Centric Healthcare
Global Health
Social Contribution
Healthcare
In contrast to the dramatic economic growth, the health and sanitation situation in Cambodia is still developing, and there are many issues that need to be solved, such as lack of knowledge on medical and sanitation of the people, insufficient insurance systems, and lack of medical facilities. Above all, the lack of numbers of medical professionals is serious and a major obstacle to accessing high-quality healthcare for the public.
To address this issue, Chugai held a multidisciplinary team care workshop for medical professionals in Cambodia in collaboration with International Medical Volunteers Japan Heart (hereafter, Japan Heart*), a non-profit organization on March 6 and 19, 2021.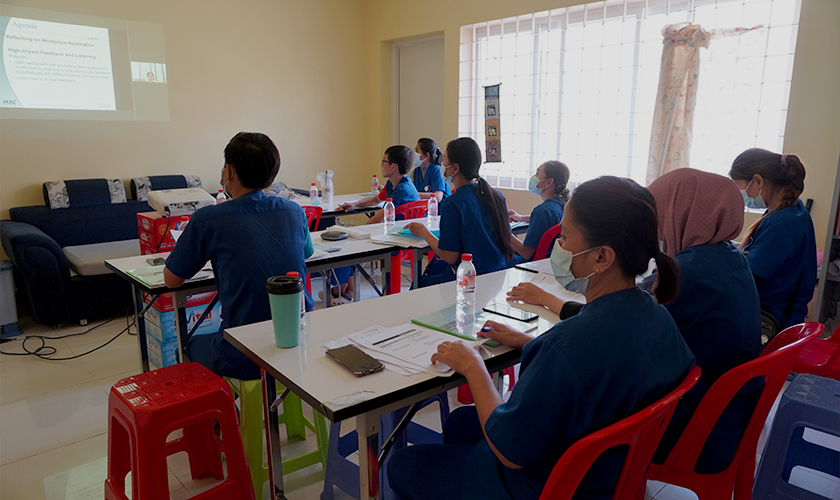 Chugai has long been involved in the promotion of multidisciplinary team care in Japan, where various players in medical care share purpose and information and provide medical care in cooperation with each other and complement each other. Based on this experience, we have held a workshop on multidisciplinary team care for local healthcare professionals in Cambodia since last year to support the cooperation of limited human resources and contribute to the realization of high-quality healthcare. This second workshop following the first workshop last year was held through online lectures from Japan in view of COVID-19 pandemic.
Please refer to the link for past activities.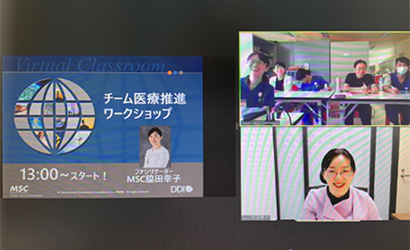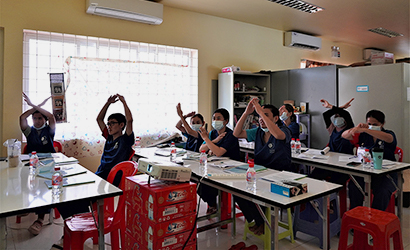 Based on feedback from last year's participants, the training this year featured on effective feedback and listening. A total of 17 participants attended the workshop held in two days. The first day was held in Japanese for local Japanese medical professionals, and the second day was held for Kumail medical professionals via a Kumail interpreter. Participants said that the workshop was very helpful because it was practical and readily applicable.
Chugai will continue support activities leveraging its strengths to contribute to global health with the aim of providing highly patient-centered and sustainable medical care.
Feedback from participants
Dr. Maiko Koujiro, board member/medical doctor/hospital project director, Japan Heart
After one year, we were losing what we learned from the last training, and motivation was beginning to wane. As a result of the follow-up training, we were able to gain a sense of unity from the team again, which also helped to raise the awareness of each leader of staff. The content was practical and very meaningful. I was somewhat nervous about whether we could concentrate on learning until the end as it was carried out online for long hours with many participants. Particularly, Cambodian staff needed to take the lecture through Cambodian interpreter. However, thanks to the fact that the instructor actually visited Cambodia last year and had already established a relationship with the staff of our hospital, we were able to concentrate on the training almost without any discomfort. This was our first online training with lectures from overseas at our hospital. As it went smoothly I saw this as an opportunity to deepen our learning amid the COVID-19 pandemic. I hope that I will continue to make use of what I have learned here to further communication and create a more mature team.
Ms. Soun Vichea, nurse, Japan Heart Children's Medical Center
First of all, I would like to express my gratitude. It was a pleasure to participate in this workshop. Especially in our hospital, we work with staff of various professions such as doctors, nurses, midwives, pharmacists, and office workers. Communication skills are needed to be a good team, understand the situation tightly and work in the correct procedure to save the patient's life. In working as a team, I felt that it was necessary to improve the communication skills of all the staff. I myself, too, wanted to improve my own skills, including interpersonal skills, so I joined the workshop this time. I think that I was able to change myself through a series of workshops that have been held since last year after learning important contents.
*International Medical Volunteers Japan Heart (https://www.japanheart.org/en/en-about/)