Health Camp Against NCDs(FY2019)
Help improving access to sustainable health care in Myanmar
Sustainable Patient-Centric Healthcare
Global Health
Social Contribution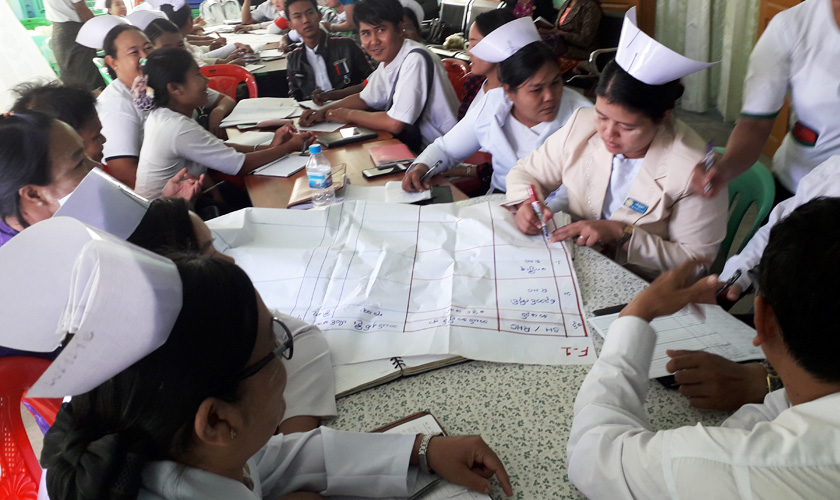 Non-communicable diseases (NCDs), such as cancer, cardiovascular diseases, and diabetes are looming as challenges in Myanmar which can no longer be ignored According to a World Health Organization (WHO) survey, 36.9% of people in Myanmar diagnosed with hypertension had never had their blood-pressure checked before the diagnosis; even afterwards, only 34.9% had taken antihypertensive drugs. The Ministry of Health and Sports of Myanmar desires to enhance NCSs measure, and strongly emphasizes the need for support in meetings with U.N. organizations and international NGOs.
Since Nov 2018, Chugai, in partnership with AMDA – MINDS (AMDA – Multisectoral and INtegrated Development Services), supports an initiative to detect and treat NCDs in rural villages of Meiktila Township in the Mandalay Region, a dry region located in central Myanmar known for its relatively high level of poverty. Preventing NCDs is recognized as an urgent issue in the region.
This initiative support patients through the operation of mobile medical clinics which provide medical check-ups and follow-up treatment. It also facilitates in-hospital care for patients in serious condition and provides villagers with health education and training and brochures. The program is designed to strengthen the implementation and management capabilities for conducting NCD measures by encouraging the active participation of regional hospitals and health authorities. Therefore the details of the plans are decided at workshops run by staff from the Township Health Bureau and Meiktila General Hospital.
We believe it will contribute to our mission of providing sustainable solutions.
*1 "Report on National Survey of Diabetes Mellitus and Risk Factors for Non-communicable Diseases in Myanmar" World Health Organization (WHO), Myanmar, Ministry of Health, (2014)
*2 NGO working on Global Health based in Okayama, Japan(https://www.amda-minds.org/english/)