Helping Safer Childbirth(FY2018)
Helping to build an environment for safe hospital deliveries in Myanmar
Global Health
Social Contribution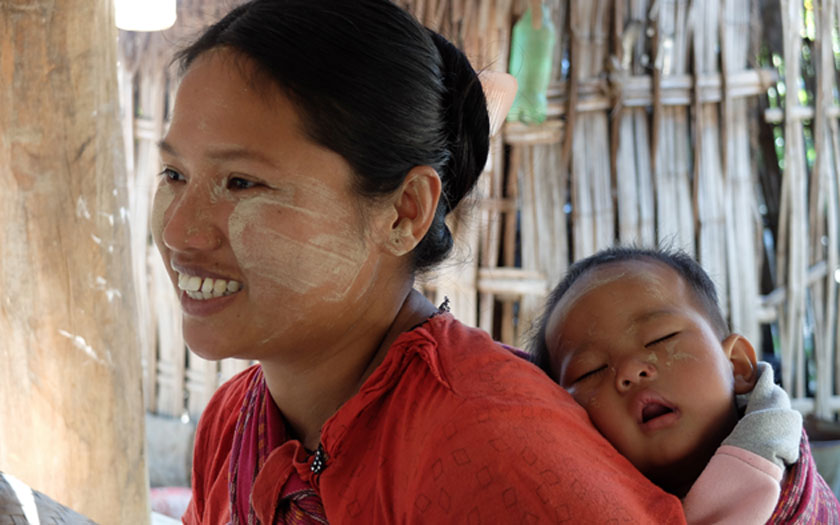 Pauk Township in the Magway district, a dry region located in central Myanmar with low rainfall and scarce water resources, is known for its relatively high level of poverty. Health indicators are also poor, with an infant mortality rate of 89 per 1,000, the highest in all regions and state1. Since Nov 2018, Chugai, in partnership with AMDA-MINDS (AMDA-Multisectoral and Integrated Development Services) 2 is working to build basic self-sustained systems for supporting safer childbirth and maternity healthcare in the rural villages of the district.
The program establishes transportation funds in cooperation with residents in the villages to help get pregnant women to the hospital in emergencies. By providing re-education and training for assistant midwives and the first ultrasonic diagnostic equipment to regional hospitals, as well as training and monitoring, the ability of pregnant women to detect and cope with abnormal symptoms at an early stage is being enhanced. The program also provides first-aid training for the villagers to support transportation in other emergency situations as well.
Comment by U Myint Win, village head of Shwe Pyi Thar village
"In the past, there were many cases where pregnant women who wanted to give birth at a hospital gave up the idea because of a lack of funds. From now on, transportation expenses can be borrowed from the fund. In order to manage the fund properly, we separated interest-free transportation expenses from other interest-bearing loans, and we all learned how to manage them in the books. We want to purchase an ambulance when our funds grow large enough in the future."
By encouraging the active participation of the villagers, the program is designed to generate lasting effects and learnings, which leads to Chugai's mission of providing sustainable solutions.
*1 2014 census. The national average of Myanmar is 62, and the average for Southeast Asia is 27 (Unicef ​​(2015), Levels & Trends in Child Mortality)
*2 NGO working on Global Health based in Okayama, Japan(https://www.amda-minds.org/english/)