Chugai Wins the Grand Prize for the Third Time in the 23rd NIKKEI Annual Report Awards
TOKYO, February 12, 2021 -- Chugai Pharmaceutical Co., Ltd. (TOKYO: 4519) announced today that its "Annual Report 2019" published in March 2020 has won the Grand Prize for the third time after four years in the 23rd NIKKEI Annual Report Awards.
Started by Nikkei Inc. in 1998, the NIKKEI Annual Report Awards are presented to further enhance and promote annual reports published by Japanese companies. This year, 132 companies participated and a Grand Prize, three Second Prizes, three Special Prizes, and 14 Honors were awarded.
Chugai's Annual Report 2019 was highly evaluated for "A highly integrated report with extensive financial and non-financial descriptions. In addition to the messages from current and previous top management, comments from the parent company are also helpful for multifaceted understanding. The polite and sincere attitude towards investors is consistent throughout the report, and the CFO message is extremely excellent, including disclosure of target KPI settings."
Chugai began publishing an integrated report since the Annual Report 2012 and has made various efforts to promote a better understanding of its unique strengths and corporate value among a wide range of stakeholders. As a result, our report has consistently earned high recognition, receiving an award every year since 2012, including three Grand Prizes, four Second Prizes and one Honor.
Chugai will continue striving to disclose information in a comprehensible manner in order to help satisfy the needs of its many stakeholders.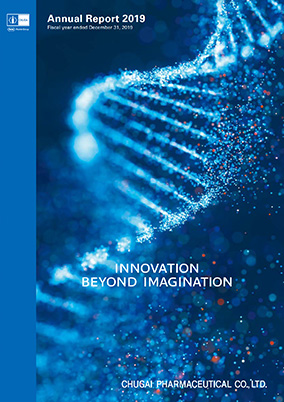 Contact:
For Media
Chugai Pharmaceutical Co., Ltd.
Media Relations Group, Corporate Communications Dept.,
Tomoko Shimizu
Tel: +81-3-3273-0881
E-mail: pr@chugai-pharm.co.jp
For Investors
Chugai Pharmaceutical Co., Ltd.
Investor Relations Group, Corporate Communications Dept.,
Takayuki Sakurai
Tel: +81-3-3273-0554
E-mail: ir@chugai-pharm.co.jp