Chugai Wins Prize in 7th WICI Japan Award for Excellence in Integrated Reporting
Chugai's "Annual Report 2018" has been awarded the "Excellence in Integrated Reporting Prize" from WICI Japan for the first time
Recognized as a model for excellent integrated reporting that can show the future of a company
TOKYO , November 15, 2019 -- Chugai Pharmaceutical Co., Ltd. (TOKYO: 4519) announced today that its "Annual Report 2018" has been awarded a Prize for Excellence in Integrated Reporting in the 7th WICI Japan Award for Excellence in Integrated Reporting. Chugai's Annual Report was recognized as an excellent example of integrated reporting with a high level of thoroughness that presents a good view of the company's future. This marks the first time for Chugai to receive a WICI Japan award.
WICI Japan, the Japanese arm of the World Intellectual Capital/Assets Initiative (WICI), is responding to the initiatives of the International Council for Integrated Reporting (IIRC), which aims to improve the sustainability of business entities and society by improving interactive communications between companies and their stakeholders through clear and concise reports on business activities. The Award for Excellence in Integrated Reporting was established in 2013 by WICI Japan as a measure to promote the publication of integrated reports in Japan.
Candidates for this year's prizes were selected from the top 300 companies in terms of market capitalization as of the end of August 2019 on the First Section of the Tokyo Stock Exchange and also an additional 214 companies who were judged to have issued integrated annual reports. The results of the review by WICI Japan are as follows: 1 winner of The Best Integrated Reporting Grand Prize; 4 winners of The Excellence in Integrated Reporting Prize; and 1 winner of the Integrated Reporting Award.
Chugai's Annual Report has continually earned high acclaim, receiving an award every year since Annual Report 2012 in the NIKKEI Annual Report Awards, winning the Grand Prize for two consecutive years for Annual Report 2014 and Annual Report 2015, and Second Prize for Annual Report 2017.
Chugai will continue to disclose information in ways that are even easier-to-understand in order to satisfy as many stakeholders as possible.
Annual Report 2018 can be viewed from the following page:
https://www.chugai-pharm.co.jp/english/ir/reports_downloads/annual_reports.html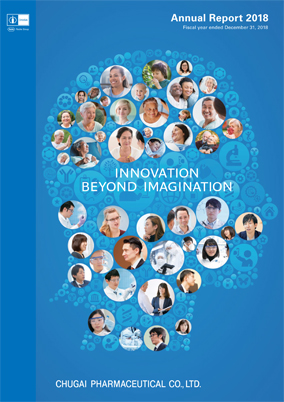 Contact:
For Media
Chugai Pharmaceutical Co., Ltd.
Media Relations Group, Corporate Communications Dept.,
Tomoko Shimizu
Tel: +81-3-3273-0881
E-mail: pr@chugai-pharm.co.jp
For Investors
Chugai Pharmaceutical Co., Ltd.
Investor Relations Group, Corporate Communications Dept.,
Toshiya Sasai
Tel: +81-3-3273-0554
E-mail: ir@chugai-pharm.co.jp