Establishment of Chugai Life Science Park Yokohama and Relocation of Research Laboratories
- Aiming at Creating Innovative New Drugs with Globally Highest Quality -
Name of listed company:
Chugai Pharmaceutical Co., Ltd.
Code number:
4519 (1st Section of Tokyo Stock Exchange)
Head office:
1-1, Nihonbashi-Muromachi 2-Chome, Chuo-ku, Tokyo
President & CEO:
Tatsuro Kosaka
Inquiries to:
Masahiko Uchida,
General Manager, Corporate Communications Dept.
Tel:+81-(0)3-3273-0881
TOKYO, May 21, 2019 -- Chugai Pharmaceutical Co., Ltd. (TOKYO: 4519) announced today the decision to construct a core research laboratory, Chugai Life Science Park Yokohama, at a business site owned in Yokohama, Kanagawa Prefecture. In addition, Chugai decided to consolidate the functions of Fuji Gotemba Research Laboratories and Kamakura Research Laboratories, located in Gotemba city, Shizuoka Prefecture and Kamakura City, Kanagawa Prefecture, respectively, to the new research center promptly, and to close both research centers.
The new research center is designed to harmonize with neighboring communities, where the facilities are designed to consider the environment such as measures to save energies and reduce CO2 emissions. As a global base for creating innovative new drugs at its highest quality, our facilities intend to attract researchers both in and outside the company and from Japan and overseas. Completion is scheduled in August 2022, with a total investment of JPY 127.3 billion. The impact of capital investment on the consolidated forecasts for the fiscal year ending December 2019 announced on January 31, 2019 is expected to be minimal.
At our company, Fuji Gotemba and Kamakura Research Laboratories have been leading the development of next-generation antibody technology, middle molecule drug discovery technology, and research on innovative new drug discovery. Accompanying the recent progress in utilization of artificial intelligence (AI) and laboratory automation, it is necessary to integrate, share, and utilize platforms of various research functions in order to promote drug discovery and their multifaceted assessment more efficiently. For this reason, we have determined to consolidate the research functions that were located in two sites into Chugai Life Science Park Yokohama, and establish a system to maximize our R&D function.
Our company is committed to create innovations, centering on innovative new drug discoveries, with the goal to "Become a top innovator for advanced and sustainable patient-centric healthcare" driven by our unique strength in science and technology. In the mid-term business plan, "IBI 21," started this year, we take on a challenge of drug discovery in new dimensions addressing the "realization of innovative drug discovery to cure and control diseases."
At the newly constructed Yokohama Research Laboratories, we aim to accelerate drug discovery and deliver innovative new drugs to patients around the world at an extraordinary speed, by bringing together the individual strengths of Fuji Gotemba and Kamakura Research Laboratories that have been honed over the years, and leading from further deepening of knowledge on the disease pathology to creative target identification, in addition to strengthening the core drug discovery technology.
[Overview of construction plan for the Chugai Life Science Park Yokoyama]
| | |
| --- | --- |
| 1. Start of construction: | August, 2019 |
| 2. Completion of building: | August, 2022 |
| 3. Start of full operation: | January, 2023 |
| 4. Construction area: | 35,210 m2 |
| 5. Total floor area: | 119,960 m2 |
| 6. Total investment: | 127.3 billion yen |
[Conceptual drawing of the Chugai Life Science Park Yokoyama (west-side view)]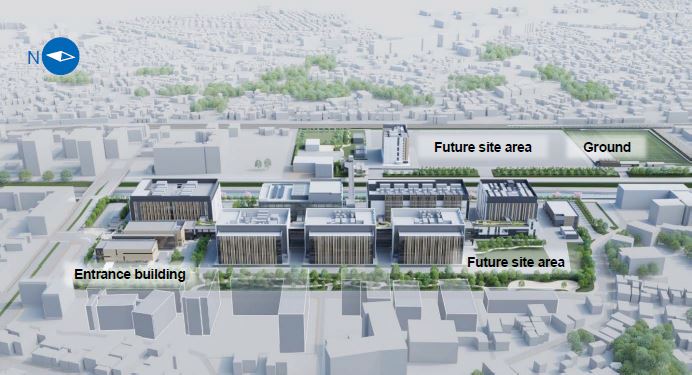 Contact:
For Media
Chugai Pharmaceutical Co., Ltd.
Media Relations Group, Corporate Communications Dept.,
Tomoko Shimizu
Tel: +81-3-3273-0881
E-mail: pr@chugai-pharm.co.jp
For Investors
Chugai Pharmaceutical Co., Ltd.
Investor Relations Group, Corporate Communications Dept.,
Toshiya Sasai
Tel: +81-3-3273-0554
E-mail: ir@chugai-pharm.co.jp