Construction of a New Manufacturing Building for Active Pharmaceutical Ingredients to Further Accelerate Development of Small and Middle Molecule Drugs
Name of listed company:
Chugai Pharmaceutical Co., Ltd.
Code number:
4519 (1st Section of Tokyo Stock Exchange)
Head office:
1-1, Nihonbashi-Muromachi 2-Chome, Chuo-ku, Tokyo
President & CEO:
Tatsuro Kosaka
Inquiries to:
Masahiko Uchida,
General Manager, Corporate Communications Dept.
Tel:+81-(0)3-3273-0881
TOKYO, April 24, 2019 -- Chugai Pharmaceutical Co., Ltd. (hereafter, "Chugai") announced today the decision to construct a new manufacturing building for active pharmaceutical ingredients (APIs) for clinical studies in Fujieda Plant (Fujieda-shi, Shizuoka) of Chugai Pharma Manufacturing Co., Ltd. (Head office; Kita-ku, Tokyo: President; Shinya Takuma), a manufacturing subsidiary of Chugai, aiming at further accelerating development of small and middle molecule drugs.
The purpose of constructing a new manufacturing building is to newly establish the manufacturing capability of middle molecule APIs for clinical studies in Chugai, as well as to enhance the supply capacity of small molecule APIs for clinical studies. This will not only accelerate the development of small and middle molecule drugs, but also reduce manufacturing costs. In addition, the number of high-potency APIs has been increasing in Chugai. Therefore, in order to ensure the safety of the environment and our researchers, advanced containment technologies will be adopted.
By our active investment in antibody drugs, Chugai has been able to continuously create innovative projects and has established the system for simultaneous development of multiple products with a speed at a top global level. This investment for the new building will strengthen the process development speed and supply capacity of small and middle molecule drugs to obtain competitive advantage. Chugai aims to quickly deliver innovative new drugs to patients worldwide.
"Chugai has selected middle molecule drugs as the core next-generation drug discovery technology. However, given the industry's intense competition for the development, early establishment of the technology platform for industrialization and stable supply of investigational drugs are indispensable," said Hiroshi Murata, Vice President and General Manager of Pharmaceutical Technology Division. "A new synthetic research building is currently under construction at Ukima Research Laboratories, aiming to enhance capability of the manufacturing process development for small and middle molecule APIs. The new manufacturing building will lead to accelerate the development of small and middle molecule drugs with prompt supply of APIs by manufacturing process developed in the synthetic research building."
[Overview of Fujieda plant]
Location: 2500, Takayanagi, Fujieda-shi, Shizuoka
Site area: 216,804 m2
Total floor area*: 25,866 m2
*including total floor area of the new manufacturing building for APIs
Business activities:
Production of small molecule APIs, manufacturing of solid formulations, packaging of pharmaceuticals, and manufacturing of APIs for clinical studies
[Overview of construction plan of the new manufacturing building for small and middle molecule APIs in Fujieda plant]
Start of construction: November, 2019
Completion of construction: March, 2021
Total investment: 18.2 billion yen
Completion of building: March, 2022
Start of operation: May, 2022
Construction area: 1,744 m2 (4-story base isolated building)
Total floor area: 6,190 m2
[Conceptual Drawing of the New Synthetic Manufacturing Building]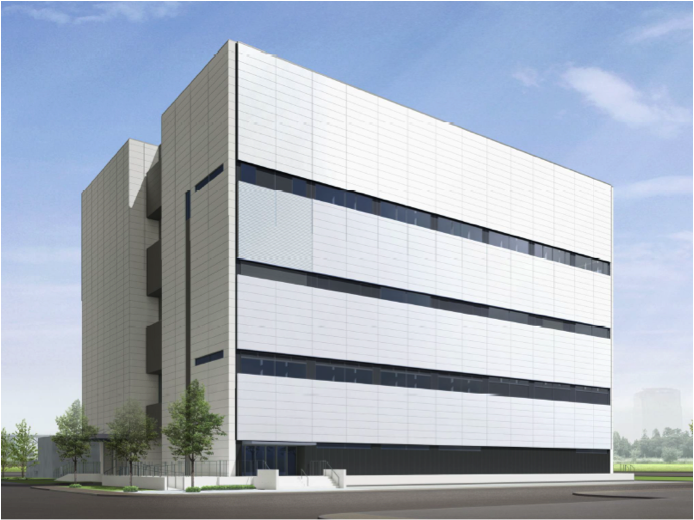 Contact:
For Media
Chugai Pharmaceutical Co., Ltd.
Media Relations Group, Corporate Communications Dept.,
Tomoko Shimizu
Tel: +81-3-3273-0881
E-mail: pr@chugai-pharm.co.jp
For Investors
Chugai Pharmaceutical Co., Ltd.
Investor Relations Group, Corporate Communications Dept.,
Toshiya Sasai
Tel: +81-3-3273-0554
E-mail: ir@chugai-pharm.co.jp