Chugai is promoting R&D based on organic collaboration between the respective functions of its three core research laboratories in Japan: Fuji Gotemba (Gotemba City, Shizuoka Prefecture), Kamakura (Kamakura City, Kanagawa Prefecture) and Ukima (Kita-ku, Tokyo). Moreover, Chugai is utilizing the Roche Group's network to expand its drug research structure globally in a variety of fields, making it possible to discover promising new drug candidates early and to shorten development time.
Research Bases
Fuji Gotemba Research Laboratories

We conduct drug discovery research of treatments for bone and joint, renal, hematologic and immune diseases based on antibody engineering, developmental engineering, protein engineering and chemical synthesis research. Our development research involves safety, pharmacokinetics and formulations, and we also conduct clinical pharmaceutical research.
Kamakura Research Laboratories

We conduct drug discovery research of cancer treatments based on chemical synthesis, protein engineering and bioinformatics. We also conduct high-throughput screening of chemical agents, pharmacokinetics research, and clinical pharmaceutical research.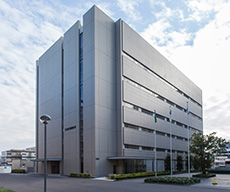 Ukima Research Laboratories

As a facility focused on industrialization of newly developed drug candidates, we conduct pharmaceutical API manufacturing process research, product design (formulation and packaging) and production method research, facility design and production technology research, analysis of the structure and physical properties of pharmaceuticals, and quality testing methods.
Satellite Labs
Chugai has set up satellite labs to shorten drug discovery and development time and to continuously create innovative R&D projects.