Air, Water and Soil Pollution Prevention, Coexistence with Nature and Protection of Biodiversity
Water Pollution Prevention and Associated Measures
Based on the Water Pollution Control Act and various prefectural ordinances, the Chugai Group treats its wastewater at wastewater treatment plants, verifying compliance with wastewater standards before releasing it into public waters.
Water consumption increased 63 thousand tons from the 2018 level to 2.082 million tons. This was due to increase in production. Wastewater was 1.846 million tons, while total BOD in wastewater decreased 894 kg, nitrogen increased 704 kg and phosphorus decreased 16 kg from the 2018 levels. Note that these wastewater quality indicators are far below the prescribed wastewater quality standards (BOD: 160 mg/L, Nitrogen: 120 mg/L, Phosphorus: 16 mg/L) at all plants and laboratories.
Water Consumed and Wastewater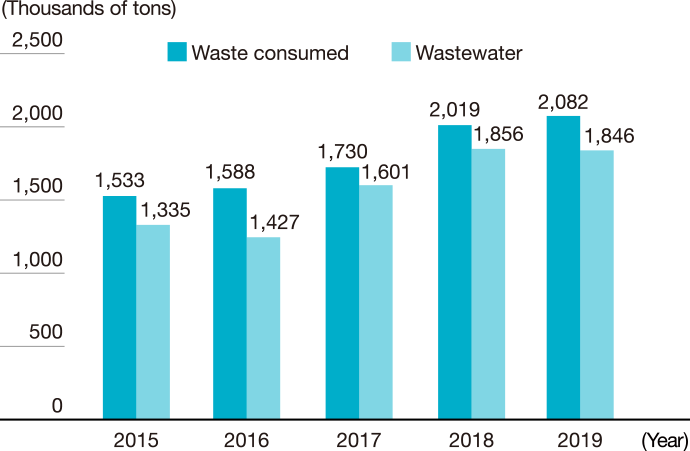 Total BOD, Nitrogen and Phosphorus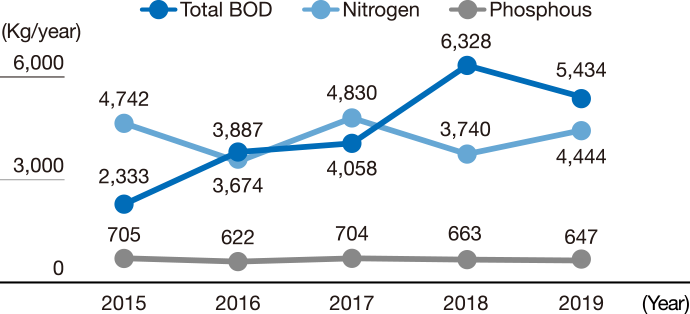 Air Pollution Prevention and Associated Measures
Based on the Air Pollution Control Act and various prefectural ordinances, the Chugai Group measures emissions of nitrogen oxides (NOx), sulfur oxides (SOx) and particulates, verifying compliance with emissions standards before releasing them.
NOx emissions increased by two tons over 2018 levels. Although, figures for air pollutants emitted at each site are trending significantly below prescribed environmental limits. Since the second half of 2014, Chugai has been promoting the conversion of the main fuel in heat source equipment from fuel oil to city gas. This was reflected in a significant decrease in SOx emissions, a figure which we continue to maintain.
NOx emissions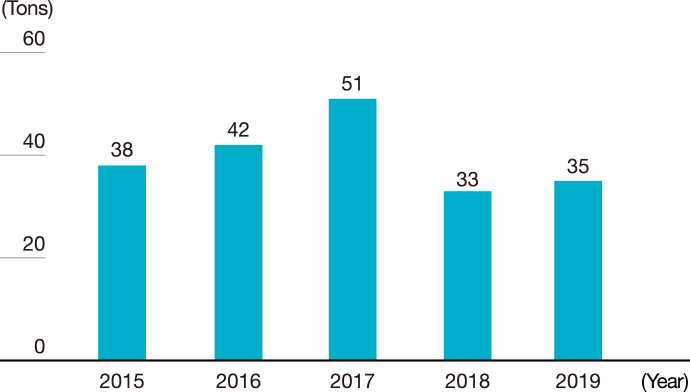 SOx and Dust Emissions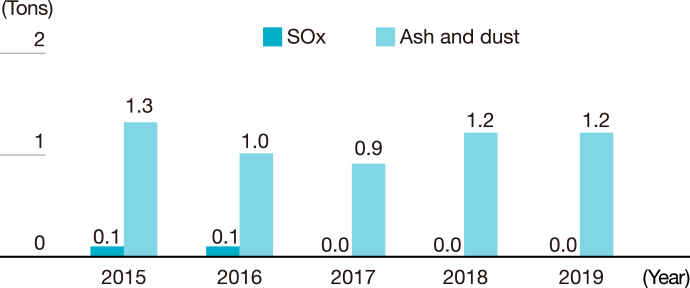 Soil Pollution Prevention and Associated Measures
Based on the Soil Pollution Control Act and various prefectural ordinances, the Chugai Group conducts appropriate soil surveys in compliance with the law.
In the event that soil pollution were to be found, we would discuss the issue with the authorities, and take appropriate steps to contain it and clean it up.
<Ukima plant>
As a result of soil surveys conducted in conjunction with the construction of a new building, a portion of the soil was found to contain lead in excess of standard levels. Based on the Soil Pollution Control Act, all of the contaminated soil in excess of standard levels was dug up and removed, and soil pollution countermeasures were completed upon receipt of notification from the authorities that the soil pollution designation had been lifted.
Coexistence with Nature and Protection of Biodiversity
From the standpoint of protecting biodiversity, in 2013 the Chugai Group began conducting WET tests*1 to verify the impact on local ecosystems of wastewater discharge from our plants and research laboratories, not only to fulfill regulatory wastewater standards, but to gain a comprehensive understanding and assess the impact of chemical substances contained in that wastewater. In 2019, we again conducted a once-yearly WET test at all of our plants and research laboratories, and confirmed that no problems were found.
In addition, in 2019 we took these efforts one step forward, with employee volunteers undertaking thinning work in the forests of Kawanehon-cho (Shizuoka Prefecture), the watershed for the Fujieda Plant, part of activities to preserve production site water resources. We not only hope to minimize the impact our production activities have on the global environment, but contribute to preserving the abundant water resources that we share with residents living near these watersheds. As part of its business practices, Chugai will continue to use water carefully, returning it to nature in pristine condition and engaging in activities to maintain the forests that nurture more water.
See Contribution to Global Environmental Protection - Efforts to protect water resources through forest maintenance at our production site - for details
*1 Whole effluent toxicity test: A method for comprehensive evaluation of the safety of wastewater and the aquatic environment by determining the impact on crustaceans (Daphnia), algae and fish (Oryzias latipes and others) immersed in diluted wastewater